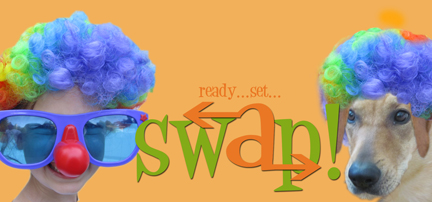 National Costume Swap Day is October 9th, 2010
We've added a new element to kick off Green Halloween® and we think you'll agree, this one spells good, green FUN.
It's National Costume Swap Day!
We're partnering with KIWI magazine to encourage everyone to save money and the planet by trading costumes. And we thought the second Saturday of October would be the perfect time to do it.
Imagine, families all across America united in a single costume swapping vision, trading instead of shopping, saving instead of spending and reusing instead of refuse-ing. Okay, that one was a stretch...
... But in fact, according to our friends at the Use Less Stuff Report:
If half the costumes kids wear each year were swapped, we could reduce the annual waste by 6,250 tons, equivalent to 2500 mid-size cars!
So go to www.CostumeSwapDay.com and register a swap or find a public one near you.
Up for organizing one? We lead you through it in a few easy steps. There is no cost to participate and you can register your swap whether it's public or private.
If you can't organize or attend one, you can also help out by spreading the word. Of course, the old fashioned telephone works just fine, but if you'd like to tweet, blog or tell your Facebook "likers" about National Costume Swap Day, we'd sure appreciate that!
Below are a few ideas to get you started.
Tweets:
Save money & the planet on National Costume Swap Day http://www.CostumeSwapDay.com
National Costume Swap Day lets you save $ and the planet http://www.CostumeSwapDay.com
Don't toss last year's costumes, swap 'em! http://www.CostumeSwapDay.com
One child's worn costume is another's treasure http://www.CostumeSwapDay.com
For Facebook:
Excited about National Costume Swap Day. If you go to the website, you can find places to participate in a swap or register a swap you're hosting. Great for your wallet and the planet! http://www.CostumeSwapDay.com
Want to save money this Halloween? How about participating in a costume swap. The National Costume Swap Day site shows you how. http://www.CostumeSwapDay.com
Love this idea! National Costume Swap Day. October 9th http://www.CostumeSwapDay.com
I registered my costume swap for National Costume Swap Day. You can too! http://www.CostumeSwapDay.com
For blogs
Feel free to use any of the information on the National Costume Swap Day website.
If you need more, be sure to follow Green Halloween and Celebrate Green! on Twitter and Facebook (@GreenHalloween and /GreenHalloween and @CelebrateGreen and /CelebrateGreen) so you can share ours.
And if you organize a swap, be sure to register it and send us some photos.
Have FUN & thank you!
---
About Green Halloween
Green Halloween® is a non-profit, community initiative to create healthier and more sustainable holidays, starting with Halloween. Green Halloween began in the Seattle area in 2007, and in 2008 went nationwide, thanks to wide-spread media exposure, word-of-mouth marketing and online buzz, as well as the support and enthusiasm of schools, families and businesses all over the country.
This year we'll continue to expand our efforts in over 20 cities coast-to-coast in collaboration with numerous health, family, environmental, conservation and arts related organizations including HealthCorps, the Association of Zoos and Aquariums, Action Arts League, Green Youth Movement and more.
Funded by sponsorship and fueled by volunteers, Green Halloween is a national program of EcoMom® Alliance, a 501 (c) 3 non-profit organization, in partnership with The Green Year®, LLC.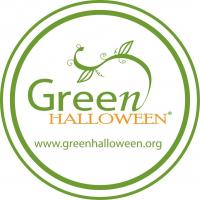 www.GreenHalloween.org