Goods to Green your Halloween

Celebrating a green Halloween doesn't have to cost a dime. You don't have to live in a major city, know Leonardo DiCaprio or have a post-graduate degree.
Our website, blog and newsletter focus on hundreds of low- and no-cost ideas for greening Halloween from swapping costumes to composing pumpkins.
But thanks to the explosion of interest in celebrating sustainably, more and more companies are rising to the occasion and offering products that are good for people, good for planet and/or good for communities (we call this our
"3G" criteria
).
Here are a few of our Halloween favorites: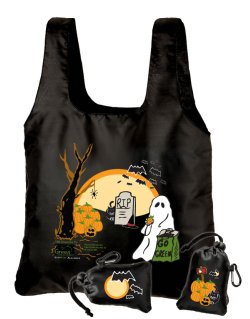 The goods: Green Halloween ChicoBag Trick-or-Treat Bag
The dish: A reusable (AKA not disposable) trick-or-treat bag. Built to last (can hold up to 25 pounds), this bag may become your child's trick-or-treat tradition. Each year, artwork is inspired by a child (who won the previous year's art competition). 10% of the bag's sales support our Green Halloween initiative.
To buy: ChicoBag.com or a retailer near you (and kids, enter the 2010 contest HERE)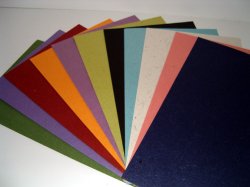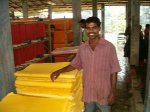 The goods: Artisan paper for invitations and crafts made from elephant dung
The dish: Sound gross? Suspend everything you thought you knew about pooh. In this case, elephant dung makes gorgeous paper. That's good for the planet, because it means less trees are used to make paper products. It's good for the elephants because instead of them being viewed as a nuisance to farmers, they can be seen as having economic value.
Dr. Karl Wald, owner of Mr. Ellie Pooh, has worked tirelessly to save Sri Lankan Elephants and you can help, too by swapping paper for pooh. For Halloween, try orange Mr. Ellie Pooh card stock invitations or elephant-themed door prizes. So in addition to "BOO" - think "POOH" to help save these majestic animals!
To buy: Mr.ElliePooh.com (Get 20% off now by using the code: GH2010)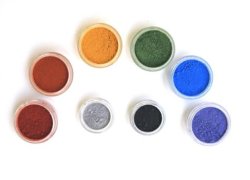 The goods: Safe Halloween face paints
The dish: The Campaign for Safe Costmetics found lead, a powerful neurotoxin, in 10 of 10 face paints they tested. And this was just the tip of the iceberg. Heavy metals and other known carcinogens were in the mix, too. And labels that read "non-toxic", "FDA compliant" or "Hypoallergenic" may not mean a thing. You can make your own face paints from items you likely already own (it's fun & you can save $, too!) or, check out the brands, below. We're tried them all and they're fabulous.
To buy: Non-micronized, mineral-based face paints in powder form from EcoMom.com. Mineral-based cream face paints with additional "blood" from Terra Firma Cosmetics available at Celebrate Green's Open Sky shop. European-made Lyra face pencils, link from GreenHalloween.org.
Bonus: Win $25 to shop on EcoMom.com! From now through Oct. 17th - parents can "trick-or-treat" & win one of three $25 gift certificates.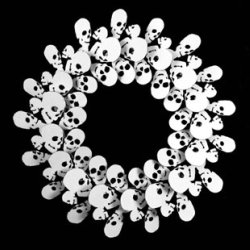 The goods: Costumes made from safe, natural materials. Organic treats. Black-cat flashlights that are kid-powered. Halloween Fairy gifts galore. Spooky dECOr.
The dish: The Green Halloween® "marketplace" is a link-through site. We are not paid for the clicks, we just love supporting companies that have a passion for healthy, sustainable fun!
To buy: www.GreenHalloween.org
---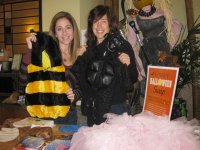 National Costume Swap Day is a
WILD SUCCESS!
(And there's still more fun to be had)
Who would have guessed that such a simple idea would have sparked a costume swapping revolution?
But as of October 9th, there were over 75 swaps in the U.S. and Canada registered on CostumeSwapDay.com. And it's only the first year.
And just look at the media storm!
While most of the swapping took place on the 9th, there are lots of swaps still to come, so be sure to find a swap near you.
Here are a few coming up:
Palo Alto, CA: Thursday, October 14th from 5-8pm. Hosted by Greennii and LiveGreene. Info here.
Bellevue, WA: Saturday, October 16th from 12-3pm. Whole Foods Market, Bellevue. 425-462-1400
Buford, GA: Saturday, October 23rd at 5pm. Hosted by Gwinnett Environmental and Heritage Center Foundation. additional details here.
And if there isn't an upcoming swap near you, it's not too late too plan your own!
A heartfelt THANK YOU TO EVERYONE who hosted, atteneded or helped to spread the word about National Costume Swap Day. We couldn't have made big, green waves without YOU.
National Costume Swap Day™ is a partnership of Green Halloween®, KIWI magazine and Swap.com.
---
About Green Halloween
Green Halloween® is a non-profit, community initiative to create healthier and more sustainable holidays, starting with Halloween. Green Halloween began in the Seattle area in 2007, and in 2008 went nationwide, thanks to wide-spread media exposure, word-of-mouth marketing and online buzz, as well as the support and enthusiasm of schools, families and businesses all over the country.
Funded by sponsorship and fueled by volunteers, Green Halloween is a national program of EcoMom® Alliance, a 501 (c) 3 non-profit organization, in partnership with The Green Year®, LLC.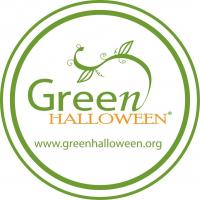 ---
In the next issue:
Trick-or-treating for good
5 Fun Green Halloween promotions
Eco-Halloween crafts
How to find a local, organic pumpkin patch
... and MORE!