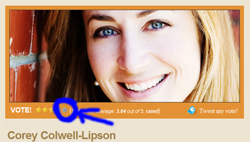 GET YOUR GOOD KARMA POINTS HERE.
But hurry. Offer ends tonight.
As you know, Corey (Green Halloween's founder) is a contestant in Project Green Search!
All week long she's been neck and neck for the highest number of votes (thanks to YOU!) but this is the last day for voting and things are getting close.
Please support Corey in her work (all volunteer!) to inspire change for healthy kids and planet.
PLUS: When you vote for Corey today, you'll be granted five fabulously upcycled Karma Points. Six if you add a comment to Corey's page.
Voting takes less than five seconds. Easy, breezy.
1. Click here now.
2. Give Corey 5 points (click on the star farthest to the right only! If you click on the first you are rating Corey at 1 out of 5 stars)
3. Receive Karma instantly
Bonus: Pass the word to friend and family (via e-mail, Twitter, FB, texting, etc.) and you can help spread the good Karma!
Two for one offer: Vote for Corey's sister-in-law too, and double the love.
Who knew doing good and feeling good could be so simple?
Please click TODAY. Voting ends tonight at Midnight.
Thank you!
*****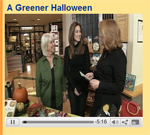 Newsflash from Portland:
Corey & Lynn on AM Northwest

This morning Corey and Lynn did a segment on Greening Halloween with AM Northwest in Portland.
In it, they show how you (and your kids) can make your own trick-or-treat bag from a scarf!
The segment was especially fun because it was shot at Portland's Humane Society. (Corey is "mommy" to recently rescued mutt, Ivy.)
View the video here.
*****