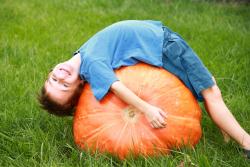 Six last minute Green Halloween ideas
1. Send your child trick-or-treating with a non-disposable treat bag. Choose something that goes with the theme of your child's costume-a backpack for a mountain climber, a helmet for a football player, a bowl for a chef, a purse for a princess. Or use a reusable shopping bag or a pillow case.
2. Whatever you are giving away to trick-or-treaters, buy less than you normally do and give away one or two instead of handfuls. (Bonus: saves money too!)
3. If possible, trick-or-treat in your own neighborhood instead of driving to someplace else.
4. After the holiday, compost all natural decor, food scraps and leftover candy.
5. Save candy and treat wrappers and turn them into something eco-fabulous. Search the internet for simple how-to's. Click here or here for inspiration.
6. Pack Halloween decor away carefully so that it can be reused again next year (by you or someone else).
*****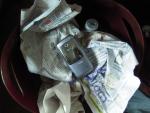 Trick-or-treat for good
Have fun, help the planet
You've probably heard of Unicef's trick-or-treat for good program and you might have even heard about Reverse Trick-or-Treating... but what about trick-or-treating for cell phones?
Americans retire 400,000 cell phones a day but only an estimated 10% of the phones are recycled. So this Halloween, as your family goes door-to-door, how about rescuing some cell phones from landfills as you have some Halloween fun.
After collection, punch your zip into the nifty search tool at Earth911.com to find a cell phone recycling location near you. (In some cases, companies will pay you for the phones and you can give proceeds to a chosen non-profit so you cn double the good you're doing!)
Tip: Before trick-or-treating, let your neighbors know that you will be by the collect the phones so they can have them ready for you.
*****

According to the National Confectioners Association's 2009 Halloween Survey, the four most popular types of candy handed out to trick-or treaters are:
Chocolate (51%)
Hard candy; lollipops (30%)
Chewing gum (16%)
Caramel (14%)
If you are planning on handing out candy to your trick-or-treaters, consider organic and all-natural varieties, many of which are available in most major food chains and natural food stores, nationwide.
Organic candy is better for the planet because it is made with organic ingredients. Conventional sugar growing, especially, is hugely detrimental to the environment and a major threat to habitat and water supply in areas where conventional sugar is being it is grown. Non-0rganic growing practices also threaten the health of growers and animals in surrounding areas. Of course, then there is the
GMO issue
.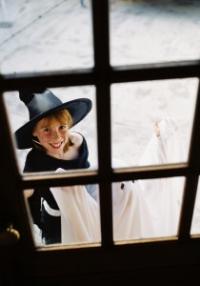 If you follow our
blog
, you already know...
And so much more! (If you don't follow us, you are missing out)
Get the daily tips and tricks for celebrating green this Halloween by subscribing to the Green Halloween blog and Celebrate Green! blog today.
*****
ChicoBag and Green Halloween's 2nd annual trick-or-treat bag design contest - winner announced soon!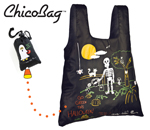 Thank you SO MUCH to all of the kids who entered this year's design contest! Your drawings, capturing the spirit of a Green Halloween were all amazing. Our winning design and the two runners up will be announced next week.
The winning design will be featured as a limited edition, 2010 Green Halloween reusable ChicoBag.
Go to www.greenhalloween.com/chicobag for contest details or to purchase last year's award winning bag.
*****
Highlight on our volunteer coordinators
Green Halloween® has gone nationwide...but not without the help of some amazing local coordinators.
Here's a chance to learn more about just a few of the fabulous people behind our initiative: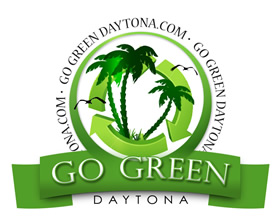 Ciana Maglio is a homemaker and mother of two residing in Daytona Beach, Florida. For the second year in a row, she is the coordinator for her area.
Ciana is a founding member of Go Green Daytona, a network that unifies and supports those efforts that create a progressive and sustainable environment for the Daytona Beach community.

Ciana is the main organizer of two Green Halloween® events in Daytona, Hallowgreen!™ and the Volusia Mall 50/50 Challenge.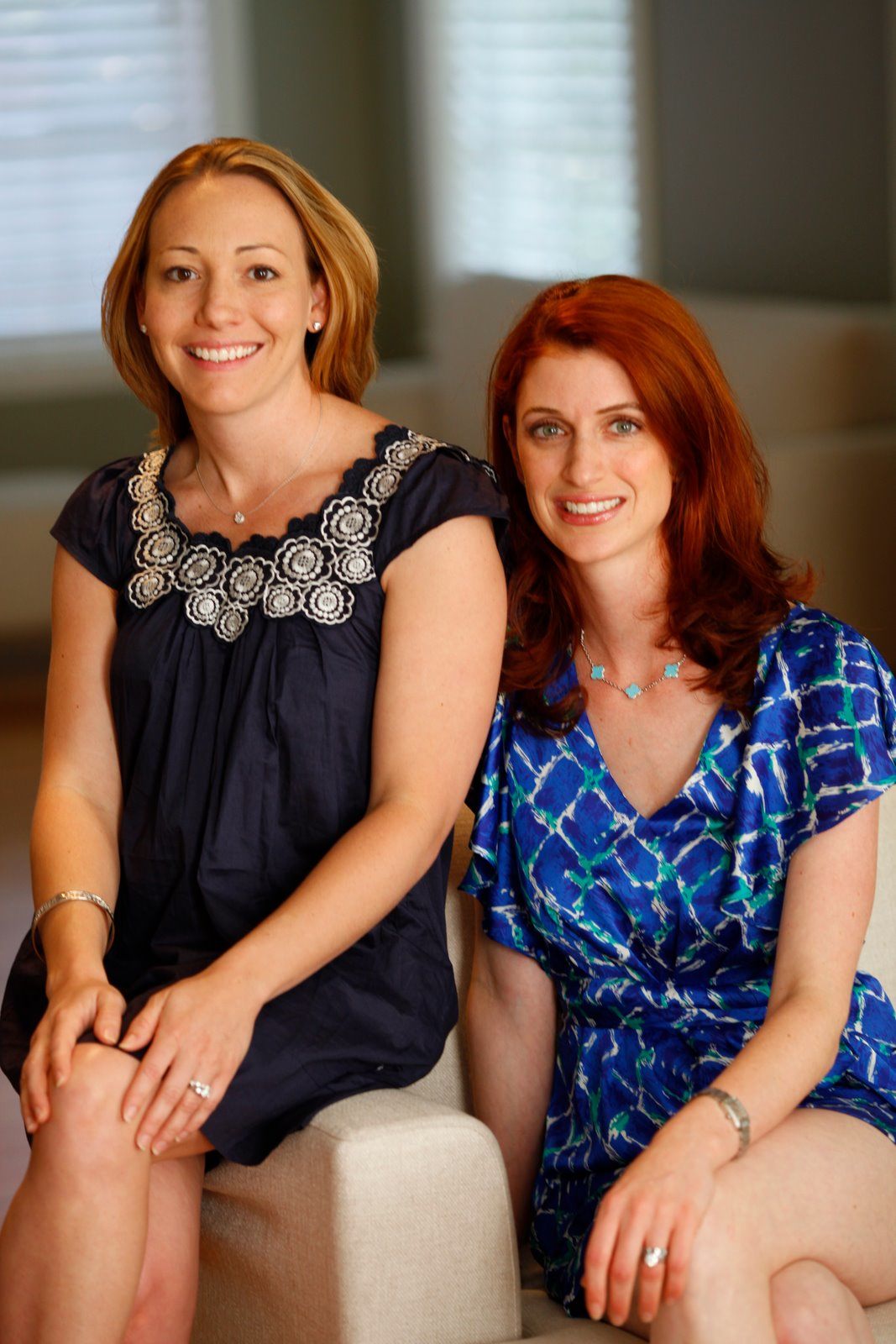 Aly Zamore an
d Barbara Keskiner are Green Halloween® coordinators who run Divine Events, a social and educational program resource for moms in the Tampa Bay area.
Divine Events hosted Tampa's inaugural Green Halloween on Friday, October 23, from 3:30 p.m. to 6:30 p.m. at Hyde Park Village. Activities included a pumpkin patch cake walk, bobbing for organic apples, make your own Halloween bag out of old TBPM magazines, "best green costume" contest and much more.
See Barbara in a news segment talking about Green Halloween here.
Additional coordinators include
San Francisco-Bay Area: Rachel DeMicco of Sustainable Fairfax and EcoMom Alliance
Phoenix: Rhonda Bannard of Inspired Connections and Jennifer Janssen of Sugar Coated Organics
Petaluma: Lesley Papola
Cherry Hill: Meghan Woeppel
Don't see a coordinator in your area? There are still some great Green Halloween events happening, maybe even in your neighborhood. Check out our events page here.
*****

Green Halloween in the Big Apple
2009 is the launch of Green Halloween NYC. It begins with a free, family friendly festival, moving on to a Green Halloween float in the NYC Halloween parade and ending with a Halloween night gala! You won't want to miss a moment of the festivities. (Corey and Lynn are there and will follow up with photos).
Green Halloween NYC is a collaboration with Action Arts League and Dr. Mehmet Oz's HealthCorps, as well as dozens of generous volunteers.
For more, go to: www.GreenHalloweenNYC.org
*****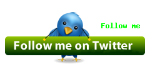 Follow us. Friend us. You'll be glad you did.
(We will, too.)

Thank you to our 1,900+ Twitter followers on
CelebrateGreen!
We've just launched a new account exclusively for
Green Halloween
, so if you haven't joined us, we'd love to see you there.
*****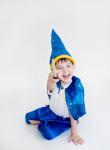 WANTED:
Your stories and videos on how your family, school or neighborhood is greening Halloween
Photos of your child's eco-fabulous costume
Your healthy Halloween recipes
Your eco-savvy Halloween craft ideas
*****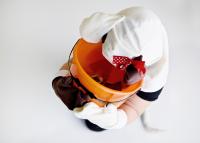 Are we missing something?
Did we leave something out? Make errors in our newsletter? Forget to include something oh so important?
We'd love to know.
So don't be shy- tell us what we missed.
After all, it takes a village to raise an initiative.
And we appreciate your support.
E-mail:
Corey@greenhalloween.org
www.GreenHalloween.org
&
www.CelebrateGreen.net