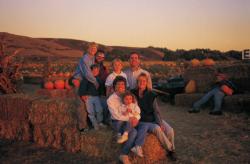 Thanks to YOU
Green Halloween® 2009 was a "smashing" success!

It's amazing what can happen when people work together.
Mountains are summited, sun powered cars can be built and holidays can be made better for people and the planet.
Yes, it's true!
From 2007 when the Green Halloween seed was planted in Seattle (when "greening" Halloween was a reference only to its color); to 2008 when the idea began to take root and grow (but when healthy treats and eco-friendly treasures were still hard to come by); to 2009 when the initiative began to explode nationwide (and our website welcomed a whopping 54,000 unique visitors from 9/1/09 - 11/1/09)--this "little" idea has bloomed.
But none of this could be done without the time, energy, enthusiasm and creativity of people from all over the country, sharing a common vision and then taking steps to make that vision a reality.
Thank YOUR for part in cultivating Green Halloween.
We're so grateful to you for taking steps, whatever they were, and however big (or small), to make this Halloween healthier and/or more sustainable for this Earth we all share.
Without your interest, support and involvement we wouldn't be able to create meaningful and lasting change, which is, of course, our over arching goal.
We hope to make Green Halloween® 2010 an even more phenomenal holiday and look forward to including you again.
Lastly, we would like to recognize the generosity and support of our sponsors, non-profit partners and coordinators, in addition to:
Thank you to everyone who played a role in this year's incredible success!
*****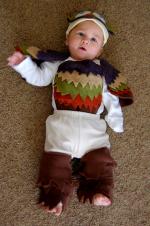 A tale of two (green) costumes
It's a hoot!
Sarah Stocco of Oakland, CA made her 7-month-old son, Griffin, this adorable owl costume from wool felt, eco-fleece (brown), a onesie, pants and cap Griffin already owned.
Here are the elements Sarah used: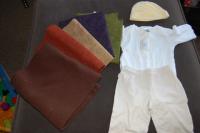 Simple. Sustainable. Smart. (And oh so sweet.)
Something to sink your teeth into
Ten-year-old Ari wanted to be a vampire, but green mom, Wenona Napolitano didn't want to buy anything new or have to sew anything either.
So Ari and Wenona went on the prowl (part of the fun), around their home, looking for Vampire-wear.
Lo and behold, they came up with all the elements they needed right in mom's closet (raiding mom's stuff = more fun).
Toss in some fangs that Ari already owned, a $1 Ebay cape, rice powder makeup and mom's eyeliner and lipstick and the outfit was complete.
High five, Ari! Well done, green mom.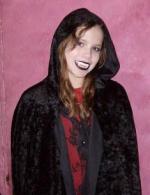 *****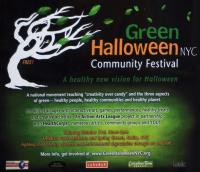 photo by P. Ruprecht
From coast-to-coast, every little ghost celebrates a Green Halloween®
Los Angeles and New York City each put a unique spin on greening this beloved holiday.
City of Angels
Mother-daughter team Rochelle (mom) and Ally (daughter) Maize jumped in to be Los Angeles' Green Halloween coordinators for 2009.
The Maize family has been decorating their Beverly Hills, California home "green" for Halloween for the past few years, drawing a great deal of attention from neighbors and even the press.
Not only do the Maizes go with a green theme for their front yard decor, they add a healthy dose of humor, using natural, reused or repurposed items in, well, unusual ways.
Check out photos of the decorated Maize home, here.
But the Maize team didn't stop with gossip-worthy decor. Ally, founder of Green Youth Movement, hosted a successful decor swap party and, for the adults, Rochelle (a green realtor) hosted a "Hallowine" celebration. For some of Rochelle's eco-fabulous table decorations, click here.
Hold on to your hats for what this duo has in store for 2010.
The Big Apple

In the Big Apple, a team led by Jim Glaser of Action Arts League and Rob Lunde of HealthCorps, pulled off a weekend of fun for all ages.
Friday night's costume party (an incredible, visual and edible experience) kicked-off the weekend. The next day (Halloween), families enjoyed the Green Halloween Festival at a cute little corner park in the "Nolita" neighborhood. At the festival: booths, games, and activities, complete with a guided Green Halloween trick-or-treat trail (including a dozen or so area business who agreed to hand out healthy/eco-friendly treat and treasures instead of conventional candy).
A Green Halloween float in the NYC parade and gala fundraiser capped off the weekend.
Want more? Here are links to photos and videos.
Green Halloween NYC is a collaboration with Action Arts League and Dr. Mehmet Oz's HealthCorps, as well as dozens of generous volunteers.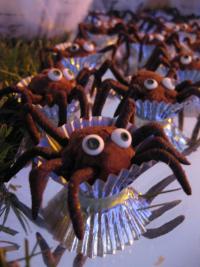 If you follow our
blog
, you already know...
And so much more!
Get the daily tips and tricks for celebrating green this Halloween by subscribing to the Green Halloween blog and Celebrate Green! blog today.
*****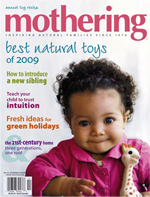 A dream come true
Check out the feature article on celebrating a sustainable winter season by Green Halloween founders, Corey & Lynn, in the November/December issue of Mothering magazine.
Co-authoring this article was a dream come true for the mother-daughter pair. According to Corey, "My mom contributed to Mothering when I was a child. Even then, I loved the magazine and hoped that some day I might have something to contribute to it. Now here we are together with this article that means so much to us both. Everything has come full circle."
Corey and Lynn are also thrilled to be featured in an article in another one of their all time favorite magazines, Kiwi.
The November/December issues of Mothering and Kiwi are in stores this week.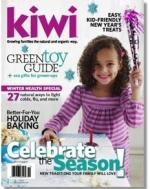 *****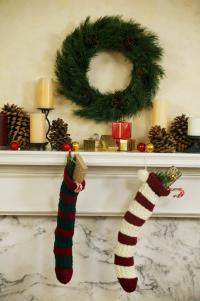 Celebrate green
all year around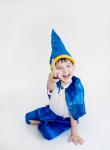 WANTED:
Your stories and videos on how your family, school or neighborhood made Halloween green
Photos of your child's eco-fabulous costume
Your healthy Halloween recipes
Your eco-savvy Halloween craft ideas
*****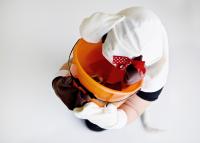 Are we missing something?
Did we leave something out? Make errors in our newsletter? Forget to include something oh so important?
We'd love to know.
So don't be shy- tell us what we missed.
After all, it takes a village to raise an initiative.
And we appreciate your support.
E-mail:
Corey@greenhalloween.org