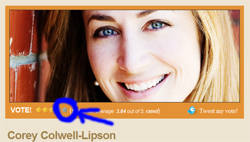 Click for Corey!

Come, on show your love.

For Green Halloween's founder and director, Green Halloween is a labor of love.
Since launching Green Halloween in 2007, Corey has devoted countless hours, days, weeks, months (you get the picture) working tirelessly to ignite enthusiasm for healthy, meaning-filled, sustainable - and fun!- holidays for the health and well being of people and planet.
Now you can show Corey a little love with a simple click.
Corey is a contestant Project Green Search. Even as a finalist, she will have the opportunity to get the word out about Green Halloween (and other holidays) in ways never before possible. (Who knows? Maybe soon, Green Halloween will be a household concept!)
But Corey needs your help. And, luckily, helping is easy.
1. Go to Corey's page
2. Hover over the stars under her picture and click on the STAR FARTHEST TO THE RIGHT ONLY (It is a rating system so please don't click on any other stars!)
3. Ask ten friends to vote for Corey, then ask them to ask ten of their friends to do the same.
4. If you Twitter, blog, use Facebook, etc. let others know.
Please take a moment to vote right now (the rest of e-news will be right here waiting for you). One vote per IP address.
Voting ends this Friday. Finalists announced Saturday.
Thank you for the gift of your time, support and click!
(And for those of you who have already helped move Corey up to a top position - we are incredibly grateful for your votes and for your awesome comments.)
Note: We have over 1,000 people on this mailing list so, with your support we should be able to ROCK the vote. Go team, go!
*****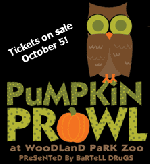 Boo at the Zoo and other Green Halloween events
This year, Green Halloween has partnered with Zoos across the country to help make their Halloween events healthier and more sustainable.
Look for a Green Halloween presence at the following zoos:
Seattle, WA


Denver, CO

Phoenix, AZ


Bronx, NY
Don't see your local zoo listed? Let them know you'd like them to be next year. Feel free to give them our e-mail address to learn more: info@greenhalloween.org.
For our ever-growing list of national Green Halloween events, click here.
*****

Try our new online game:
Thanks so much to Conscious Arcade for the creation and design!
*****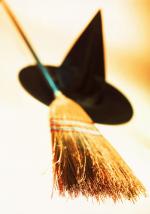 F-R-E-E TOOLS of the TRADE
for celebrating a Green Halloween!
New web tools and downloadables to help your family, school or neighborhood go green this Halloween:
*****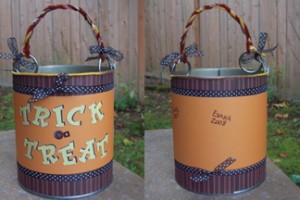 If you follow our
blogs
, you already know...
And so much more! (If you don't follow us, you are missing out)
Get the daily tips and tricks for celebrating green this Halloween by subscribing to the Green Halloween blog and Celebrate Green! blog today.
*****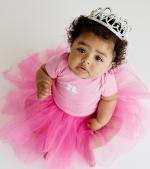 Do you love our photos of kids in costume?

We do, too.
And they are all thanks to Holli Dunn, our photographer extraordinaire, who - from day one - jumped in to give the gifts of her time, talent and creativity to help us create the "look" of Green Halloween via her sweeter-than-candy images of kids in costume.
Want to get some cute picks of your wee-ones?
On October 17th and 24th, Holli will be hosting mini-sessions (think ahead for the winter holidays!) and she's offering a special for Green Halloween families: One free set (24) of Eco-matte* holiday cards with purchase of the session.
Contact Holli via her site for details: HolliDunn.com
*Eco-matte is 100% post consumer waste stock that is made using 100% wind generated electricity.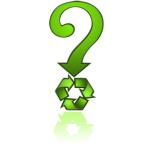 Interesting ECO facts:
Q: Which holiday food is wasted the least?
A: According to Robert Lilienfeld, the editor of The Use Less Stuff Report, "The most significant environmental opportunity we have other than fossil fuel reduction is food waste reduction. The environmental, economic, social and political impacts are enormous. The foods that's wasted the least, according to my co-author Bill Rathje (and director of The Garbage Project), is candy. So, from this perspective, Halloween is a rather sustainable holiday - except for the pumpkin waste."
Note from GH: Now that's an unexpected twist! Be sure to compost ALL food waste, food scraps, natural decor and uneaten candy. Learn how here.
*****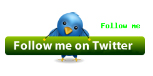 Follow us. Friend us. You'll be glad you did.
(We will, too.)

Thank you to our almost 1,800 Twitter followers on
CelebrateGreen!
We've just launched a new account exclusively for
Green Halloween
, so if you haven't joined us, we'd love to see you there.
*****
WANTED:
Your stories, photos, videos on how your family, school or neighborhood is greening Halloween
Your healthy Halloween recipes
Your eco-fabulous Halloween craft ideas