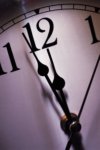 8 Last minute Green Halloween ideas
1. Send your child trick-or-treating with a non-disposable treat bag. Choose something that goes with the theme of your child's costume-a backpack for a mountain climber, a helmet for a football player, a bowl for a chef, a purse for a princess. Or use a reusable shopping bag or a pillow case.

2. Whatever you are giving away to trick-or-treaters, buy less than you normally do and give away one or two instead of handfuls. (Bonus: saves money too!)

3. If possible, trick-or-treat in your own neighborhood instead of driving to someplace else.
4. Forgo trick-or-treating and celebrate at a Green Halloween event in your city.

5. Burn beeswax or soy candles in your jack-o-lantern instead of paraffin (petroleum) candles.
6. After the holiday, compost all natural decor, food scraps and leftover candy.

7. Save candy and treat wrappers and turn them into something eco-fabulous. Search the Internet for simple how-to's. Click here or here for inspiration.

8. Pack Halloween decor away carefully so that it can be reused again next year (by you or someone else).
---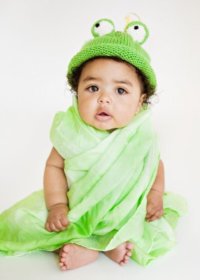 But did you know that the Green Halloween initiative is about so much more?
Green Halloween helps you celebrate a :
spend less/save more Halloween

use less energy Halloween

more meaningful Halloween

creative Halloween

people over things Halloween

yummy Halloween

ethical Halloween

non-toxic Halloween

healthy Halloween

fun Halloween
And the list goes on...
There's really something for everyone! Our initiative is not a one-size-fits-all kind of deal. We simply put the ideas "out there" and we ask you: What ideas resonates with YOUR family? What's of most interest to you?
But why did WE create Green Halloween? Why are we so passionate about giving the holiday a makeover?
Consider this:
1 in 3 children born today will develop diabetes in their lifetime

1/3 of America's children overweight; 17% are considered obese.

The average trick-or-treater collected 5,435 calories worth of candy containing more than 3 cups of sugar.

Over 6,000 synthetic chemicals are used in the processed-food industry.

A 2004 study with 1800 three year old children found that behavior measurably improved after a one week diet without preservatives and artificial colors and dramatically worsened on the weeks they were given preservatives and artificial colors.

Store-bought costumes and accessories may contain phthalates, lead and other toxins.

One test of multiple brands of face paints found detectable levels of lead ALL OF THEM.

Cocoa beans used for chocolate that are grown in full sun (as opposed to shade) are susceptible to disease and therefore require heavy doses of toxic pesticides and synthetic fertilizers.

Palm oil, a common ingredient used in candy, chocolate and snack foods, is often sourced at the expense of rainforests and the animals that live there, such as orangutans – and contributing to global warming.

According to UNICEF, cocoa-bean plantation owners are notorious for child slavery and paying low wages to farmers because of market deregulation.

Swapping 1/2 the costumes kids wear at Halloween would reduce annual landfill waste by 6,250 tons (equivalent to the weight of 2500 midsize cars).
So, be it a Healthy Halloween, a Spend-Less Halloween, a Family-Focused Halloween or a Sustainable Halloween, Green Halloween has got you covered!
Thank you for joining thousands of parents across the U.S. to make a change for the better.
---
F-R-E-E Action Kits
for Parents & Teachers
Love Green Halloween? Want to bring the initiative to your classroom or neighborhood?
We make it easy with these downloadable action kits:
Want more no-cost tips and tools? Click here to get started.
---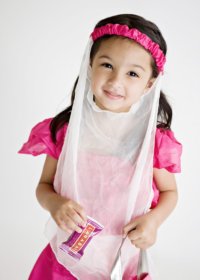 Treats & Treasures
Kids (and Mom) will love
Green Halloween may not be ALL about the goodies, but we're pretty passionate about spreading the news: Halloween can be healthy, sustainable and fun.
It's true: kids, Mom and Mother Earth can all love Halloween again.
As a child of a few decades ago, you may be surprised to learn that many of today's kids get excited about treats that go beyond the conventional.
Yes, even your child, when given the choice may choose a polished stone over a pack of M&_s.
How can that be? You ask.
Today's children are overexposed to candy. It's no longer a once-a-year luxury. Candy is a staple at birthday parties, it's (sadly) a bribe in some classrooms, a "thank you" for patronizing your dry cleaner.
It's not that kids like candy any less than we did; it's just that candy is no longer a novelty.
How do we know kids won't turn up their noses as some of the alternatives we suggest?
We've shown our suggestions to tens of thousands of kids over the last four years and not one child of any age has ever said they'd rather have conventional candy once they've seen the alternatives. Not one.
Here's an example of the board we've used at events to see what kids think: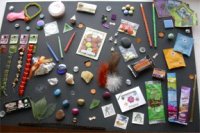 But don't take our word for it, give it a try! Make a Green Halloween board of your own and see what your kids think or create a "50/50 challenge" for Halloween night (have 2 bowls of goodies for trick or treaters. In one bowl, offer conventional candy. In the other place a mix of some of the alternative treats and treasures on our list. Invite kids to select just one and see what happens).
Give these goodie alternatives a try:
Polished rocks

Feathers

Friendship bracelets

Packets of seeds

Temporary tattoos

Spy crayons
Click here for dozens of additional ideas.
---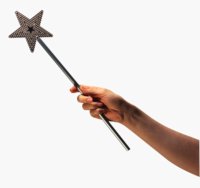 The Halloween Fairy
(AKA Candy Sprite/Great Pumpkin/Switch Witch)
It's an conundrum for many parents: how to let children go door-to-door, without coming home to consume all the junk?
Invite the Halloween Fairy to your home.
The who?
The Halloween Fairy, or Switch Witch or Great Pumpkin.
Still drawing a blank?
While not (yet) household names, their popularity is growing. And for good reason: they generously offer to come by your house and swap candy for treasures.
Great for kids with allergies, too!
Click here or here for how to include the Halloween Fairy in your Halloween festivities.
---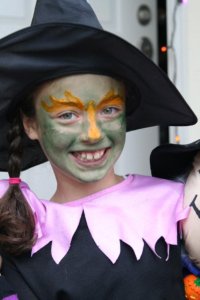 If you follow our blogs,
Top 10 tips for a pet-safe Halloween

5 ways to avoid sneaking candy from the bowl

How to make an "Eyeball Surprise" (green) smoothie

How to take part in the Green Halloween pledge

How to craft last minute Halloween decor with things you already have on hand

6 simple steps to make your own face paints
... And so much more!
Treat yourself to all our tips (and tricks)! Subscribe to the Green Halloween and Celebrate Green! blogs today.
Of course, you can also find us Twitter and Facebook (we look forward to connecting with you!)