In this issue:
•
Library Business Classes
•
Library Classes for Nonprofits
•
Entrepreneur Spotlight
•
Book Review
How has the Small Business Resource Center helped you in planning or growing your business?

Give us the scoop along with your contact information and we'll post your business story on our website, and it may make its way into one of our newsletters.

What a great and totally free way to spread the word about your business!

Email your story to the
business librarian
or mail it to:

Business Librarian
Grand Rapids Public Library
111 Library NE
Grand Rapids, MI 49503

All submissions are subject to editing.



NEW BOOK SPOTLIGHT
Spring 2016
In this issue, learn about new titles from the business collection, social entrepreneurship with Justin Beene, and a review of How to Fly a Horse by Kevin Ashton, along with...


NEW SUMMER PROGRAMMING!
All classes are free and open to the public.

How to Navigate City Government For Business
Basic Class: Tuesday, May 31, 2016, 6:00 pm – 8:30 pm
Advanced Class: Tuesday, June 7, 2016, 6:00 pm – 8:30 pm
SBDC Social Media for Business Series
Introduction to Social Media: Wednesday, July 20, 2016, 6:00 pm – 8:30 pm
Social Media 101: Wednesday, August 3, 2016, 6:00 pm – 8:30 pm
Social Media 201: Wednesday, August 17, 2016, 6:00 pm – 8:30 pm
The SBRC will be having two NEW business programs this summer!
The first series, coming May 31
and June 7
, will be
How to Navigate City Government for Business
, a pair of classes designed for entrepreneurs that will help them navigate licensing, regulations, and rules of our city, so that they plan for the common pitfalls many businesses face, increase their chances of success, and make the whole startup process as easy as possible! Be sure to register, and you can do so
here
!

The second series, coming July 20, August 3, and August 17, from the Small Business Development Center, is a comprehensive social media series for any level of entrepreneur, from those with an extensive knowledge of social media to those getting into the game for the first time. Learn how to leverage social media into a true competitive advantage for your business! Registration is required, and you can do so
here
.
SBRC ENTREPRENEUR SPOTLIGHT: Justin Beene, Bethany Christian Services and Building Bridges Professional Services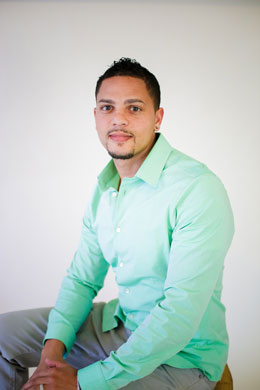 Every day, we go to work.

We might work a 9-5, 5-9, or 9-9, but we spend the largest chunk of our time awake at work. That only increases as we get older.

It's hard to ask questions about the nature of work when we're swimming in it every day; what it's for, what it means to us, and what it should mean. But if you start asking those questions, you can come to some interesting conclusions.

One person who asked those questions and came back with some very interesting answers is Justin Beene.

Beene grew up on the southeast side of Grand Rapids, near Wealthy and Diamond. Growing up with an African-American father, a Caucasian mom, and four siblings, he developed a keen awareness of the racial and economic gaps in our community. Through his education, he sought to learn how to bridge those gaps.

Beene began his college education at Western Michigan University in social work and then went on to earn a master's in Social Work with an emphasis in Management of Human Services at the University of Michigan. He then combined this education in social work with a theological foundation, studying Urban Ministry Leadership at the Grand Rapids Theological Seminary. Currently he's working on a Doctorate of Entrepreneurial Transformational Leadership for the Global City.

While he was continuing his education at the University of Michigan in 2006, Grand Rapids was having a terrible summer. There was a rash of shootings, the victims of which were primarily of African-American men. This hit close to home for Beene, as many of the victims were connected to the caseload of his brother, Marques, a probation officer on the Southeast side.

In response, the Beene brothers realized was that the community needed more jobs for young people. So along with his brothers Marques and Nathan, Beene began employing area youth to pick up trash in their neighborhoods. It was simple enough work, but anyone with a job can tell you how transformative work can be, especially work that engages you in your own neighborhood.

After his graduation, Beene was hired as the Youth Program Supervisor for Bethany Christian Services here in Grand Rapids. One of his responsibilities was finding employment for about 30 kids in the program. As Beene explains:

"That was in 2007-2008, and that was pretty unthinkable to find 30 high-risk youth jobs. At one point, youth employment was 40% in certain neighborhoods. So I said to Bethany 'Hey, I got this thing on the side that I've been doing with my brothers.' And we slowly started trying to make the two things work, one providing social services but also conducting an enterprise where we wouldn't just pick up trash but would cut grass, do landscaping, and provide fee-for-service to pay the students."

This program, now called "Building Bridges Professional Services," is a social enterprise that maintains over 400 properties in the Grand Rapids area. It has a quadruple bottom line; in addition to profits, his business concerns itself with social, spiritual, and environmental impact. It now occupies a 120-year-old building in the Madison Square neighborhood, which the youth in his program helped to renovate.

This facility, "The Grand Rapids Center for Community Transformation," houses not only the landscaping business, but also all of Bethany's youth development programming: a pilot coffee shop called "Rising Grinds," and "Youth Build," which helps teach youth the construction trades. Justin's team is even exploring creating more jobs through ethically-sourced products like coconut oil and coffee.

By any standard, the model is impressive. A total of almost 2,500 students have gone through the program since Beene started. This year, he expects to train an additional 400 kids, and another 50 in Detroit. On top of all that, "Building Bridges" turned a profit of $20,000 last year and shared some with its employees.

Beene cites the success of the hybrid model to his staff, especially his leadership staff:

"I think the biggest thing I can celebrate is that we have 5 leadership staff and none of them have left. We add one every year. One guy's been with me for 8 years, one for 7 years. A lot of times, people don't stay in the work for that long, and you lose that historical perspective, as well as the connections they've made with students and families. That's made us very strong, to have that continuity."

Beene also notes that what is most important is a culture of affirmation; that's the biggest thing that our young people often lack, and the most important aspect of the model as a whole. As he goes on to explain:

"The biggest thing is that so many young people have not been affirmed in who they are. The way I see it, every person has extreme dignity, and they've been endowed by their Creator to have skills and great creative capacity. Different people have different innate skills, but I think the biggest thing for me is that we look at everything through a strength-based approach, saying 'let's look at what you have, let's look at what you're passionate about, and let's affirm that.' In that [kind of a] space, young people blossom."

Beene has been educated in social work, theology, and business, but has found his calling by bridging the gaps among people, communities, businesses, nonprofits, and churches. In Madison Square, it might seem like he's creating something wholly new. Instead, Beene explains:

"It goes back to the original question of 'what is business for?' I believe that business is for the common good. It was never designed to create wealth for only certain individuals or classes, but wealth is for the advancement of whole communities and nations. We see business and work as a transformative gift. People are designed to work, to be co-creators in shaping our universe—and that's a good thing. Business helps build character and perseverance, it helps young people learn how to solve problems and get a reward for a job well done. When we've been robbed of that opportunity, or we don't take advantage of an opportunity, then we miss a part of what we were originally designed for."

Yet there are many wounds that still plague Grand Rapids, deep racial and economic injustice that go far beyond individual responsibility. Social enterprise is a mechanism to begin to heal those wounds. Beene has made it his life's mission to further that kind of work. He is confronting those wounds head on, diving into the pain so that we might stop the transmission of those wounds and transform them into hope for the next generation.

As we work towards that change, Beene by no means suggests we stop giving. But he does suggest that we start hiring, training, and exploring cross-sectoral solutions that work to create equitable wealth and opportunity.

You can hire Building Bridges Professional Services through their website
here
.
BOOK REVIEW
How to Fly a Horse: The Secret History of Creation, Invention, and Discovery
by Kevin Ashton



In the 19th century Vienna, doctor Ignatz Semmelweis discovered that a significant number of his patients in one of his clinics were dying from childbed fever.

When a colleage died from childbed fever after coming into contact with a corpse, Semmelweis hypothesized that the disease was spread by small particles the hands picked up when dissecting corpses. In order to clean the hands of these particles, Semmelweis had his physicians soak their hands in chlorinated water before birthing children.
Through this prevent measure, Semmelweis managed to save the lives of hundreds of women and children in Vienna. Yet, when he tried to spread his idea to the wider medical community, he met with great resistance and died a broken man. It would be years before the mainstream medical community would implement his procedure, saving countless lives through a technique we take for granted today.

Through the story of Ignatz Semmelweis and the stories of others, Kevin Austin illustrates how creativity works in his book How to Fly a Horse: The Secret History of Creation, Invention and Discovery.

This tactic is an excellent way to do this. Stories, after all, are how we live and breathe. Ask a person who they are, and they'll start telling you one. When we tell stories, we want to relay excitement, enemies, friends, lovers, clear narratives that lend themselves to a satisfying tale. What we often leave out, however, is the actual mechanics of how we go about anything, and this is especially true for creativity.

We are often led to believe that creativity is something divinely inspired, that creative people have some power that the majority of us do not possess. But Ashton argues this is false. Instead, according to Ashton, creativity is best characterized by a series of small steps based on solutions to problems rather than thunderbolts of inspiration that come out of thin air.

Ashton gives the example of the creation myth surrounding Samuel Taylor Coleridge's Kublai Khan, one of Colerdige's most famous poems.

Coleridge, being a romantic, stated that the poem had come to him in a dream and that he was a vessel to something greater. But Coleridge's actual notes show that he went through countless drafts of the poem, cutting here and adding there, working step by step until Kublai Khan was completed. Even Mozart, who also wanted to build a myth of divine inspiration, was constantly revising and working on his pieces until they were finished to his satisfaction. Mozart's pieces also did not spring forth fully finished from his brain. They were built, not conjured.

Ashton's argument that creativity is characterized by small steps is powerful because it puts creative power in the hands of everyone, rather than a select few. And it is this argument that forms the main thread of Ashton's book. Some of Ashton's sentences are easy to frame and put on your wall: "It's not the size of your strides but how many you take" and "Ideas are like seeds: they are abundant, and most of them never grow into anything."

The problem that this book runs into, however, stems from this simplicity. Oftentimes the stories Ashton uses to illustrate his points are incomplete.

Which brings us back to Semmelweis.

Ignatz Semmelweis had a great idea. But there is no idea so great that it doesn't need a strong advocate. Semmelweis, by many accounts, was a poor advocate of his idea. He was a man of quick temper, adept at making enemies rather than building the connections necessary to spread his ideas and save lives outside of Vienna.

I suspect that we like Semmelweis' story because, in the end, the doctor's ideas were vindicated. But, by only telling part of the story, Ashton commits the same mistake he spends much of the book decrying – he simplifies the creative process.

The problem lies in the fact that there are so many stories throughout this book describing the creative process. It is only natural that some of them should be shortened to fit into the narrative of the book. Obviously, this doesn't mean the book has no lessons of note and that it has nothing new to tell us. Instead, I'd argue that illustrates the power certain types of stories still hold over us.

Bravo to the author for chipping away at some of these stories so that we, as readers, might get a bit closer to the truth. But we must remain aware of stories that seem too simple, because oftentimes they are.
Small Business Resource Center funding is provided by the
Grand Rapids Public Library Foundation
– Titche Family Fund. Support your public library. Consider a gift today!