In this issue:
• Library Business Classes
• Small Business Profile
• Reflections: Turnips to Turbines
• Classics Review: Good to Great
• Area Organizations

How has the Small Business Resource Center helped you in planning or growing your business?

Give us the scoop along with your contact information and we'll post your business story on our website and it may make its way into one of our newsletters as well.

What a great and totally free way to spread the word about your business!

Email your story to the business librarian or send it via snail mail to:

Business Librarian
Grand Rapids Public Library
111 Library NE
Grand Rapids, MI 49503

All submissions are subject to editing.

NEW BOOK SPOTLIGHT


Fall 2013
It's fall; the kids are going back to school, but the learning never stops! Whether you are checking our website, stopping in for an appointment with the Business Librarian, taking one of our business classes, or utilizing our powerful business-research databases, the Grand Rapids Public Library SBRC will make your business life easier, and more effective.


LIBRARY BUSINESS CLASSES
All classes are free and open to the public.

Classes for Businesses:

Using the Library to Write a Business Plan
This course will highlight library resources to assist students in crafting a well written business plan. Both online and offline resources will be highlighted.

9/04/13 Wednesday 7:00pm-8:30pm
Using Facebook to Promote Your Business
How do you promote your business using Facebook? Learn about resources to plan, start and grow your business using this social networking website.

9/11/13 Wednesday 7:00pm-8:30pm
12/11/13 Wednesday 7:00pm-8:30pm

Small Business Research Essentials
Discover the Library's many small business resources. We will explore topics such as where to find business plan samples and the most useful sources for competitor and customer information.

10/09/13 Wednesday 7:00pm-8:30pm

Market Research Series
Learn how to research your market, customers and competitors in this series on market research co-sponsored by the Grand Rapids Public Library and the Michigan Small Business and Technology Development Center. Register here.
11/07/13 Thursday 7:00pm-8:30pm MI-SBTDC Market Research Series I
11/14/13 Thursday 7:00pm-8:30pm MI-SBTDC Market Research Series II
11/21/13 Thursday 7:00pm-8:30pm MI-SBTDC Market Research Series III

Classes for Nonprofits:
Grantseeking Basics
Join us to learn various aspects of the nonprofit world, tips on how to approach a foundation for fundraising, and various other tactics that can make your fundraising time more efficient and effective.

9/21/13 Saturday 1:00pm-3:00pm

Intro to Finding Funders
Learn to find funders for your nonprofit with the Foundation Center's comprehensive funding research tool, Foundation Directory Online. Search tactics, database design, and comprehensive information strategies for nonprofits will be covered.

11/16/13 Saturday 1:00pm-3:00pm

Proposal Writing Basics
Learn the basics of proposal writing for your nonprofit. We'll look at techniques for crafting the effective funding proposals.
10/16/13 Wednesday 7:00pm-8:30pm
12/04/13 Wednesday 7:00pm-8:30pm
SMALL BUSINESS PROFILE: Jason Swett, Serial Entrepreneur
There are many common traits that entrepreneurs seem to share. Of course, we think of the natural ones: ambition, intellect, creativity. But perhaps the most important attribute for any entrepreneur to posses is persistence, or grit, defined as 'the ability to go through failure without any loss of enthusiasm.'
An entrepreneur who knows this as well as anyone is Jason Swett. Swett's current business is called Snip, an online salon scheduling software service. Currently, Swett has a product, customers, and solid revenue. In order to arrive at that point, Swett has taken a journey many years in the making.

Educated as a web developer at Western Michigan University in Kalamazoo, Swett knew he wanted to go into business for himself, but like many entrepreneurs starting out, had no idea of how to go about it. But the first lesson he learned was the most important:

Jason: "I think the first business book I ever read was 'Think and Grow Rich' by Napoleon Hill. Now, much of the information in that book I would put under the questionable category, but it cemented into my head the idea that the most important thing is persistence. It's not how intelligent you are, not your background, it's persistence. You're going to do a lot of wrong things, and you'll reach the point where you think you should throw in the towel. But if you keep going, eventually you will get there."

He began narrowing his focus, working on various business ideas using his web-developer skills. These projects ranged from an enhanced site for Toastmasters groups, a website to help users find local food, or even an app that helps offices decide where to go to lunch for the day. With each of these ideas, Swett poured in time, money and energy.

Unfortunately, each of these early projects failed. But through each failure, Swett learned, and he came to realize at the time was that he was building products that nobody wanted. With Snip, he took an entirely different approach: figure out what the customer wants, and then build the product based on their existing wants and needs. He did this by working with salon owners directly, giving them early versions of his product over an eight to ten month period.

Even during this time, he did not stop learning. One of the best lessons he learned was the difference between vitamins and painkillers. Most people, Swett said, would not buy a product that would make your life a little bit better. The products that people buy are the ones that relieve the 'pain points' of a customer.

When building Snip, he spent a great deal of time building analytic tools into the system, so a stylist would be able to understand how much time each appointment took, how much money they made at any given point in the year, which customers they had not seen so they could be coaxed back into the salon.

But these features, in Swett's terms, are vitamins. To be a painkiller, Snip had to relieve something painful, either in terms of time or money. He began to describe the product in those terms:

Jason: "If you have a receptionist at your salon, and you have the receptionist calling people to remind them about their appointments, that costs money. If you're paying the receptionist $10 an hour, and lets say that takes two hours a day, for that example. Two hours a day for a month works out to $600. Now if you use Snip, then you save $600 a month because you don't have to do these confirmation calls."

By this point, he had a working product, and a single user using his product for free. Most importantly, he had the narrative to market his product effectively to customers. But no matter how good the pitch, a product has to be sold.

To do this, Jason hit the bricks. Going door to door, he visited 80 salons, speaking with over one-hundred stylists and salon owners. Out of this effort, he gained his three first paying customers. In the business world, a 2-3% conversion rate for a new product is fairly standard.

Swett is pivoting yet again, making the transition from high-touch sales, based on face-to-face interaction and teaching, to low touch sales, where his customers might never interact with him. To this end, his efforts have become much more narrow in scope, focusing on specific aspects of his new goals, such as SEO, web design, and targeted marketing.

Through all Jason's efforts, he has been methodical and goal oriented, which has helped him learn from his failures instead of being discouraged by them. He has used those opportunities to build his entrepreneurial knowledge, which is now bearing fruit. All the while, he knew that if he kept moving forward, he would find success:

Jason: "My education in how to build a successful business was a really hamfisted and haphazard way, but I would recommend this to anyone, to be honest. The strategy I took was: I know very little about business. I knew so little that I don't even know where to start. I didn't even know the title of a business book. That's why my strategy became 'Start anywhere, and keep moving.'"

"It's like this: if you find a tiny stream, and follow that stream down, that stream will meet with a creek, that creek will meet a river, and that river will run to the ocean. You don't have to worry about finding the river in the beginning. Just worry about following the stream."

Success is great. We like to champion it, trumpet it. It's easy to do so. But failure, which bears success, is hard. It is something we don't like to look at. We do so at our peril, because failure is an important a teacher as you might find. It has been an excellent teacher to Jason, and can be for everyone, so long as they take his active approach to learning and entrepreneurship.
REFLECTIONS: Turnips to Turbines: The MSU Products Center with Joanne Davidhizar

In 1857, there was a plank road that stretched all the way from Lansing to Detroit.
If you were to drive your horse and buggy across it in August of that year, you might see a large group of young workers picking turnips on a sixty acre plot.
What you'd be seeing was one of the first classes at what would become Michigan State University.
It was an innovative way of supporting the state's agriculture and forestry. In three hours of daily garden and farm work, students put into practice theories learned in the classroom. Through both education and practice, the University supported the state's ag entrepreneurs.
MSU, now a world class university in a variety of fields, has never lost these entrepreneurial roots. In fact, the resources of the university have never been more accessible to Michigan citizens all across the state, thanks to programs like the MSU Product Center.
The Product Center's goal is to help people start or expand businesses in food, agriculture, natural resources, bioenergy or bioproducts, the areas that are in line with MSU's College of Agriculture and Natural Resources.
I sat down with Joanne Davidhizar, an Innovation Counselor at the Product Center. Joanne counsels businesses to help them meet their entrepreneurial goals. She does this in a variety of ways:
Joanne: "The counselor has a relationship with a client. We help them think through the process [of starting or expanding a business.] We're their helpers as well as their cheerleaders. We connect them with the right resources that the University has to offer, and help with packaging, labeling, food studies, feasibility studies, and market development."
Product development itself is a complex process that draws on the unique resources of the University:
Joanne: "Let's say you're a small food manufacturer; there are state laws that they have to consider, federal laws, and depending on the type of product, you have various testing that needs to be done. For instance, in order for a food to be sold in a retail or wholesale setting, it needs to undergo what is called a food safety review, meaning that the recipe is analyzed by our special services folks on campus. Depending on if it meets safety standards in things like pH level, the recipe might need to be revised to meet proper spec, so that the product will be shelf stable. We rely on our MSU Food Science, Animal Science, and Packaging Departments to help with this."
Ms. Davidhizar has counseled numerous businesses in her time at the Innovation Center. In her three years on the job, she has helped over 100 businesses in counseling. Her active roster includes about 70.
One thing that Joanne mentioned
—
and this is a common thread through entrepreneurial study and practice
—
is that it is difficult for a single person to do all that is necessary to start a business. Successful entrepreneurs are effective in teamwork, because we don't know our blind spots. As Joanne put it: "Collaboration is big here."
In addition to research on Michigan's agricultural industry, the Product Center also conducts events that present excellent opportunities for new business:

Joanne: "First, we have Money Smart for the Food Product Entrepreneur, which will be held in Benton Harbor from September 18th through the 25th, will teach the basics of small business finance for food entrepreneurs in Michigan.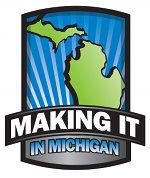 Second, we have our biggest event of the year, Making it in Michigan: Michigan's Premier Specialty Food Show on November 12. Not only do we have a variety of educational sessions and events, but we also have a large trade show, which features Michigan-made products. It's a great opportunity for exposure. I've worked with clients to prepare specifically for the event; for many, it's their first big chance to expand or get out there. At this event, we welcome Michigan-based food, regardless of their affiliation to the product center.

The event is growing every year, and there's a lot of buzz around it. Westborn Market, a grocer on the east side of the state, will actually choose three vendors per year to feature in their stores from the show. That's special, but there are many other grocery buyers that come to the show as well, so they can sample new products."

In 2012, the Product Center published a research report about the economic impact of the agricultural sector in the State of Michigan. They found that Michigan's agriculture contributed almost a million jobs to the state's economy, with economic activity worth about 91.4 billion dollars. The Product Center itself has facilitated the launch and expansion of over 310 businesses since 2012 with a net first year sales and sales of over 317.2 million dollars.

It's a long way from that first crop of turnips, but as you can see, MSU is still planting seeds for Michigan's agricultural economy to great effect.

If you wish to take advantage of the great services that the Product Center has to offer, simply click on the link here, call (517) 432-8750, or send an e-mail inquiry to product@msu.edu.
SBRC CLASSICS:
Good to Great: Why Some Companies Make the Leap and Others Don't
By Jim Collins
Jim Collins is one of the best business writers of our era,
Good to Great: Why Some Companies Make the Leap and Others Don't
is one of his most enduring books.
The book describes an unusual story of corporate performance: how a company becomes a behemoth, how it sustains above-market performance for an extended period of time. For his cohort, Collins and his researchers chose eleven companies to study, and found commonalities between them. His team also used a group of comparison companies as a 'control,' so that the reader can understand what makes them great.
One of the best concepts that Collins articulates in the book is the concept of the hedgehog versus the fox.
The Greek poet, Archilochus, is quoted in fragment as saying 'the fox knows many things, but the hedgehog knows one big thing.' In scholarship, this is the distinction between people that relate everything they do to a central vision, or those who pursue many differing paths that may, or may not, connect.
Collins is very clear on the subject. The companies that thrive in his system are the ones that do a single thing better than anyone else, whether it be recycling steel (Nucor), crafting medical devices (Abbot Labs) or grocery (Kroger). A hedgehog, in Collins's terms, is a company that does one thing very, very well, better than anyone else. The shift is made by an active choice among the leadership of the company.
A company realizes that it cannot be the best at something because they are willing to face the 'brutal facts,' as Collins puts it. So they shift their strategy so that they can be the best at one single thing. Most companies, unfortunately, cannot make these hard decisions; they hedge their bets so that they can rely on different modes of success.
Diversification is not an enemy of a hedgehog-type company; it is that all the things that a company does are in service of that one concept that drives the company forward.
For example, if an automobile company is going to be successful, it must master a whole host of things before they can create the world's best driving experience, if that's their goal. An average automobile has thousands of parts, of all types of imaginable materials. These parts must be managed in a supply chain, and assembled in sequence, by thousands of workers.



And that's only the production; any product's experience is shaped by a number of further factors, like marketing, sales, design, testing, engineering, all sorts of different factors. But all these areas contribute to the final goal of a great driving experience.





Successful corporations must therefore not only try hard; they must try hard in the right way. By Collins's count, there are no runner up prizes.



One example of a company that was not able to make such moves was Kodak, which recently emerged from bankruptcy.

The interesting thing about the Kodak bankruptcy, seen through the lens of this book, is that they definitely tried to make the big shift from a producer of analog film, which was its greatest cash cow, to a variety of other products, namely digital cameras, drug production, and most recently, digital printing.



Unfortunately, these efforts did not allow the company to shift effectively enough to help its bottom line, and thus its chances to avoid bankruptcy.



It's hard to be a hedgehog, and its harder still to be a hedgehog in the right thing, the thing that will allow you to survive as a company. Most companies cannot do this, which is why studying the ones that do is so important.

In this way, Good to Great offers a great deal of understanding as to how a successful company stays successful, and why such a company might fall.
Good to Great by Jim Collins: put your copy on hold today!

You can also read an article based on the books research here!


AREA ORGANIZATIONS
Ask your Business Librarian for details!

Grand Rapids Opportunities for Women (GROW)
Grand Rapids Opportunities for Women (GROW) provides in-depth training classes, counseling and support services to help start or grow your business.

Consider attending their free orientation session 'Intro to Grow,' which is mandatory before attending other classes. Register online. For questions, email Nicole at nnicolas@growbusiness.org or call 616-458-3404.

Grand Rapids SCORE: Counselors to America's Small Business Supported by the Small Business Administration (SBA)
SCORE is a service corps of over 12,000 entrepreneurs ready to share their expertise to help your business grow. From low-cost workshops to business evaluation to one-on-one counseling, SCORE is in business for your business!

Register for counseling online, call 616-771-0305, or e-mail score@grandrapids.org.

Score is now at the library! Sessions the first Thursday morning of every month! Register here at the SBRC page using Eventbrite; please forward any questions to the Business Librarian.

MI-Small Business and Technology Development Corporation – Region 7
In 2011, the West Michigan region SBTDC helped to start 49 businesses, and supported a further 700, through counseling, free or low-cost training, research and advocacy. With offices at the GVSU Seidman School of Business, SBTDC offers support for new ventures, existing small businesses and innovative technology companies.

Check out their training schedule for Kent County and a guide to their class offerings. For questions, call 616-331-7370 or email sbtdc@gvsu.edu.

Start Garden
Start Garden is an innovative new seed fund with 15 million in capital located in downtown Grand Rapids at 50 Louis Street. Each week, the fund invests $5,000 into two business ideas, one decided by the Start Garden team and the other by the voting public. Chosen teams have one month to present at Update Night, to see if those businesses qualify for further rounds of funding. Start Garden also offers counseling and a variety of events to help get your ideas off the ground. Visit them at startgarden.com!

Grand Rapids Chamber of Commerce
As any successful business-person can tell you, it always pays to keep your finger on the pulse of your local business community; no one can help you do that better than the Grand Rapids Chamber! The Chamber is an excellent resource for businesses great and small, with a variety of different events and programs. The Chamber is a strong advocate for West Michigan business, from GR to Lansing to Washington DC. Visit them at www.grandrapids.org

Small Business Resource Center funding is provided by the Grand Rapids Public Library Foundation – Titche Family Fund. Support your public library. Consider a gift today!