Invasion of the Visiting Committee

May weather is usually a joy here at Stanford. However, it also tends to be favorable in lots of other places. So we can rule out climate as the reason why 18 brilliant, distinguished figures – from four continents, six countries, and seven states – traveled this year to Stanford for the annual meeting of the Libraries' Advisory Council (AC). Why then do these busy people come all this way? The business leaders in the group may find provocative our vision of how information organizations must adapt to changing times. For the seven librarians, including the heads of two national libraries, ongoing cooperation and collaboration may be a factor. The five Stanford alumni may feel this to be an element of their ongoing connection with alma mater. Perhaps two days of intense discussion on the future of libraries and the palpable camaraderie are sufficient draw. Speaking for myself, the buzz, discussion, and reflection make this meeting the high point of SULAIR's annual calendar.

The charge of the Advisory Council is to report to the university on the state of the Stanford Libraries, to highlight strategic challenges, to acknowledge particular achievements. This year's lead discussion, conducted by Professor Michael Marrinan, addressed looming changes in access to physical books as the campus constricts the space available for shelving, with specific reference to the scheduled 2012 closing of Meyer Library, currently home to the East Asia Library. "Libraries have always been the core of a research university," he said and asserted this central position is now in jeopardy. Ultimately, the AC's job is to help us figure out how to remain vital to this university in coming years. Their efforts, engagement and support are critical for our future, and very much appreciated.

Change is in the air, here as elsewhere,

Andrew Herkovic

David Kennedy Honored with Warren R. Howell Award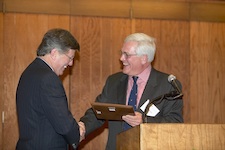 On May 2, Mike Keller bestowed the Warren R. Howell Award upon Professor David M. Kennedy on the occasion of his retirement as Donald J. McLachlan Professor of History. The Howell Award is named for the preeminent San Francisco bookseller and presented to acknowledge outstanding and exemplary contributions to the local world of books and libraries. Kennedy, the eleventh recipient of the Howell Award, received the award before an appreciative audience at a joint dinner of the Libraries' Advisory Council and the Rondel Society. Ambassador Bill Lane added remarks and a gift in appreciation of Professor Kennedy's role as Program Director of The Bill Lane Center for the Study of the North American West. The award had not been presented since 2000, when it was bestowed on Marnie Furbush.

Professor Kennedy's many and varied efforts on behalf of the Stanford University Libraries are too extensive to be listed here, so we'll highlight just three especially notable contributions.

As Chair of the bookstore's Board of Directors in 1999, he was able to direct a portion of the proceeds from its sale to Follett to create the Stanford University Bookstore Book Fund, a vitally important source of funding for year to year acquisitions.

As colleague of Professor Thomas Bailey, working with him to write and later revise The American Pageant and The American Spirit, he helped create the Annie Nelson Bailey Memorial Book Fund (in memory of Professor Bailey's mother), to which is directed royalties from their bestselling textbooks.

Professor Kennedy's most recent gift to the Libraries is his inspiring speech of acceptance of the Howell Award, a very personal tribute to the importance of American libraries, which we will print and make available to library supporters later this year.

Concurrent Exhibitions

For more than twenty years, San Francisco-based artist and publisher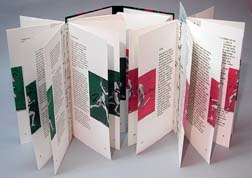 Charles Hobson has been experimenting with the artist's book form. Under his imprint, Pacific Editions, he has designed and produced more than thirty titles, primarily in limited editions, featuring innovative methods and structures. An exhibit, Experiments in Navigation: The Art of Charles Hobson, is on display until August 17 in the Peterson Gallery and Munger Rotunda of Green Library. The exhibit includes materials from Hobson's archive, donated to Special Collections in 2007, which illuminate the process of each book's conception, development, and production. Four of Hobson's books and related works on paper are concurrently on display in the Lynn Krywick Gibbons Gallery at the Cantor Arts Center until July 6. We urge ReMix readers not to miss these stunning and original exhibitions.


New from the Stanford University Press
As introduction to a new regular feature of ReMix, we remind readers that the Stanford University Press, established in 1895, has been a division of the Stanford Libraries since 1999. Today, recovered from a period of red ink, it continues to uphold a tradition of excellence in academic publication. As the press states, "our values echo the motto of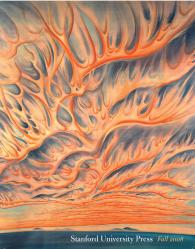 Stanford—the wind of freedom blows—in that we are committed to the publication of works of scholarship that both extend and challenge prevailing views in the academy and society, and thereby explain and illuminate the human condition." It publishes important works that might otherwise not see the light of day, including highly specialized and peer-reviewed research, translations into English of foreign-language works (and vice-versa), reprints of seminal scholarship, works of new scholars, reference works for professionals, and textbooks for upper-level undergraduate and graduate courses. It also produces series of trade editions for the general educated reader. This month, we invite you to preview one of these general works, Is There a Doctor in the House? by Richard M. Scheffler. Click here to preview.
ReMix: News from the Stanford Libraries provides highlights, news clippings, and notices about Stanford University Libraries and Academic Information Resources, which comprises
Libraries, Academic Computing, Residential Computing,
Stanford University Press, HighWire Press and Stanford Publishing Courses. ReMix is published approximately monthly
by the Library Development Office, only in electronic form.

Stanford University Libraries & Academic Information Resources
Michael A. Keller, University Librarian
Andrew Herkovic, Director of Communications & Development
Sonia Lee and David Jordan, editors

Subscriptions to this newsletter are available on request at no charge for SULAIR supporters. To request (or discontinue) a subscription, to submit questions or comments, or to make
gifts or story suggestions, please write or call David Jordan at dajordan@stanford.edu, 650-723-3866.

Please visit us at: http://library.stanford.edu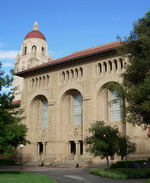 The Bing Wing of Cecil H. Green Library
Currently on Exhibit

Experiments in Navigation: The Art of Charles Hobson April 30-August 17 in Green Library's Munger Rotunda and Peterson Gallery Click here for details.




Endowed book funds now on display near the south entrance of Green Library:
-The John V. Vickers Memorial Fund

-The Anna Vickers Crawford Memorial Fund
-New and Recent Publications from Stanford University Press



Branner's Yosemite, an exhibit of books and maps in the Branner Earth Sciences Library

Upcoming Events & Exhibitions

Saroyan Celebration September 5, details to follow

SULAIR in the News
(click on underlined text to see article)