LATE BREAKING NEWS

As this issue goes to (virtual) press, a major court decision on the Google Books project has been announced. Stanford is reviewing the court's verdict, and we will discuss any new developments in the project in a future issue. In the meantime, interested readers may wish to read the court's decision, University Librarian's Mike Keller's initial response and news coverage.


---

Lifelong Learning: Exhibits, Courses, and Libraries

An embarrassment of riches for bibliophiles is upon us. This Spring Quarter, the Libraries' friend and collaborator Peter Koch will teach "The Art of the Book: Lectures in Connoisseurship" through Stanford Continuing Studies – in the Barchas Room of Green Library, of course. For many readers, Peter Koch needs no introduction, but I recommend visiting to his website anyway. We are very pleased that Continuing Studies coordinated the timing of this class to enrich a pair of upcoming exhibits.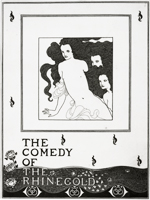 Opening 13 April at Cantor Arts Center, "Illustrated Title Pages: 1500-1900" will feature 80 extraordinary books, some from the Libraries' collections. (Shown here is the title page of Aubrey Beardsley's The Comedy of the Rhinegold, 1897.) Koch is also curator of "The Art of the Book in California: Five Contemporary Presses," which will be on view at Cantor from 1 June-28 August. That exhibit, co-curated by the Cantor's Alison Roth and our own Roberto Trujillo, will features works from the Libraries' collections that exemplify the book arts in California today – and yes, Peter's own productions (such as the volume shown below) will rightfully be among them. (As I write this, an exhibit catalog, featuring essays by Koch and poet and scholar of typography Robert Bringhurst, is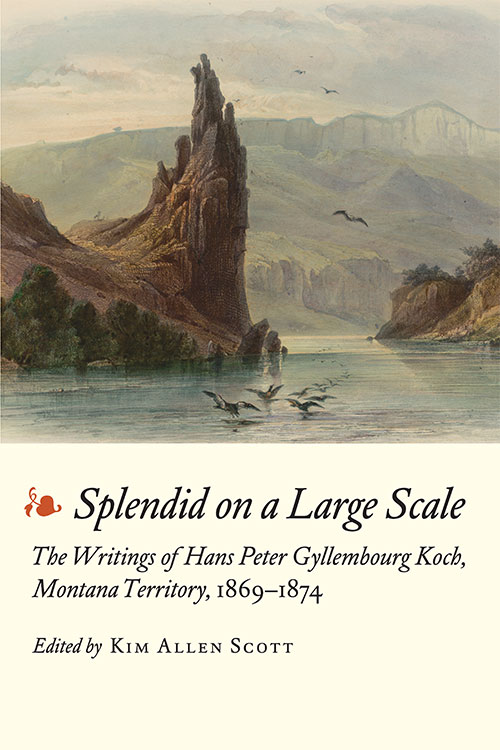 going to press.) Meanwhile, back at the Bing Wing of Green Library, "Monuments of Printing, from Gutenberg through the Renaissance" will run concurrent with the Cantor exhibit. Curated by Rare Books Librarian John Mustain, it will present printed books dating from the mid-15th century to 1700, all from the Libraries' collections.

Not unlike modern scholarship itself, much of what we do depends on collaboration, and it is gratifying to note these engagements with Cantor and Continuing Studies. (This month, we begin including notices to the latter's free public events in the sidebar.) In a recent discussion of our engagement with lifelong learners, I was delighted to hear it is the practice of the Master of Liberal Arts program to introduce all entering MLA candidates to our Special Collections department. It makes perfect sense to me that one cannot (or at least ought not try to) master the Liberal Arts without recourse to original (or at least early) manifestations of recorded knowledge.

To lifelong learning,

Andrew Herkovic

---

Legendary Musicians in the Archive of Recorded Sound

Ensconced in the lower level of Braun Music Center, Stanford's Archive of Recorded Sound (ARS), open weekdays 1-5 pm or by appointment, is one of the largest sound archives in the nation and one of very few located west of the Mississippi (others are listed here). A sampling of its 300,000 recordings may be heard on The Music Treasury, airing on KZSU 90.1 FM on Thursday evenings from 6-8pm. In this article, submitted by ARS sound cataloger and project archivist Frank Ferko, three recently processed but not yet digitized (their best hope of long-term preservation) collections of prominent twentieth-century musicians are featured.

Spanning 75 years, the career of Yehudi Menuhin included work as a virtuoso violinist as well as a highly respected conductor. The Yehudi Menuhin Collection, assembled by his family, consists of fifty-four 78 rpm recordings of Menuhin performing violin works, often accompanied by his sister, Hephzibah Menuhin. The recordings were made primarily for the Victor and the Gramophone companies between 1938 and 1950; they include standard works by composers such as Beethoven, Mozart and Brahms, but also recordings of lesser known pieces, such as Ildebrando Pizzetti's Sonata in A major, and several identifiable only by their Japanese titles.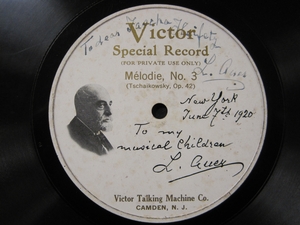 The Jascha Heifetz Collection, donated by the violinist's longtime friend and record producer at RCA Victor, Jack Pfeiffer, includes not only Heifetz's own performances but also his personal collection of recordings made by other artists. One of the rarities to be found here is the 1920 privately made recording of Heifetz's teacher, Leopold Auer. The record (pictured) is signed and dated by Auer, who was venerated as an instructor but was not commercially recorded. The Heifetz Collection, consisting of over a thousand discs and reels of various types produced from 1911-1972, attests to the many technological changes in the recording industry during that period. Four distinct record formats are found: standard, long-playing records; 78 rpm commercially released records; test pressings ("artist approval" records preceding commercial releases); and instantaneous discs ("temporary" homemade records).

A large number of instantaneous discs can also be found in the Lawrence Tibbett Collection, consisting of 98 records documenting the middle years of the baritone's career. Tibbett sang for 27 seasons at the Metropolitan Opera (1923-1950). Although he mastered and recorded many of the historical baritone operatic roles, he also created roles in the world premieres of operas by noted composers of his day. An outstanding example is Howard Hanson's Merry Mount, commissioned by the Metropolitan and first performed in February, 1934. A pre-premiere recording, made in January of that year, is in the holdings at Stanford. The collection also contains Tibbett's well known renditions of popular songs, such as Rodgers and Hammerstein's "Oh, what a beautiful mornin'" and Harold Arlen's "Accentuate the positive," performed on live radio programs in the 1940s.


---
Faculty Senate Considers East Asia Library Move
On February 17, the Committee on Libraries (C-LIB) presented a much awaited comprehensive report to the Faculty Senate. Capital projects (e.g., on- and off-campus storage facilities and the Engineering and Physics libraries) were discussed, but none more so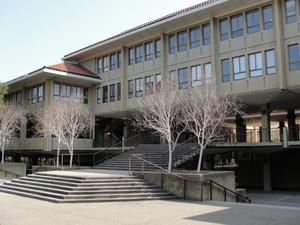 than a proposal under study to move the East Asia Library and several other vital library operations currently housed in Meyer Library, which is slated to be razed circa 2015, to the Graduate School of Business (GSB) South building (pictured) in which the J. Hugh Jackson Library is currently located. Next month, Jackson Library is moving to the Knight Management Center, the new home of GSB. Committee chairperson John Bender expressed the members' approval of the idea: "It would present a marvelous centerpiece for the East Asia Library. The old Jackson Library is a beautiful two-story space with a sweeping staircase…[and] lots of terraces and interesting spaces that could be used by the libraries." A Stanford Report article contains much of Bender's dialogue with Provost John Etchemendy about the suitability and costs of the proposal. More saliently, the Provost made it clear that there will be a campus home for the East Asia Library, whether or not in GSB South, a heartening affirmation.

Then, University Librarian Mike Keller defined a "new narrative" in e-dissertations and articles: "The new narrative is a stream of text with media objects and spreadsheets and all kinds of other operations in the ribbon of text. The problem that we're experiencing now is that most of the scholarly journals do not want to save the supplemental materials that come along with these articles." The Libraries are working to enable and archive these new narrative texts, which Keller suggested will lead to "a new concept of learning and communication about the development of knowledge." Academic acceptance of the new narrative will also change the nature of libraries, but at different paces, he stated: "With regard to bookless libraries, the digital disciplines are especially prominent in the sciences and humanities; very much so in the social sciences; and important, but not prominent, in the humanities. When we have an opportunity to build a library that will become bookless, as in the case of the engineering library, we'll do that." As an example of an obstacle to a bookless humanities library, Keller cited: "The Art and Art History programs are heavily dependent upon images. Digitization of images is highly problematic. The use of digital images from books on a network is in contravention of several court decrees and the copyright law. So we are not going to have a bookless art and art history library for decades."

There is much more – digitization plans for our newspaper collections, for example – of likely interest to our readers in the full C-LIB report and the Faculty Senate minutes, pages 19 ff. Outlined are nine discrete projects addressing recommendations expressed by C-LIB in its 2009 "Marrinan Subcommittee Report." These include upgrades to the online catalog; research modules (dedicated physical spaces) and research portals (virtual spaces with online storage); on-screen browsing of up to 100 items at a time; expansion of the Academic Technology Specialist program; endorsement of the idea of a hybrid library; transfer of serials with Web-based editions to offsite storage; new campus storage of library materials and a more dynamic definition of core collections, including "classics" in literature and reference, to remain in open stacks for browsing and convenient accessibility.
---


Barbara Babcock to discuss Woman Lawyer

Clara Foltz was one of the first women lawyers in the United States, and for a time one of the most famous. From the day of her admission to the bar in 1878, she was often in the news – arguing to all-male juries, stumping in political campaigns, and working for woman suffrage, penal reform, and other causes. She had a large part in the adoption of the first guaranties of equal access to employment and education in U.S. constitutional history, pioneered the public defender movement, and practiced law continuously for fifty years. (from "Preface")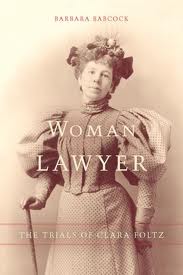 Our readers are cordially invited to a talk and book signing celebrating the publication of Woman Lawyer: The Trials of Clara Foltz (Stanford University Press, 2011). Foltz was the first woman admitted to the State Bar of California, an appointment which brought much celebrity to her trials and, moreover, to her personal life, as a single mother of five children who became a lawyer to support them. Among her many accomplishments, she championed the then radical idea that the government should be responsible for the fair presentation of both sides of a criminal case, now considered a "Foltzian" ideal of representation and a philosophy of law as, in her own words, "a shield as well as a sword" (p. 319).

Author Barbara Babcock, Judge John Crown Professor of Law, Emerita at Stanford, understands the challenges and scrutiny of professional "firsts," being herself the first woman appointed to the regular faculty at Stanford Law School and the first Director of the Public Defender Service in Washington, D.C. She also served as an Assistant Attorney General for the Civil Division in the Carter administration. Babcock and her students collaborated with the staff of Stanford's Robert Crown Law Library to create the "Women's Legal History Biography Project" website, on which more details about the life of Clara Foltz and several hundred other women lawyers may be found. Reviews praising Woman Lawyer have been posted on Legal History Blog.

The program will take place on Wednesday, April 6 at 5:30pm in the Information Center Instruction Room, First Floor, East Wing, Cecil H. Green Library. No advance registration is required; we hope you will join us.
---
ReMix: News from the Stanford Libraries is e-published monthly by the Library Development Office as a service to supporters, providing highlights, news links, and announcements about Stanford's Libraries, Academic Computing, Residential Computing, Stanford University Press, and HighWire Press.

Stanford University Libraries & Academic Information Resources
Michael A. Keller, University Librarian
Andrew Herkovic, Director of Communications & Development
David Jordan and Renee Mueller, ReMix editors

Please submit questions/comments/suggestions to
David Jordan at dajordan@stanford.edu or 650-723-3866.

Click here to learn more about supporting the Libraries.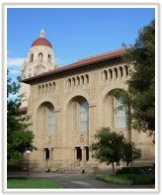 The Bing Wing of Cecil H. Green Library
In this issue
In the Libraries

Woman Lawyer: The Trials of Clara Foltz
Stanford University Press, 2011

A book talk by Barbara Babcock,
Judge John Crown Professor of Law, Emeritus

Wednesday, April 6, 5:30pm
Information Center Classroom
Green Library, First Floor, East Wing

---
The American Enlightenment: Treasures from the Stanford University Libraries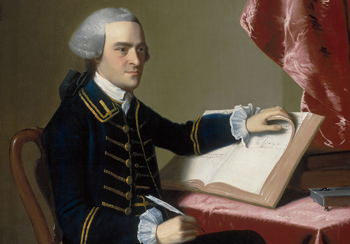 Through May 15 in the Peterson Gallery and Munger Rotunda, Bing Wing of Green Library

---
On display in the south lobby of Green Library:

New and Recent Acquisitions in Conflict & War

New Titles in Literature and Literary Criticism

In the News

Future location of East Asia Library debated


100 years of Pravda newspaper digitized


Rare book collection on display


Preparing the past for the present


5 minutes with Phyllis Kayten, Green Librarian


3,500 attend Parents' Weekend


London by Author

Rampersad receives National Humanities Medal

Jerry McBride Authors New Book


Stanford Historical Society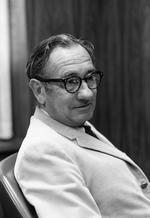 Psychology at Stanford: A History
Professor Al Hastorf

Former Provost, Benjamin Scott Crocker Professor of Human Biology,
Professor of Psychology, and, by courtesy, in the Graduate School of Business, Emeritus

Thursday, April 21, 2011
5:30 p.m.
Kissick Auditorium
Arrillaga Family Sports Center
(next to Maples Pavillion)
Stanford Continuing Studies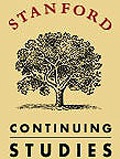 Speak, Memory: "Dead Voices" and Under Milk Wood

Inaugural production of the Memory Play season
April 13, 21-23
(times and locations

here)
Free and open to the public; advance registration may be required

Full Continuing Studies Event Calendar here
Stanford Reading Salon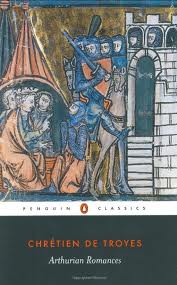 Arthurian Romances, by Chretien de Troyes
Hosted by Marisa Galvez, assistant professor of French
Stanford University Press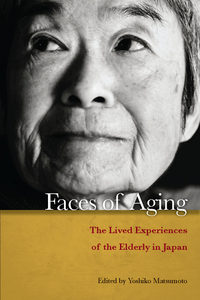 Faces of Aging
The Lived Experiences of the Elderly in Japan

Edited by Yoshiko Matsumoto
Featured Acquisition
Samuel Johnson. A Dictionary of the English Language . . . . The fourth edition, revised by the author. London: Printed by W. Strahan, for W. Strahan, J. & F. Rivington . . . [and 23 others], 1773.

Acquired on The University Libraries Research Fund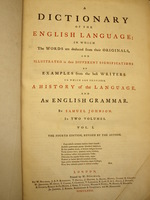 Johnson wrote in the "Advertisement" to this edition (the last to be edited by him): "Many faults I have corrected, some superfluities I have taken away, and some deficiencies I have supplied. I have methodised some parts that were disordered, and illuminated some that were obscure."