Libraries grapple with evolving needs, expectations

The Libraries' directors met several times this month to debate what we can "do differently in order to better serve Stanford." At one of these extended sessions, Mike Keller expounded some of the strange vicissitudes of our "both/and" mission. While the Libraries strain to satisfy both traditional and digital/online information needs, some faculty evidently feel the Libraries are moving far too slowly with new technology, while others fear we have abandoned their needs for physical collections. While neither criticism is accurate, the latter galls, as it reflects little about our actions or motivations and a lot about the very real shelving crunch on campus. Indeed, we still buy books - over 100,000 physical volumes a year - concurrent with aggressive digital acquisitions, while our various special collections are actively adding holdings (some measured in single leaves, some in linear feet, some in tractor-trailer loads). Keller induced that the breadth and depth of our activities, particularly with collection development, are unevenly comprehended.

Keller challenged the group to "make our offerings more transparent and easier to get to" and to explain better to the Stanford community what we do and how the collections grow. Even from the inside, it is difficult to keep up with what is happening around the libraries, and we have a long way to go in connecting readers and researchers with the full range of materials and services available to them. Expectations keep getting higher; the tools keep getting more powerful (if not necessarily easier to coordinate); the sense of possibility tantalizes; this is a great time to take part in the Stanford Libraries' adventure.
-Andrew Herkovic

Arabic and Hebrew Original Script Fields Now in Socrates

Stanford's integrated library system now supports a character encoding standard, developed by the Unicode Consortium, which uses more than one byte to represent each character, allowing almost all of the world's written languages to be represented by using a single character set.

For the Libraries, this means that Socrates can start displaying all of the scripts and characters of the languages in which the Library catalogs regularly.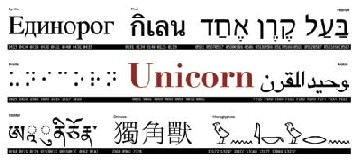 As of February 11, catalog records in Socrates display the original script for most materials printed in Hebrew or Arabic. In addition, you can search for authors and titles in Arabic or Hebrew script, via the normal Socrates search box (using an appropriate input keyboard). Until now the only way to conduct searches in Socrates for Hebrew and Arabic materials was in transliteration into Latin script - and that option remains available. This is the first publicly visible phase of a project that has been ongoing for a number of years and will continue to add other scripts. The next phase will work on adding Chinese, Japanese and Korean.

Collection Highlights I: Collaborations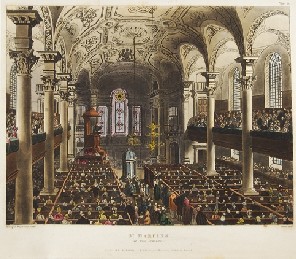 The Art & Architecture Library is pleased to announce its latest exhibition, now on view in the Library's Reading Room. The show features pieces from the Library's Locked Stacks collection and centers upon the theme of The Microcosm of London, 1808-1811
published works
created in partnership. A project undertaken by multiple participants (painters or poets, calligraphers or critics) is often deemed experimental, or at least unusual. In any case, it is an opportunity for a juxtaposition of media or styles, undertaken in a manner that might not occur to or be possible for any single artist. The exhibition includes examples of such partnerships ranging from the tenth century to today, from Japan to Austria to San Francisco. We hope you'll join us in enjoying these superb manifestations of the collaborative endeavor.
-Anna Fishaut, Assistant Librarian, Art & Architecture Library

Taxing Times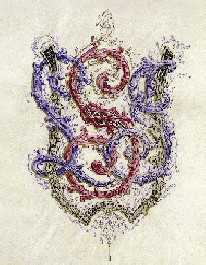 2008 is shaping up as a difficult year, with several legislative uncertainties, for tax planning. In many cases, gifts to the Libraries provide significant tax savings to our supporters. The Library Development Office, while not providing tax advice, can assist you and your tax professional with a range of gift opportunities, including gifts of collections, recording your bequest intentions (with accompanying membership in Stanford's Founding Grant Society), distributions from
retirement plans, gifts of appreciated stocks and real estate, employer matching gifts, and life income trusts, which provide lifetime income for you with a charitable remainder gift to Stanford. Please call the Library Development Office at 650-723-3866 for details.



ReMix: News from the Stanford Libraries provides highlights, news clippings, and notices about Stanford University Libraries and Academic Information Resources, which comprises
Libraries, Academic Computing, Residential Computing,
Stanford University Press, HighWire Press and Stanford Publishing Courses. ReMix is published approximately monthly
by the Library Development Office, only in electronic form.

Stanford University Libraries & Academic Information Resources
Michael A. Keller, University Librarian
Andrew Herkovic, Director of Communications & Development
Sonia Lee and David Jordan, editors

Subscriptions to this newsletter are available on request at no charge for SULAIR supporters. To request (or discontinue) a subscription, to submit questions or comments, or to make
gifts or story suggestions, please write or call David Jordan at dajordan@stanford.edu, 650-723-3866.

Please visit us at: http://library.stanford.edu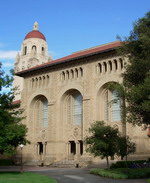 The Bing Wing of Cecil H. Green Library
Currently on Exhibit
Through April 16 in Green Library's Munger Rotunda and Peterson galleries, Zuancho in Kyoto: Textile Design Books for the Kimono Trade. Click here for details.

On view now in the Engineering Library, Engineering and Technical Consulting, the second in a series of exhibits answering the question, "What is an Engineer?"
Upcoming Events & Exhibitions
March 26-29 - 42nd Annual Assn. for Recorded Sound Collections Conference hosted by Stanford in honor of the 50th anniversary of the Stanford Archive of Recorded Sound (conf. fee). Click here for details.
April 2 - Parker on the Web event (by invitation).
April 14 - Presidential Lecture: Marina Warner, 7 pm at Levinthal Hall, Stanford Humanities Center. Click here for details.

April 19 - A Company of Authors, 1-5 pm, Stanford Humanities Center. Click here for details.

May 15 - Malcolm Margolin, Bay Area Book Legend, 7:30 pm, Cubberley Auditorium, School of Education. Click here for details.
May 29 - Exhibition reception for Experiments in Navigation: The Art of Charles Hobson (joint exhibition with the Cantor Arts Center) 4-8 pm, Green Library, Munger Rotunda. The exhibition will be on view from April 30 to August 17. Click here for details.
SULAIR in the News
(click on underlined text to see article)