Science Data and Libraries

The Libraries' Advisory Council convened in May and heard a full day of staff presentations on major developments in our sphere – some of which would be familiar to regular readers of this newsletter. Among many commendable talks, Bob Schwarzwalder, our associate university librarian for Science & Engineering, spoke on the emerging field of scientific data curation, and prefaced his remarks by quoting from an editorial in Nature, 10 Sept. 2009, entitled "Data's Shameful Neglect":

All but a handful of disciplines still lack the technical, institutional and cultural frameworks required to support such open data access – leading to a scandalous shortfall in the sharing of data by researchers… Research funding agencies need to recognize that preservation of and access to digital data are central to their mission, and need to be supported accordingly.

That recognition is growing among funding agencies, researchers, and libraries. The National Science Foundation, for example, is now formulating requirements for grantees to make their research data openly available. (Note NSF is not itself planning to become the source for such data; in effect, this considerable challenge is left to researchers and their institutions.) We believe strongly this is a natural, if heretofore neglected, province of libraries. As Bob pointed out, "the lack of access to STM [science, technology and medicine] data creates a financial and intellectual loss for society; data represent the primary research literature for the sciences and a blind spot in library collection policies; libraries are a trusted steward of STM literature with the technical, institutional and cultural infrastructure to preserve and curate STM data."

We are already deeply engaged in building robust data curation methods. Under a grant from the Library of Congress, we helped create, and we currently maintain, the National Geospatial Digital Archive. We are also partnering in the Marine Life Observatory (MLO) Project. With initial support from the Gordon and Betty Moore Foundation, we are working with Stanford's Hopkins Marine Station to understand marine science data issues. Bob explained our model for growing capacity in data curation: "collaborate with like-minded partners; build upon existing functionality of the Stanford Digital Repository [our digital archiving infrastructure]; transition the role of librarians to focus on research collaboration and data curation; [and thus] enhance the institutional and societal role and impact of the Libraries."

The Nature editorial bears the tagline: "Research cannot flourish if data are not preserved and made accessible. All concerned must act accordingly." We're there.

Accessibly,

Andrew Herkovic

---
Exhibit Celebrates Works of British Nature Mystic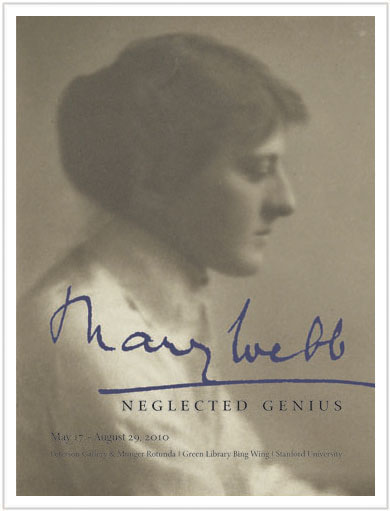 Mary Webb: Neglected Genius is open for viewing in the Peterson Gallery and Munger Rotunda of Green Library. The exhibition
illuminates the dramatic and tragic life of this early twentieth-century British novelist and poet, whose lyrical writing focuses on her native Shropshire. On display are literary manuscripts, typescripts, personal letters, and important association copies originally owned by Webb and her associates, which now make up the private collection of bibliophile Mary Crawford (AB '77). Among them is the manuscript of Webb's last unfinished novel, Armour Wherein He Trusted, the only of Webb's full-length novels to survive in manuscript form, the others having been burned by necessity for fuel in the Webb household fireplace. Also on display will be Webb's copy of Precious Bane into which is tucked the letter of appreciation that Prime Minister Baldwin wrote to her in the year before her death, and Thomas Hardy's copy of Webb's novel Seven for a Secret, dedicated and inscribed to him by the author. Evocative illustrations by Bay Area artist William Bishop accompany the show.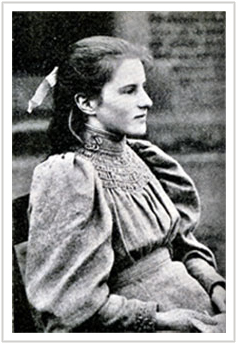 Webb (1881–1927) was afflicted at the age of twenty with an incurable thyroid disorder that marred her physical appearance. She struggled against sickness and fatigue the rest of her life, and died an early death in 1927 at the age of forty-six. A champion of the non-conformist and the underdog, she defended the right of the individual against societal pressures, and expressed an intuitive awareness of the collective unconscious of humanity. She was admired in her lifetime by a small but distinguished group of literary men and women, including Dame Rebecca West, J. M. Barrie, John Buchan, Arthur St. John Adcock and G. K. Chesterton. She won the coveted Prix Femina Vie Heureuse literary prize in 1925 for Precious Bane. But her books sold in small numbers.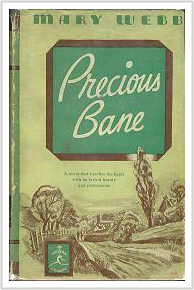 Recognition and acclaim came to Mary Webb six months after her death. Prime Minister Stanley Baldwin praised her writing in 1928 at a Royal Literary Fund dinner and chastised the press and public for not recognizing Webb's genius. After seeing the Prime Minister's speech under newspaper headlines proclaiming Webb's "Neglected Genius," the reading public rushed to buy her books. Jonathan Cape quickly published a seven-volume Collected Edition of Mary Webb (each volume of which became a best seller). Biographies were written, and dramatizations and movies made of her work. Her first editions were collected by some of England and America's most discerning collectors. Jonathan Cape and Webb's widower reaped rich rewards. By the late 1940s, the popularity and visibility of Webb's fiction had waned. Mary Webb: Neglected Genius showcases the remarkable life and legacy of this modern writer, and chronicles her uneven ride from obscurity to fame and back again.

The Grolier Club has published a deluxe two-volume catalogue of the exhibit. Copies may be purchased in the Field Reading Room (M-F 10–5) or by printing and mailing an order form. As founding members of the Rondel Society and sponsors of the 2006 Charles Dickens and Show Biz exhibit, Mary and Bruce Crawford need little introduction to ReMix readers. Leading advocates for book collecting, they uphold the time-honored concept of the private library. We are grateful to them and especially to Mary for sharing her authoritative Webb collection with the Stanford community and indeed, with the world at large, through the creation and sponsorship of a new "Webb site" devoted to the life and works of Mary Webb.
Digital Language Lab Celebrates First Decade
At the opening in 1999 of the Digital Language Lab (hereafter DLL), President Gerhard Casper stated, "If we all want to interact in the global village, it is important for us to learn languages other than English, and the language lab will make that possible." Indeed it has, for thousands of Stanford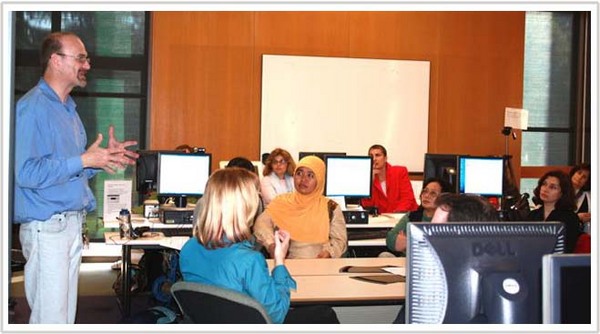 students in the intervening years. The DLL's administration of the Simulated Oral Proficiency Interviews in third-quarter language courses has been described as "a spring rite of passage to undergrads at Stanford" by Lab head Joseph Kautz in his recently published retrospective article. Located on the se
cond floor of Meyer Library, the Lab's facilities include a computer classroom, a seminar room, and a teaching studio – all furnished with the best and latest technologies for learning and teaching languages – plus an open lab area for self-study and multilingual computing and communication. Student and faculty testimonials to the effectiveness of DLL may be read here.

From inception, DLL has been a joint venture between the Stanford Libraries and the Stanford Language Center, which regularly offers 14 languages and approximately 30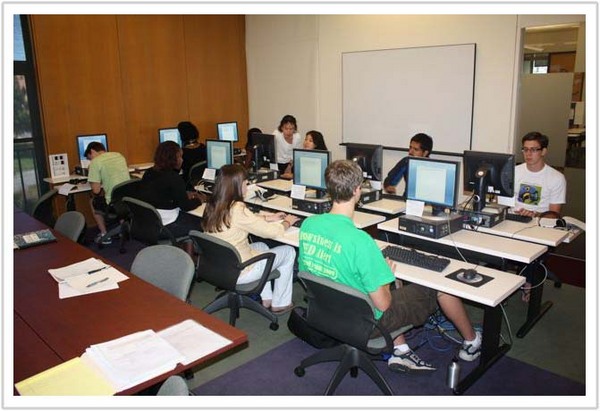 less commonly taught languages on demand, with quarterly enrollment of more than 2,500 students. World language proficiencies in speaking, listening, reading and writing have served students well, for example, in the Bing Overseas Studies program. Elizabeth Bernhardt, the John Roberts Hale Director of the Language Center and Professor of German Studies, reflects on the ongoing collaboration: "As the largest users of technology on campus, language programs would implode without the technology assistance we get from the academic technology specialist program and from the Digital Language Lab. The staff of SULAIR has been instrumental in facilitating our success; we are deeply grateful to the libraries for their support, guidance, and patience in making Stanford language programs the envy of many universities."
Japanese Woodblock Print Books Exhibited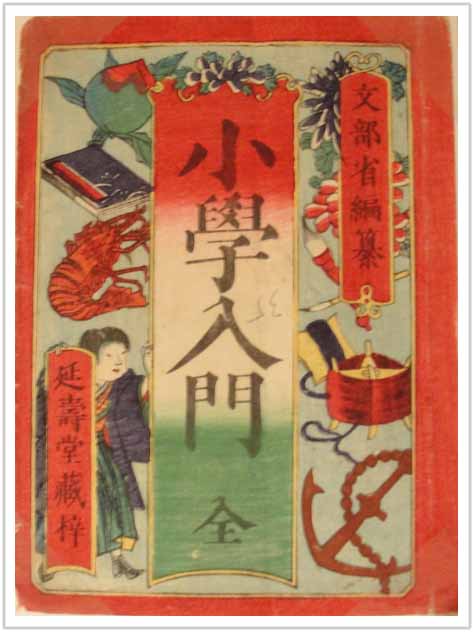 Graduate students in a winter-quarter course entitled Early Modern Japanese Literature have curated an exhibit of nineteenth-century woodblock print books. To demonstrate the interplay of "literacy in culture" and "culture through literacy," they selected matching teacher and student editions of Introductory Elementary Textbook with color illustrations; Girls' Encyclopedia of Arts and Letters with sections on child's play and riddles; Bucket Willow in light verse patterned after the traditional haiku; a manuscript of Mad Poems of the Hundred Poets composed in a comic variety of the ancient 31-syllable waka poems; and Biography of Peach Boy, a folktale. In their text accompanying the exhibit, the students concluded: "The cultural inclination toward education and literacy in nineteenth-century Japan engendered a democratization of culture unprecedented in pre-industrial nations, generating a vigorous and prolific publishing industry that is evidenced by the small sampling of books in these two cases…. Each is a fragment in the larger story of how the culture of a privileged few was reborn as the common property of the general population."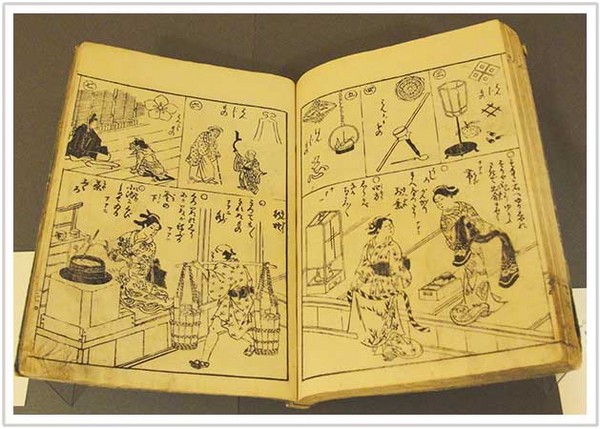 "The books studied in our seminar arose out of a literate culture that can be traced back to the sixth century, when the Chinese writing system was introduced in Japan. The Chinese writing system consisted entirely of logograms, known as kanji. The Japanese supplemented kanji with a phonetic syllabary, known as kana. This phonetic syllabary could be used in conjunction with kanji or on its own," Professor James Reichert explained. Throughout the course, students confronted modern obstacles to re
ading these works in their original printings. The books use multiple forms for each syllable in the kana syllabary, lack punctuation in the modern sense, and employ difficult calligraphic scripts to intentionally resemble the personalized handwriting of the manuscript tradition. "Despite these challenges," Reichert added, "the students in the seminar mastered the skills of deciphering nineteenth-century Japanese books. For their final project, they applied this newly acquired knowledge to examining original materials from the Stanford University East Asia Library's special collection. The fruits of their labor are on display in this exhibit."

Literacy and Culture in Nineteenth-Century Japan may be viewed through June 13 on the second floor of Green Library, East Wing.
Parker on the Web adds New Features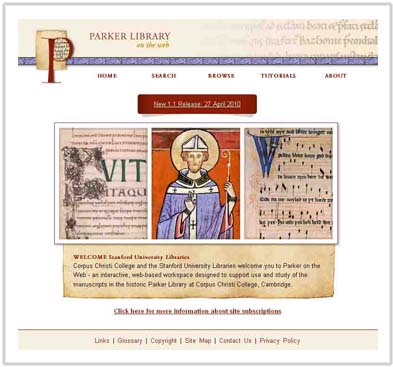 Stanford Libraries recently released a major update of Parker on the Web. Initially launched last fall, the site provides high-resolution digital access to the more than 500 priceless manuscripts of the Parker Library, which have been in the safekeeping of Corpus Christi College Cambridge since 1573. Development of this rich resource was a multi-year collaboration of Corpus Christi College, the Stanford University Libraries and Cambridge University Library, funded by The Andrew W. Mellon Foundation. To provide a viewing environment for these images, Stanford built an interactive web application which allows use by scholars and students in the context of supporting descriptive material and bibliography.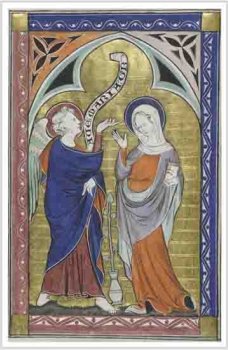 The most significant changes are the introduction of
"
thumbnail
"
view and display of the special physical features inherent in manuscript objects, such as flaps, foldouts, spreads, bookmarks, spines and edges. In addition, with this new viewing environment five manuscript scrolls (as opposed to the more common paged codices) can now be displayed on the site. Two views of Parker on the Web are offered. The first is available without charge to the public, and there users can see an image of each page of the Parker manuscripts as well as full descriptions and can browse the collection by manuscript title and number. The second view, which offers much more powerful browsing, keyword and fielded searching, bibliographies, and zoomable image viewing, is available only to users covered by institutional licenses (including Stanford).

The detail above shows the Annunciation, from the early fourteenth-century Peterborough Psalter and Bestiary (MS 53), one of the great East Anglian gothic illuminated manuscripts. A narrated slideshow produced by BBC News about the Parker Library may be viewed here.
ReMix: News from the Stanford Libraries is e-published monthly by the Library Development Office as a service to supporters, providing highlights, news links, and announcements about Stanford's Libraries, Academic Computing, Residential Computing, Stanford University Press, and HighWire Press.

Stanford University Libraries & Academic Information Resources
Michael A. Keller, University Librarian
Andrew Herkovic, Director of Communications & Development
David Jordan and Sonia Lee, ReMix editors

Please submit questions/comments/suggestions to
David Jordan at dajordan@stanford.edu or 650-723-3866.

Click here to learn more about supporting the Libraries.


The Bing Wing of Cecil H. Green Library

In this issue
•

Science Data Projects



•

Mary Webb



•

Digital Language Lab



•

Japanese Woodblocks



•

Parker on the Web




Events
Wed., May 26, 7:30 pm
Mark Twain
Anniversary Festival
Click here for more information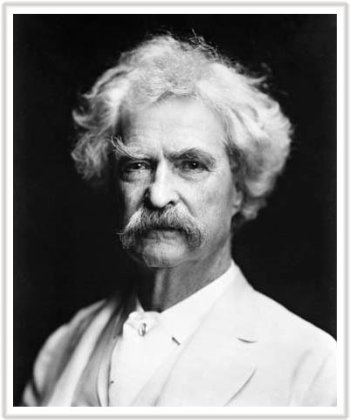 Exhibitions
Mary Webb:
Neglected Genius
through August 29
in Green Library's Peterson Gallery and Munger Rotunda

---
On display near the south portal of Green Library
The Juana Briones Archive


---
On view in the East Wing of Green Library, 2nd floor


Literacy and Culture in Nineteenth-Century Japan
woodblock print books exhibited by the students of Japanese 395 (more information in this issue)


---
On view at the
Art & Architecture Library
Square Root
MFA Thesis Exhibition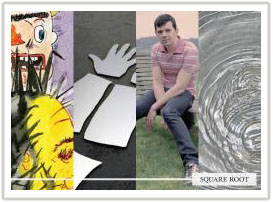 ---
Carved in Stone: A Selection of Chinese Ink Rubbings from the Art Locked Stacks Collection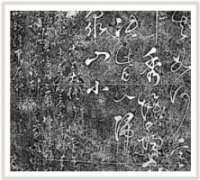 Stanford Historical Society

Upcoming Events
34th Annual Meeting
and Reception
The History of Lasers at Stanford, Robert L. Byer, William R. Kenan, Jr. Professor of Applied Physics. Tues., May 25, 4:15 to 5:45 pm, Cubberley Auditorium. Click here for more information.
SU Press
Recent Publication
A Life in Shadow:
Aim

é
Bonpland in Southern South America, 1817-1858
by Stephen Bell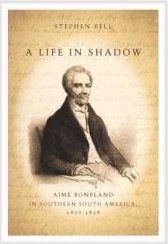 Stanford Book Salon

This month's book is
The English Patient
by
Michael Ondaatje,
hosted by

David Palumbo-Liu
,
professor of
comparative literature
and by courtesy, English.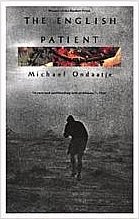 In the News

Ten Scholars, Researchers Named to American Academy of Arts and Sciences


American Academy Announces 2010 Class of Fellows and Foreign Honorary Members


Stanford Prepares for the "Bookless Library"


Jerry McBride to Lead the Music Library Association


Congratulations to Laura Cameron on Release of Library Binding Toolkit


Scopus Comes to Stanford


New iStanford Release
with Library App


Antitrust Expert to
Speak on the
Google Books Settlement


Tanenbaum Room
Open for Group Study


Twitter Donates Entire
Tweet Archive to
Library of Congress


One Hundred Years
After Twain's Death


A Man Who Stopped Time to Set It in Motion Again


Featured Acquisition
1633