Collection Development Leader Chosen

Interviewing for professional library positions around here sometimes seems more like hazing than hiring. For senior positions, candidates are expected to perform almost continuously for two long days of one-to-one meetings, small group interviews, meetings over meals, and formal presentations. It can be exhausting for staff, to say nothing of the hapless applicant. This process seems to be effective in determining the suitability (or at least the stamina) of candidates.

In recent weeks, we brought in five candidates for a new directorial position, Assistant University Librarian for Collection Development (Humanities and Social Sciences). This series evidently persuaded one of our own to apply for the position, and I am very pleased to report that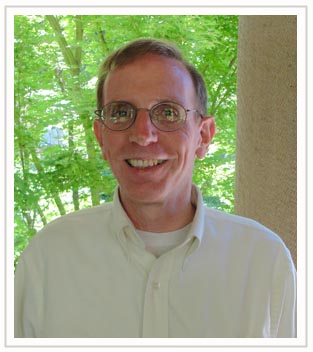 Zachary Baker (pictured) was offered, and has assumed, this vital position. Many of you have encountered Zachary or the fruits of his labors (recently, e.g., the Tel Aviv exhibit) as Reinhard Family Curator of Judaica and Hebraica Collections, a position he has held for more than a decade and will retain. Suffice it to say his experience and knowledge eminently qualify him to lead our collections' evolution in coming years, and he enjoys the trust and respect of all who have worked with him. More about his background and appointment may be found here.

Zachary will be working closely, of course, with all other SULAIR directors, but especially so with Chris Bourg, the Assistant University Librarian for Public Services. Their titles bespeak a new division of responsibility, a break from past practice, and we are confident that great things will emerge from our new leadership team. Please join me in welcoming our long-time colleague Zachary to his new position in the Directors' Office.

Cheers,

Andrew Herkovic


---
How Students See Us
On the occasion of the meeting of the Stanford University Libraries Advisory Council on 14 May 2010, two students – each becoming
intimately familiar with our general stacks, special collections, digital materials, research tools and staff resources
during four years of class assignments and independent research in the Libraries – were invited by University Librarian Mike Keller
to deliver talks to
Council members and guests. We introduce the speakers to our readers in the following paragraphs, and sincerely hope that you will take a few minutes to read their full remarks (links provided below), which depict in detail and eloquence how today's students engage with research libraries.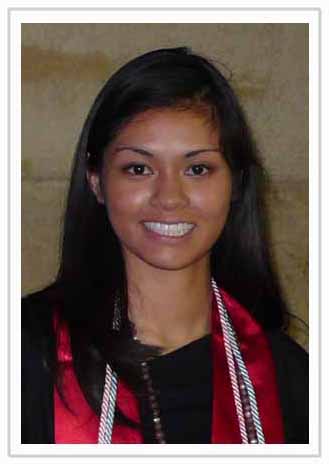 Esther Yu, Class of 2010, is now pursuing a co-terminal Master's degree in English with minors in International Relations and Modern Languages, focusing on Chinese and Spanish. She submitted her honors thesis on John Milton on the morning of the very day on which she addressed the Advisory Council; commenting on its completion, she stated: "The truth is that this work reflects much more than my own individual research efforts—it reflects, too, the work of all those who plan for and maintain the library resources here at Stanford...I think it is extremely appropriate that as someone who is advancing claims about the rise of scholarship and scholarly reading, that I have now the pleasure to turn the spotlight back onto you all. On behalf of all the undergraduate students here at Stanford, I would like to once again recognize all of you who have devoted time and energy to making Stanford what it claims to be—a world-class research institution. Thank you." Yu's complete text is available here.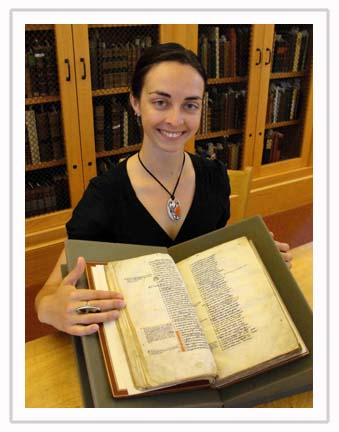 Bridget Whearty is a fourth-year graduate student in English, working on medieval English literature with additional interests in theology and gay and lesbian literature. Her undergraduate degree is from the University of Montana. Her dissertation-in-progress, advised by Professors Jennifer Summit, Robert Harrison, and Michelle Karnes, is entitled For All is Good That Hath Good End: Narrative Structures and the Art of Dying in Late Medieval English Literature. In her remarks to the Advisory Council, Whearty reflected upon a series of "firsts" she has experienced in Green Library – her first class visit, the first time she touched a medieval manuscript, and the first time as an instructor that she brought her own students to Special Collections – to conclude: "It is not simply that we are blessed with great resources, a vast collection, and knowledgeable staff—although we certainly do have all of these. One of the things I value most about the libraries is the shared sense of the delight that comes from actually using our holdings, from introducing new students to new things, from sharing expertise and fostering it in beginning scholars...[This]reminded me again of the generosity that I feel characterizes Stanford Libraries. Knowledge shared, fostered, transmitted. It is an honor and a joy to be a part of it." Whearty's complete text is available here.
Text-mining
In this class, there will be 1,200 books assigned, but students won't read any of them. "Literary Studies and the Digital Library"

A single sentence from a university syllabus rarely generates such media interest and academic controversy as the one quot
ed above has attracted.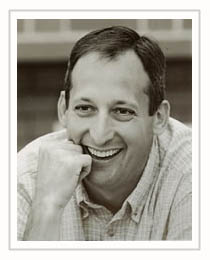 Scepticism historically accompanies new methods and fields of inquiry, such as those proposed in this course offered in fall, 2009 by Matthew Jockers (pictured), an academic technology specialist and lecturer for the English department. Subsequent attention, though, has rightfully focused on the highly promising initial results of the workshop, so successful that nearly every student, from several academic majors (a broadly multidisciplinary gathering), chose to continue the projects for second and third quarters. After learning to write code to analyze literary texts, Jockers' students applied a new discipline called "corpus stylistics," which uses linguistic concepts of phonetics and syntax for literary analysis, to the Chadwyck-Healey collection of digitized 19th-century English and American novels.

Starting from fairly simple questions about uses of individual words and parts of speech, seminar participants began to explore more complex issues. Did serialization affect the structure of the
novel? Is "literary period" a valid concept? Why did American usage of proper nouns triple in frequency at a time when British usage remained unchanged? Why were terms of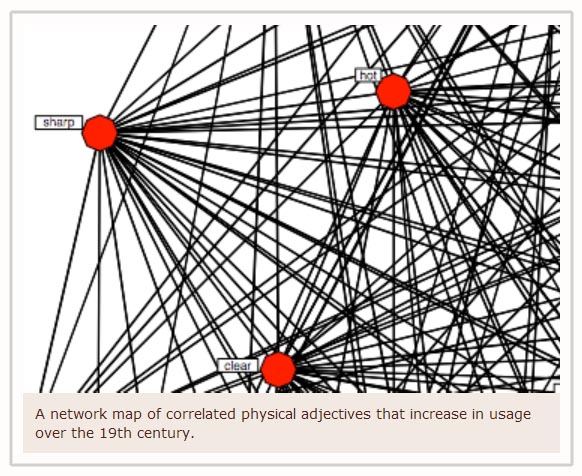 abstract values replaced by more concrete descriptive phrases beginning in the 1830s? Can an author's influence on later generations of writers be scientifically measured? Is data-crunching superior to anecdotal evidence gathered by a single reader for literary criticism? Stanford Professor of English and Comparative Literature Franco Moretti, who collaborates with Jockers, has pointed out (in the CHE article mentioned below) that as many as 30,000 novels, most never studied today, may have been published in 19th-century Britain, but that text-mining (or "distant reading") may nonetheless extract key insights from these "cellars of culture." For further reading, a full-length article about the course is available on Stanford's humanities website, the Human Experience; another was published by The Chronicle of Higher Education, and similar empirical data-based research was recently featured in Stanford Lawyer.

Stanford's library-based Academic Technology Specialists (ATS) collaborate with faculty and staff and provide leadership in innovative uses of information technology for education and research. Placed within schools, programs or departments based not simply on technical expertise but also on their respective discipline-specific backgrounds, they participate in departmental cultures, share academic interests with the faculty, and are uniquely positioned to facilitate a creative and mutual exchange. The ATS program has the mission to be innovative in making technology accessible, understandable, and appealing to an academic audience and to provide leadership and resourcefulness in identifying and integrating technological solutions to pedagogical and research needs. A monthly blog, Hive Talkin', describes their published and ongoing work.
Trove of Chinese Classical Texts Comes to Stanford
Stanford researchers, instructors and students interested in Chinese classical texts will soon have convenient access to a vast number of Chinese rare books. The East Asia Library is only the second repository in North America, the other being the Harvard-Yenching Library, of the Reproductions of Chinese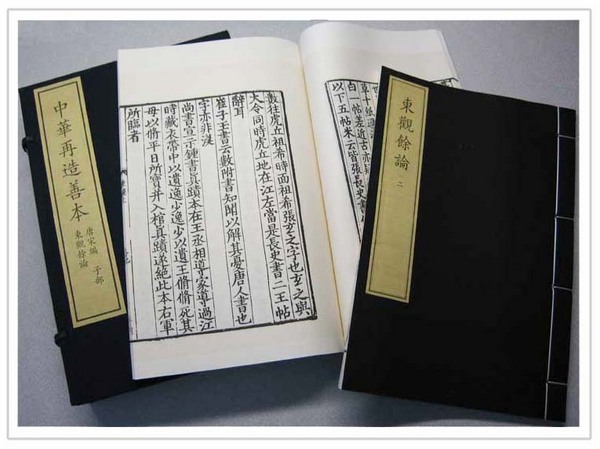 Rare Editions Series (Zhonghua zaizao shanben). This project was started in 2002, sponsored by the Chinese government and published by the National Library of China, to conserve existing rare books, forestall any future losses, and make these resources accessible to more users. When it is completed, the Series will have five parts: publications from the Tang and Song Dynasties, Jin and Yuan Dynasties, the Ming Dynasty, the Qing Dynasty, and written documents of the Ethnic Minorities. The first two parts, comprising more than 700 titles in 9,000 volumes of classics, history, philosophy and literature, arrived on campus in June and are expected to make their way to stacks and the online catalog in the fall quarter.

"The Reproductions of Chinese Rare Editions Series greatly enhances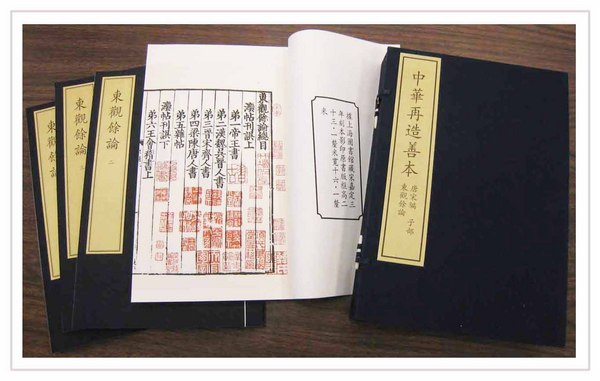 the strength of our collection on pre-modern China, which has been a weak area up to now,
"
said Dongfang Shao,
Director of the East Asia Library. Albert Dien, Professor of Chinese, Emeritus added: "The history of Chinese incunabula begins with the Song woodblock editions, and those of the following dynasties are important for research purposes as well. While there was some short-lived experimentation with movable type printing, the use of such woodblock printing remained in use over the centuries. The level of erudition and judgment involved in the collation of earlier texts in preparing for new woodblock editions over time was highly developed; still the results do not always meet our own standards. Errors could be introduced into the text during the carving of the new blocks, so having access to the earliest texts is critical."

Before the Series project, it would have been extremely difficult for individual scholars to gain access to these rare books, which are scattered in libraries and museums across China, often in incomplete sets. Now, complete titles and sets, providing full access to an extraordinary cultural heritage, are brought together in the printed Series. The Stanford Libraries is especially grateful to the Ministry of Culture of the Peoples Republic of China for making possible this acquisition from the National Library of China.
ReMix: News from the Stanford Libraries is e-published monthly by the Library Development Office as a service to supporters, providing highlights, news links, and announcements about Stanford's Libraries, Academic Computing, Residential Computing, Stanford University Press, and HighWire Press.

Stanford University Libraries & Academic Information Resources
Michael A. Keller, University Librarian
Andrew Herkovic, Director of Communications & Development
David Jordan and Sonia Lee, ReMix editors

Please submit questions/comments/suggestions to
David Jordan at dajordan@stanford.edu or 650-723-3866.

Click here to learn more about supporting the Libraries.


The Bing Wing of Cecil H. Green Library