The Ghost of Library Future

In this season of continuous reminders of "A Christmas Carol," I am mindful of another Dickensian reference to frame the state of publishing. It was the best of times: Dan Brown! Harry Potter! Amazon! Kindle! Google Books! It was the worst of times: Dan Brown! Harry Potter! Amazon! Kindle! Google Books! There is something there to vex almost any of us book lovers – and, if there is any common element among readers of this newsletter, I trust the love of books would be it – and perplex observers of the publishing industry. We can be sure things are changing fundamentally, though, as usual, none of us has a handle on the end state of this buckram revolution. As individuals, we have pretty good control of what and how we read; we can decide whether to buy an e-book reader, a hardback copy of the latest theo-thriller, an audio book of Sarah Palin's autobiography, a paperback 'tween novel (as a gift, perhaps), or wait for the movie to come out on DVD. Libraries, however, don't have the luxury of choosing whether to ignore the dynamics of the marketplace or the pace of innovation. Here at Stanford, moreover, we insist on taking an active, rather than reactive, role in the future of books, and we believe this to be in the best interest of our readers, now and in future. That this creates strains on our attention and means is less important than being in the hustings, and we think these are the most exciting, if perhaps not best, of times in publishing. If the library were a conscious entity, it might well subscribe to the words of the repentant Scrooge, "I will live in the Past, the Present, and the Future! The Spirits of all Three shall strive within me."

With best wishes for your spirited reading in the coming year,
Andrew Herkovic


2009 Donors Acknowledged

In past, like many of our peers, the Stanford Libraries published more-or-less annual reports, touting our services, programs, innovations and acquisitions, and listing the year's donors. (Reports dating back to the early 1990s can be viewed online.) This practice has been suspended, likely forever, and we must rely on other means of sharing the sort of information formerly incorporated in annual reports. No objective of the
annual report was more important than acknowledging the support of our donors and benefactors, and it thus gives us great pleasure to inform you of our new online donor acknowledgment page: the 2009 Donors listing comprises gifts made from September 1, 2008 (reflecting Stanford's fiscal year) until the present. We hope you will check it out, to find names of recent SULAIR supporters, as well as to seek your own name on this page. This listing celebrates the tradition of generosity that has made so profound a difference in our ability to support our mission and dedication to excellence. It comprises a community of like-minded individuals who understand and support our programs and services. If you discover any infelicity or omission in this listing, we would gladly correct it, so please do not hesitate to let us know about any corrections – or to add your name to future updates of the list by the simple device of making a gift.

The point, of course, is that we are deeply grateful to the many people who have supported the Stanford Libraries this year, and we hope our donors know how important their gifts and good will are to us.


Medieval Manuscript Studies and Acquisitions

Paleography seminars, such as the one offered in Green Library last spring under the auspices of Professor Emeritus George Hardin Brown, typically rely upon both complete and fragmented manuscripts as original materials for examination. (As an aside, such courses also depend upon an excellent modern textbook; for the medievalists and bibliophiles among our readers, we highly recommend Introduction to Manuscript Studies, by Raymond Clemens and Timothy Graham, 2007.) This month, we report upon several recent acquisitions of medieval manuscripts for study and research in Special Collections.

Our newly acquired Book of Hours, ca. 1460-1480, has the distinguished provenance of having resided in the Boswell collection at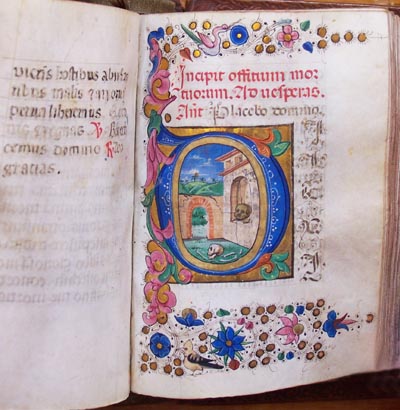 Auchinleck House in Scotland. It is clearly of Florentine origin: not only does it contain the arms of two local families (the manuscript perhaps being made for a wedding), but the Florentine saints Zenobius and Reparata are found in the Calendar. The religious scenes in the frontispiece and historiated initials are transferred into a setting of Renaissance Florence, with its elegant courtyards. Even the city behind King David resembles Florence on the Arno. A second manuscript (likewise produced in North Italy in the 1460s) also arrived recently; it contains an extensive collection of notary's office instruments on fine, watermarked paper, dealing with contracts and sales agreements from Ravenna and Udine.

From the late 15th century and thereafter, fragments of discarded manuscripts were routinely used in the bindings of printed books. Such binding fragments often preserve early scripts and rarely seen texts. One new arrival with both teaching and research value is an early 12th-century fragment – two nearly complete bifolia – of the Pandectae (or Digest) of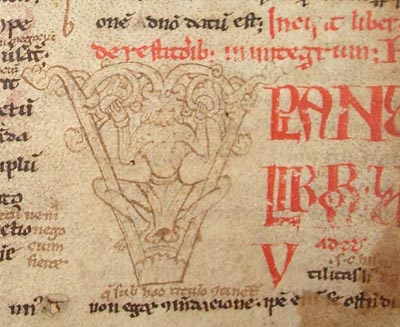 Justinian, preserving chapters of ancient Roman law uncannily relevant to modern society: "Vexatious Litigants," "Gifts between Husband and Wife," and "Divorces and Repudiations." It has a marvelous anthropomorphic or zoomorphic initial (pictured). The Digest was lost and recovered in a famous sixth-century uncial manuscript around 1075, so the marginal and interlinear glosses in this fragment are early witnesses to the rediscovery of the text and anticipate the later codification of the gloss. Other recently acquired fragments include a bifolium of a 14th-century manuscript of Petrus Comestor's Historia Scholastica; two leaves of a 12th-century lectionary; and eleven leaves of a 15th-century lectern Psalter. More detailed descriptions are available here.


Earth Shaking

Stanford Geophysics Professor Jesse Lawrence, co-developer of the Quake-Catcher Network, which has been featured in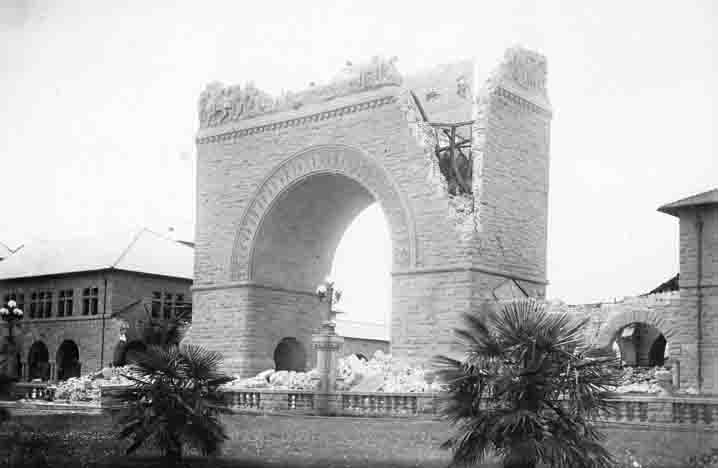 Stanford Magazine and more recently in the Stanford Report, kicked off this year's Green Teas on November 6 with a talk about Bay Area earthquakes and some novel approaches to detection and early warning. Green Teas, now beginning its fifth year as a student-run extracurricular organization, is dedicated to making students more aware of the treasures among the Libraries' Special Collections. Two dozen guests, including some staff and faculty, examined original photographs of damage caused by the 1906 earthquake to Memorial Church, along with manuscript and typewritten first-hand accounts of the same quake, prior to the talk. Similar resources, including ground motion simulations, may be found on the Stanford University and the 1906 Earthquake Centennial Commemoration site.

The Quake-Catcher Network links existing networked laptops and desktops in hopes to form the world's largest and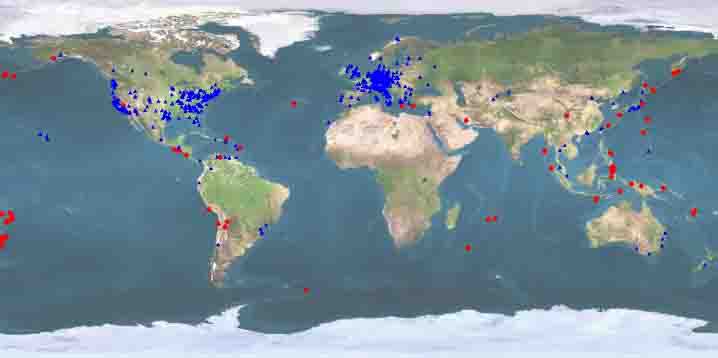 densest earthquake monitoring system. As Professor Lawrence pointed out, QCN is not unlike the U.S. Geological Survey's "Did You Feel It?" response center, except that it relies upon scientific sensors rather than human perceptions. Costs for this network are minimal because the QCN uses free software, strong motion sensors (accelerometers) already internal to many laptops and low-cost universal serial bus (USB) accelerometers for use with desktops. Eager volunteers were plentiful among the students attending this historically and scientifically informative program.


Book Collecting Symposium Enrollment Opens

Stanford Continuing Studies and the Libraries are pleased jointly to offer Perspectives on 21st-Century Book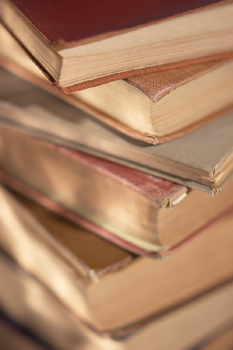 Collecting, a symposium in Green Library on Saturday, March 6, 2010. The full-day program is the first in what we hope to be an ongoing series bringing together collectors, bibliophiles, and scholars. Illustrative materials from Special Collections, and in some cases private holdings, will be examined and discussed. The morning sessions, "Content and Colleagues" and "Digital Implications," will focus primarily on collection building, followed by afternoon sessions, "Whither Our Collections?" and "The Enduring Role of Private Collectors," highlighting current issues in conservation, disposition, and estate planning as it relates to book collecting. Enrollment is now open (click here for more information) and is limited to 25 participants.

This symposium is the creation of two members of the Rondel Society who will guide the sessions. Bruce Crawford has been collecting rare books and manuscripts, chiefly of British and American literature, since 1963. He serves as a Council member and secretary for the Grolier Club of New York and is the co-author of three books: The Extraordinary Life of Charles Dickens (2006), Charles Dickens and Show Biz (2006), and Mary Webb: Neglected Genius (in press). Co-editor of ReMix David Jordan, who has collected medieval manuscripts for a quarter century, recently became associate curator for paleographical materials in addition to his other duties in the Libraries.


ReMix: News from the Stanford Libraries
provides highlights, news clippings, and program announcements about Stanford University Libraries and Academic Information Resources, which comprises Libraries, Academic Computing, Residential Computing, Stanford University Press, HighWire Press and Stanford Publishing Courses.
ReMix
is published monthly by the Library Development Office, only in electronic form.
Stanford University Libraries & Academic Information Resources
Michael A. Keller, University Librarian
Andrew Herkovic, Director of Communications & Development
David Jordan and Sonia Lee,
ReMix
editors
Subscriptions to this newsletter are available on request at no charge for SULAIR supporters. To request (or discontinue) a subscription, to submit questions or comments, to make a donation, or to suggest an article, please write or call David Jordan at
dajordan@stanford.edu
or 650-723-3866.
Please visit us at:
https://lib.stanford.edu/giving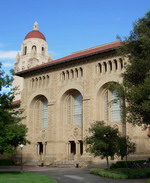 The Bing Wing of Cecil H. Green Library


In this issue

•

Book Wishes



•

2009 Donors



• Med. Manuscript News

•

Earth Shaking



•

Book Collecting Class





Exhibitions
Recent Arrivals:
Rare Books,
Manuscripts & Archives,

through December 31
in Green Library's Peterson Gallery and Munger Rotunda
On display near the south portal of Green Library
The Clifford N. Schireson
Book Fund (in Political Theory and Political Philosophy)


The Harold A. Miller Library,
Hopkins Marine Station,
and its Endowed Funds

On view at the
Art & Architecture Library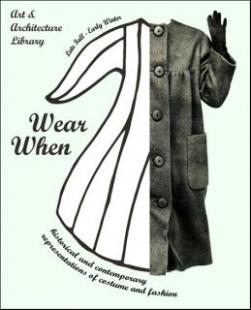 Upcoming Program
Humanities West presents:
Alexander/Alexandria:
The Flowering of
Hellenistic Culture
February 5 and 6 at Herbst Theatre, San Francisco. Click
here
for more information.

Stanford Historical Society
Upcoming Event



From the Stanford
Museum to the
Cantor Arts Center:
A Curatorial Perspective.
Thursday, January 7, 5:15 to 6:15 pm, Cantor Arts Center Auditorium. Betsy Fryberger, Burton and Deedee McMurtry Curator of Prints and Drawings, Emerita, Cantor Arts Center.
Click here for more information.



Recently Published by

SU Press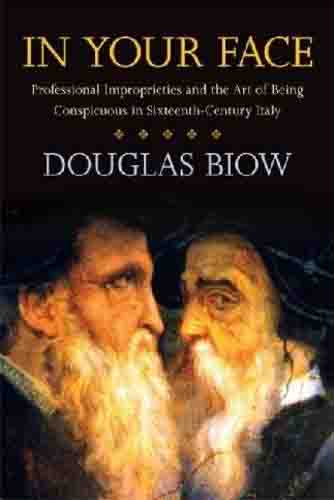 Stanford Book Salon
This month's book is

SULAIR in the News

The Google Library –
A Guide for the Perplexed
Part III: The Amended
Settlement Agreement
Google Book Search Settlement: Interview with Cecilia Kang, Technology Reporter,
Washington Post

Emeritus Appointments
at the Libraries:
Anthony Angiletta
Walter Henry
Margaret Kimball

David Packard Publishes Mozart Operas in Facsimile
Featured Acquisition