Quo Vadis, Google Books?

In the wake of last month's judicial rejection of the proposed settlement of litigation between Google Books and various publishers and authors, there are only two firm facts that can be confidently stated about what's next: first, nobody, with the possible exception of the litigants, knows anything; and second, the litigants aren't talking. Thus we have the conditions for rampant public speculation, and many have risen to this temptation. I shall not.

Instead, I remind readers that the scanning of millions of books by the Google Books project has never abated, either at Stanford or among the many other participating libraries. Every weekday, a truckload of books goes to Google and a like number come back from them, in a smoothly choreographed process that assures both safekeeping and tracking of the books. The total to date is in the vicinity of two million volumes, and we anticipate continuing this process for years to come. We do not know how or even if any given book will be used by Google, but we are certain of the utility to Stanford in having our holdings preserved and being made searchable through digitization. We are hopeful of additional beneficial outcomes for Stanford.

The key word in Stanford's public reaction to the demise of the proposed settlement was "disappointment." That, almost five years after the class-action suits were initiated against the project, there is no resolution whatever is certainly disappointing; any decision might seem preferable to none. That a startling vision of public access to a vast amount of text as articulated in the proposed settlement has been occluded is another disappointment. That the "orphan works" and other copyright issues remain in limbo is a lesser disappointment, if only because efforts are underway to address them by legislative rather than judicial means. However, the key word I wish you to take away is "persistence." We persist in scanning books through Google (as well as in our own labs). We persist in developing techniques to help scholars use digitized texts. We may be confident that the litigants will persist in seeking some eventual resolution to the court case. We persist in hoping that the discordance between copyright law and the realities of the digital age will be harmonized, at least with regard to printed literatures, before the century is much further along. We persist in fulfilling a vision and mission that depend on both digital and artefactual means of providing and preserving information.

Looking forward, but unprophetically,

Andrew Herkovic

---
2010 Donors Acknowledged
We are pleased and honored to acknowledge in this issue of ReMix the many generous and meaningful gifts to the Stanford Libraries made during the prior calendar year. 2010 Donors records gifts received from January1 through December 31 in sponsorship of endowments and book funds; gifts, grants, subscriptions, technology and project support; and donations of formally-appraised in-kind collection materials. We began publishing an online donor listing in 2009, when the printing and mailing of more-or-less annual reports (those from 1994-2008 may be viewed here) were discontinued.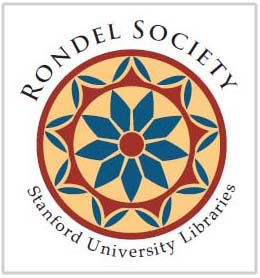 Three honorary donor societies embrace library supporters. The Founding Grant Society is a University-wid
e organization serving those who have designated Stanford in bequest and estate planning. If the Stanford Libraries is a beneficiary of your trust, will, individual retirement account or life insurance, please let us know so that your intention and its ultimate purpose can be properly recorded and brought to fruition. Two library-based societies additionally honor our donors and provide opportunities for you to engage with like-minded philanthropists and bibliophiles: the Rondel Society for significantly contributing annual donors at the invitation of the University Librarian, and the Jewel Society for those who have endowed book funds.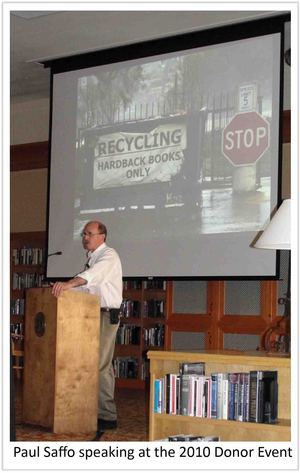 This listing celebrates a community of strong advocates and steadfast friends of the Libraries, who assist us selflessly and without regard for personal recognition (but please do point out any omissions from our listing). Many Stanford alumni and their families have provided multi-generational support and sponsored multiple funds and projects in the Libraries. We are deeply grateful to those who have supported the Stanford Libraries this year, and we hope that you take pride in sharing our mission and its impact on scholarship at Stanford.

Stanford Historical Society Celebrates Archives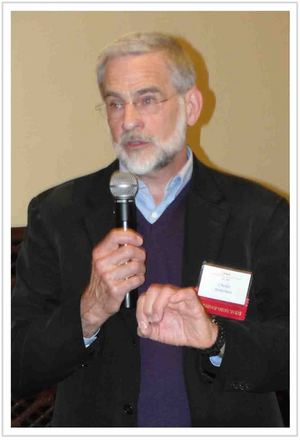 On March 23, Stanford Historical Society (SHS) board members and major donors to that organization attended a reception and viewed documents and artifacts pertaining to Stanford's history. Associate Provost and Dean of Continuing Studies Charles Junkerman (pictured), currently serving as SHS president, introduced the group to University Archivist Daniel Hartwig, who was appointed in September, 2010. Junkerman also detailed SHS's long-standing alliance with University Archives and the Libraries and encouraged ongoing collaborations. For his part, Hartwig described the collections and work of the Archives, focusing on the challenges of collecting, preserving, and providing access to today's hybrid and born-digital materials.

Among 57 items on display in the Charles and Frances Field Room (Special Collections reading room) were a compared copy in Jane Stanford's hand of the University's founding grant; Jane Stanford's opening day speech; Salviati & Co. paintings for the church mosaics; death masks of Jane and Leland Stanford Sr.; the fourth edition
of The Stanford Chaparral; original photos by Eadweard Muybridge; original campus plan and correspondence of
Frederick Law Olmsted; Hanna House architectural drawings by Frank Lloyd Wright; Stanford Prison Experiment photos;
and first Big Game reminiscences and programs,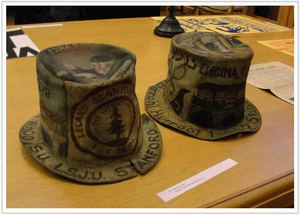 1927-1964. Pictured are two Plug Ugly class hats of 1911 and 1912. The phrase "plug ugly" was invented elsewhere but has unique meanings at Stanford. Beginning in 1898, a satirical Plug Ugly play poking fun at seniors (extending later to faculty and administration) was followed by a raucous hat-smashing battle between seniors and juniors for control of the Inner Quad. Although coated in layers of heavy lead paint, the hats were often smashed while young heads were inside them, leading to the abolishment of both drama and battle in 1913.

The Stanford Historical Society's mission is "to foster and support the documentation, study, publication, and preservation of the history of the Leland Stanford Junior University" by participating in University efforts to determine and recognize the historical significance of campus places and accomplishments. Two essential archival projects maintained by SHS may be of further interest to our readers: the Stanford University Faculty Memorials website and the Oral History Program, also in partnership with University Archives and focusing on the "the transformative post-WWII period." The Society supports itself financially through memberships and gifts. It publishes a newsletter, Sandstone & Tile, and sponsors occasional books, programs and lectures.
Green Library Birding
The Common Raven, as it is known, is an increasingly common visitor to campus. In fall and winter, flocks traverse campus skies on trips between bayside foraging and foothill roosts. For the first time in 1999, a pair nested on Green Library and produced five young the following spring. Darryl Wheye's drawing of that original nest hangs in the directors' suite in the same corner of the Bing Wing as the nest itself. To our knowledge the nest – on top of a light fixture high on the Green West façade facing the Quad and cattycorner from the Art Library – has been occupied each year since.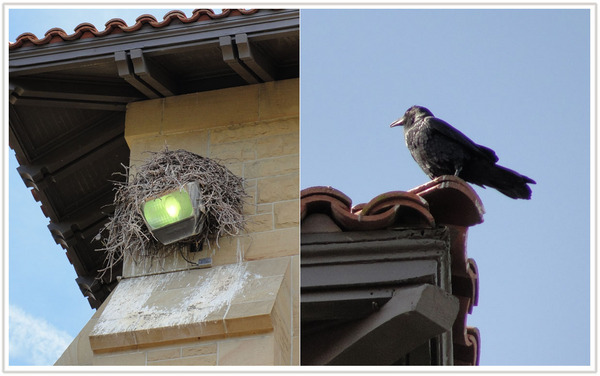 This has been a banner season for Stanford birding. In December, three peregrine falcons, once a Federally Endangered Species until removed from that list in 1999, were sited flying in the vicinity of Green Library and perching high on Hoover Tower where the dome rises. One or more peregrines were regularly seen throughout the winter and as recently as March. Perhaps the fastest animal in the world, peregrines typically dive at speeds of 100 mph and can attain 200 mph. As in other falcons, the female is larger than the male, eats first, dives first when hunting in pairs, and takes larger prey. A spotting scope or high power binoculars is required to clearly see these fabulous birds in flight or perching on the Tower. For a close up view, see the Bay Area Peregrine Falcon Nest Cameras.

Other recent Green Library sightings include Red-tailed Hawks, a Great Blue Heron in flight, Anna's Hummingbirds nectaring on the eucalyptus
flowers of trees between the library and the Tower, and Chestnut-backed Chickadees, Townsend's Warblers, and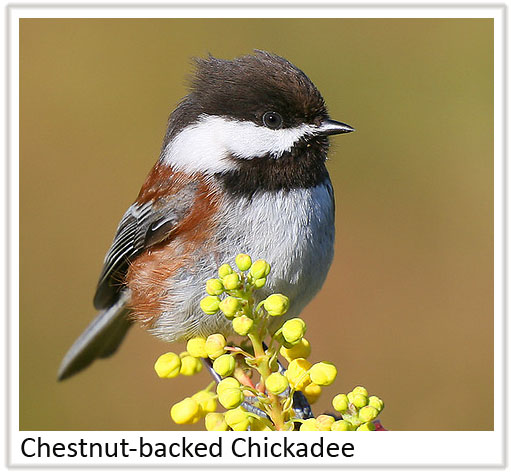 Lesser Goldfinches feeding on seeds of the liquidambar trees by the Green Library loading dock. The Birds of Stanford website, offering information on approximately 125 species on campus and an online form on which users may report sightings, states that "central campus receives some of its special character from the birds with which we share it: the Cliff Swallows that return each March to nest under the Quad's eaves, the Acorn Woodpeckers with their weird laughs and their nut-storage habits, and the White-throated Swifts who hawk insects high above Green Library. All are part, though for many an unacknowledged part, of the campus as we know it or remember it."
Spring is a spectacular season at Stanford. On your next visit to Green Library, may we suggest that you bring along binoculars and circumambulate the building before entering it? Thanks to Sara Timby and John Rawlings for submitting this article and reminding us to enjoy our outdoor surroundings.
ReMix: News from the Stanford Libraries is e-published monthly by the Library Development Office as a service to supporters, providing highlights, news links, and announcements about Stanford's Libraries, Academic Computing, Residential Computing, Stanford University Press, and HighWire Press.

Stanford University Libraries & Academic Information Resources
Michael A. Keller, University Librarian
Andrew Herkovic, Director of Communications & Development
David Jordan and Sonia Lee, ReMix editors

Please submit questions/comments/suggestions to
David Jordan at dajordan@stanford.edu or 650-723-3866.

Click here to learn more about supporting the Libraries.


The Bing Wing of Cecil H. Green Library

In this issue
In the Libraries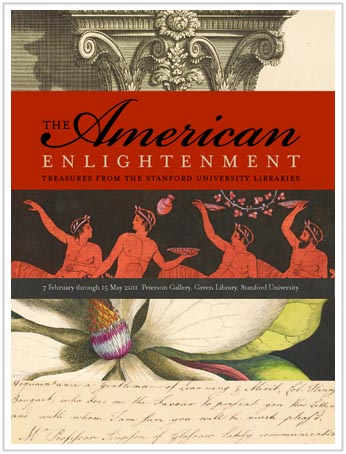 ---
On display at the
Art & Architecture Library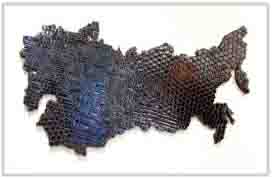 Fallen Empire, 2010
Yulia Pinkusevich
Glass tile on cement board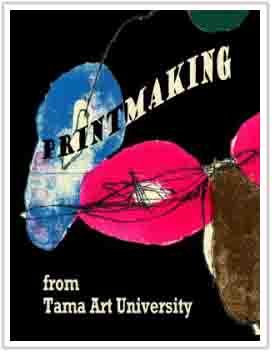 Printimaking from
Tama Art University
---
On display at the
Music Library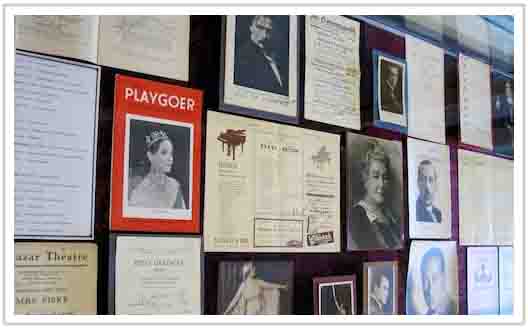 Autographs from the
Jack Lund Collection
---
On display at the
Hoover Institution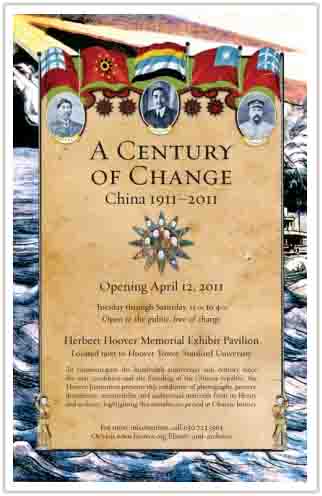 A Century of Change:
China 1911-2011
Herbert Hoover Memorial Exhibit Pavilion
(next to Hoover Tower)
In the News
New York Times Subscription Change Won't Impact Stanford
Ruling Spurs Effort to Form Digital Public Library
The Future of Libraries
in the e-Book Age
'Tomes Times Might Be Up
at Newport Beach Library
Options for Google Books
May be Limited
Leon Botstein
(essay by Zachary Baker for Stanford Presidential Lectures
Ginsberg: "America when will you be angelic?"
University Archive's Images Added to iStanford
Open Door: Robert Creeley's Digital Correspondence Maps
New Program at Stanford Focuses on the Automobile
When Female Artists Were Storming the Gates
Lead Codices Discovered
Stanford Historical Society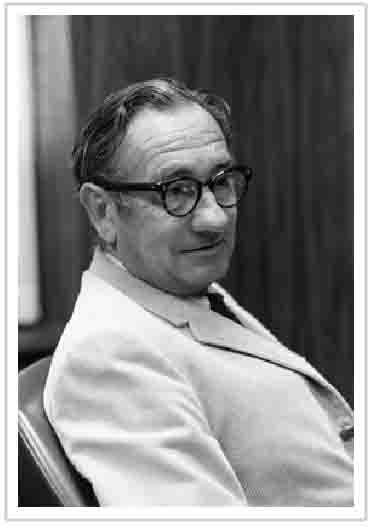 Psychology at Stanford:
A History
Professor Al Hastorf
Former Provost, Benjamin Scott Crocker Professor of Human Biology, Professor of Psychology, and, by courtesy, in the Graduate School of Business, Emeritus

Thursday, April 21, 5:30 pm
Kissick Auditorium,
Arrillaga Family Sports Center
---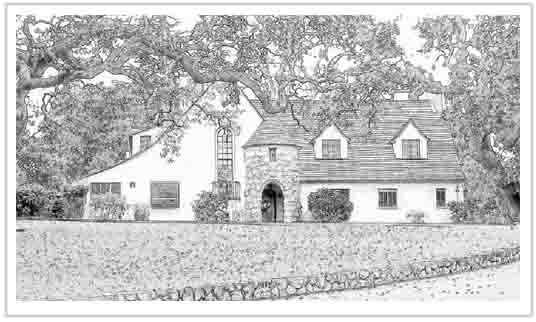 Seventh Annual
House & Garden Tour
Sunday, May 1, 1 to 4 pm
---
35th Annual Meeting
& Reception
When the World Changed:
The Impact of WWII on Women at Stanford
Tuesday, May 17
4:30 to 6:30 pm
Reception to follow
McCaw Hall
Arrillaga Alumni Center
326 Galvez Street
Stanford Continuing Studies
A Company of Authors
Saturday, April 23, 1 to 5 pm Stanford Humanities Center Free and open to the public
---
Medieval Matters:
Dante Now
Tuesday, May 3, 7 pm
Geology Corner, Room 105
Free and open to the public
---
How I Write:
A Conversation with Abraham Verghese
Wednesday, May 4, 7:30 pm
Geology Corner, Room 105
Free and open to the public
---
An Evening with Wanda Corn: Seeing Gertrude Stein: Five Stories
Tuesday, May 17, 7:30 pm
Cubberley Auditorium,
School of Education
Free and open to the public
---

Continuing Studies Event Calendar

Stanford Book Salon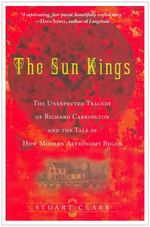 The book for May will be
The Sun Kings
by Stuart Clark
hosted by
Margot Gerritsen
Associate Professor of Energy Resources Engineering
Stanford University
Press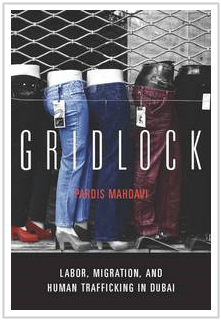 Gridlock: Labor, Migration, and Human Trafficking
in Dubai
by Pardis Mahdavi