Who Needs a Library Anyway? Installment 2010

When then-President Gerhard Casper rhetorically asked this question, 12 October 1999 – as the title of his remarks at the dedication of the Bing Wing – there was much talk in the air about the imminent demise of libraries. Were these not a bunch of dinosaurs about to be smacked by the meteoric impact of the Web? Was the book not rapidly becoming an anachronism, a fetish object of a dying pulp-based culture? Many of us, with President Casper, disagreed with these glib notions then. But that was several generations ago, on the timescale of the information world around us. How have we fared since on the extinction short list?
Last month, forecaster and chair of our Advisory Council Paul Saffo delighted a select group of our donors with a talk about books, revolutions, and timescales. In a dense web of connected thoughts, he tied the great information revolution of the late 15th century to that of the late 20th, likening the titanic publisher-scholar Aldus Manutius to Steve Jobs,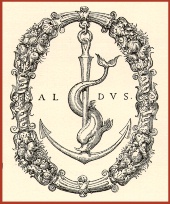 linking the once-revolutionary idea that a printed book is what it is (not a cheap knock-off of a proper manuscript) to the emerging identity of digital works as being something other than bad substitutes for physical books. He reminded us of an intrinsic lifecycle law of objects: things fade, or even disappear, after about a half-century, even (or particularly) Aldine editions or 1960s bestsellers. I am reminded that we avidly collect medieval "binding fragments," i.e., pieces of manuscripts, mostly on vellum, that were cut up and recycled as stiffeners in bindings of later books, a practice we would now consider barbaric and wasteful (and very expensive). Apparently, after a century or so of European printing, manuscripts were considered expendable, rendered technically obsolescent by the printing press (and the scholarly efflorescence it made possible).
Universities and their libraries have been around for a fairly long time, say 700 or 800 years. The great university libraries that we are familiar with – those with millions of volumes addressing myriad subjects and disciplines – evolved through the vast post-war growth of academic research, coincidentally about a half-century ago. Are they – or, should I say, we – suffering decrepitude and irrelevance? I offer as evidence our experience with the New Graduate Student Orientation program last month, detailed later in this issue. It seems that Stanford's new crop of grad students, arguably the most savvy and motivated class of information users alive, are quite aware they need libraries. Some of them may even need Aldine editions or binding fragments. All of them will use electronic resources on various sorts of devices. Whatever the form, the libraries will stand ready to help them obtain and use the stuff of scholarship.
Also past the half-century mark,
Andrew Herkovic
---
Distinctively Modern Methods
Many of our librarians teach regularly in several contexts, from introductory methods classes for freshmen in the Program in Writing and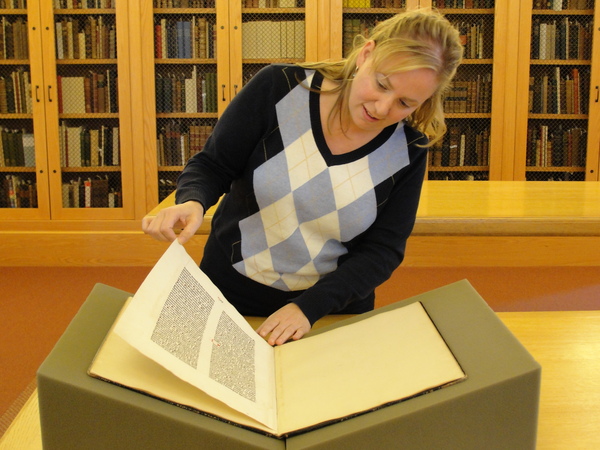 Rhetoric, to graduate seminars, to Continuing Studies. (Mattie Taormina of Special Collections is shown with a leaf of the Gutenberg Bible often used in classes.) In late August, during that momentary lull between academic quarters, more than 35 library staff with regular teaching duties attended the Libraries' first-ever full-day instruction summit, organized by Peter Blank, Head of the Art and Architecture Library, and Malgorzata Schaefer, Head of the Information Center. One of the guiding principles of the summit was the "Information Literacy Competency Standards for Higher Education" as outlined by The Association of College and Research Libraries.

The first session, led by Rich Holeton, Director of Academic Computing Services, addressed emerging competencies of new media literacy such as visual literacy, multimodal composing, and collaboration skills. Bibliographic instruction in a discipline remains essential, but is transformed by information architectures and communication technologies into a "new narrative," which, as University Librarian Mike Keller has suggested, will continue to evolve. Alyssa O'Brien then spoke about effective instruction in the Libraries. O'Brien is a lecturer in the Program in Writing and Rhetoric; co-author of Envision: Writing and Researching Arguments, a work on visual rhetoric; and the winner at Stanford in 2006 of the Phi Beta Kappa Outstanding Teaching Award. She emphasized role play, small group activities, instructor competencies and faculty-librarian partnerships in her presentation. The afternoon session was devoted to examining tools used by other research libraries and teaching students to evaluate the quality of sources in addition to merely finding them.

Chris Bourg, Assistant University Librarian for Public Services, said, "The overarching goals of the summit were to take stock of all of our varied instructional efforts and activities; make sure our efforts are complementary, integrated, and logically sequenced; share best practices in instructional techniques; and to discuss the new and emerging skills, competencies and knowledge we need to teach to prepare students for new modes of scholarly communication and research." Participants suggested mentoring and shadowing programs to acquire and improve teaching skills, and resolved to continue sharing ideas through an ongoing forum.

Separately, Academic Computing sponsored a workshop, attended by many of the same staff, on "Presentation Zen and the Art of Simplicity"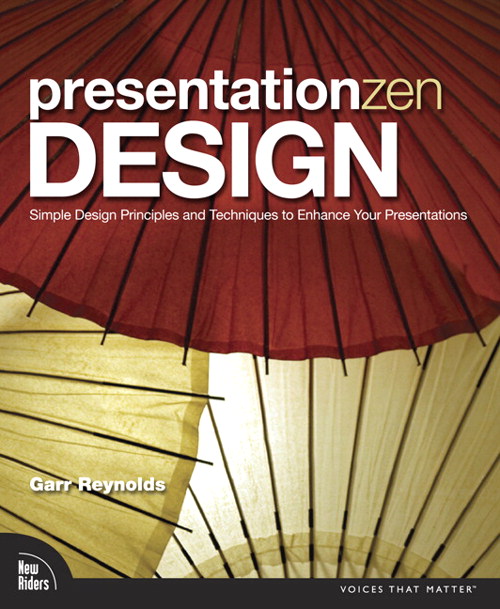 presented by Garr Reynolds. His well-known book and blog redefine communication as no longer one-to-one or one-to-many, but rather many-to-many, enabled by technology and the Internet. Reynolds, who resides in Japan, recommends restraint, simplicity, and naturalness in presentations. He used the example of traditional handmade Japanese umbrellas (as depicted on the cover of his book) to illustrate principles of design in effective presentation.
---
New Funds; One Born of Tragedy
There is no existence that I love more than the moments spent on steep granite faces. Christina Chan

This year's annual summary on new book funds – three were established during the fiscal year – must begin by noting the tragic climbing accident in Yosemite which in July took the life of Stanford graduate student Christina Chan. As a tribute to her life, The Christina Chan Memorial Fund has been established by her parents, Cecil and Susie Chan, and augmented by many commemorative gifts from friends, family and others. The fund will provide materials for the Libraries mainly in political science, Christina's academic focus, with a special provision to acquire works on rock climbing and mountaineering. We sincerely wish that the fund will help to perpetuate the memory of this remarkably gifted student, whose enthusiasm for living was most evident in her love of rock climbing.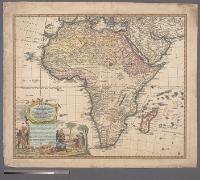 The William and Yvonne Jacobson Digital Africana Program Fund will provide for digitizing collections of African maps and related rare documents, whether or not they are physically owned by Stanford, and making such materials accessible to online users of Stanford's digital collections. Bill and Yvonne Jacobson are longtime supporters of our Africana collections program: a separate fund created by them in 2001 made possible the acquisition of the Dr. Oscar I. Norwich Maps of Africa Collection. Through ongoing engagement with the African map collections, they have endowed the Libraries with important original materials and also the means to make them available to scholars worldwide through digital archives and websites. More information about the Libraries' Historic Map Collections is available here.

The Glen McLaughlin Map Reference Library Fund for cartographic and reference research materials will further enrich map studies at Stanford. Glen McLaughlin is a well known map collector and the author, with Nancy H. Mayo, of a definitive 1995 bibliography, The Mapping of California as an Island (California Map Society, 1995). He recently edited the 2009 keepsake publication for our friends at the Bancroft Library, California as an Island: Maps from the Library. Regular readers of ReMix are already aware that the Libraries have benefited greatly from the generosity of the Bay Area community of map collectors and cartographic scholars.

Endowment sponsors, who create perpetual support for beloved subjects, are acknowledged by bookplates and by lifetime honorary membership in the Jewel Society. The Stanford Libraries' online bookplate exhibit has been recently updated; we encourage you to visit this site to enjoy the artistic designs of the bookplates and to survey the multitude of subjects supported by such funds.
---
Hundreds Attend Open Houses
Impressive numbers of students attended the series of library tours offered in September as part of Stanford's New Graduate Student Orientation (NGSO) programs. In four libraries (among others) – the Art and Architecture Library, the Music Library, the new Engineering Library, and Green Library – nearly 800 students took part. These statistics are testament both to effective effort by staff and awareness on the part of incoming graduate students that expert guidance is necessary in an increasingly complicated information world. Tours of Green Library during new student orientation for undergraduates were equally popular and attracted many parents.

On September 28, Green Library hosted an Open House for the entire campus community. It was partly festival, with free books and raffle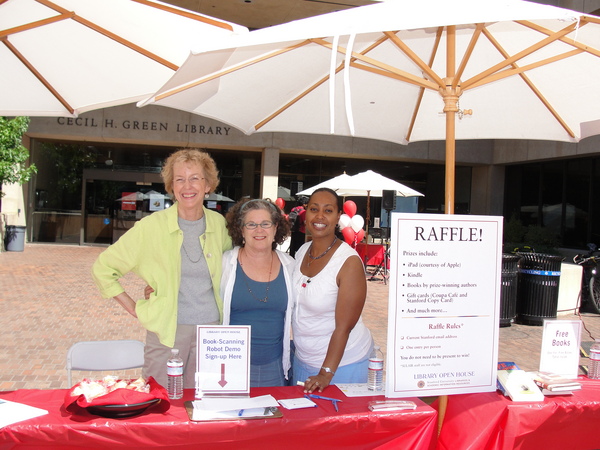 prizes, and partly a revealing look at behind-the-curtains operations: the tour of the robotic book scanner was fully booked. Staff from most of the twenty-something libraries on campus manned tables to exhibit resources and answer questions, while University Librarian Mike Keller offered both a building tour and a talk entitled "Thoughts on the Future of Stanford's Libraries." A narrated excursion to the current exhibition, Celebrating Mexico, was offered by curators.

Demonstrations of technologies for finding information sources (SearchWorks, xSearch and LexisNexis) and for creating bibliographic citations (RefWorks, Zotero and EndNote) were conducted throughout the afternoon. Some of the stations that attracted student visitors included: Electronic Dissertations and Theses; Stanford Online Accessibility Program; CourseWork (which distributed fortune cookies with SearchWorks tips); Green Library Subject Specialists; Archive of Recorded Sound; Library Jobs; GIS Services; Humanities Digital Information Service; Media-Microtext; Special Collections; and Preservation.

The success of orientation programs is best measured by how often students return to the Libraries in the following days and weeks. Anecdotally speaking for the academic year just begun, there seems to be more interest than ever in our services, study spaces and collections.
---
A Companion to Bede Reissued in Softcover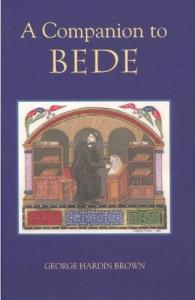 This brief note is addressed to those interested in the Venerable Bede, particularly those who attended the book launch jointly sponsored by the Libraries and the English Department in November, 2009 for Professor Emeritus George Hardin Brown's A Companion to Bede. We unfortunately sold out of copies on hand at that event, but are pleased to announce that the work has recently been reissued by Boydell Press in softcover. It is currently offered for approximately $25 on both the Amazon and Barnes & Noble websites.

Brown is a familiar figure in Green Library and especially in Special Collections, where he teaches regularly.
ReMix: News from the Stanford Libraries is e-published monthly by the Library Development Office as a service to supporters, providing highlights, news links, and announcements about Stanford's Libraries, Academic Computing, Residential Computing, Stanford University Press, and HighWire Press.

Stanford University Libraries & Academic Information Resources
Michael A. Keller, University Librarian
Andrew Herkovic, Director of Communications & Development
David Jordan and Renee Mueller, ReMix editors

Please submit questions/comments/suggestions to
David Jordan at dajordan@stanford.edu or 650-723-3866.

Click here to learn more about supporting the Libraries.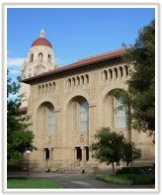 The Bing Wing of Cecil H. Green Library