A Grand New Library at Stanford

Among the intriguing architectural, environmental, and programmatic features of the Knight Management Center – the newly dedicated home of the Graduate School of Business – the Anne T. and Robert M. Bass Center is of particular interest to the library-minded. It is not the mere fact this building houses the GSB Library; rather, the library contextualizes the whole structure. The pertinent web page has this to say:
The Bass Center is the intellectual heart of the Knight Management Center for student activities. Classrooms and individual and group study are all a part of this landmark building. With the Town Square just outside its wall, the Bass Center also serves as the front door for all GSB guests, alumni, and University visitors. The components that comprise the Bass Center include classrooms, study and meeting rooms, and the library. The main portion of the complex rises to four stories, giving it a visual prominence on the campus as well as commanding the best views from atop the fourth floor boardroom and student reading room.
The subtext, as explained by colleagues involved in the planning and evident in the execution, is that the library should be in a central location, that it should be a notch grander or more stately and prominent, that it should have extended hours (24/7 for the building, if not for the service areas), that it should be understood by students as a place they may feel comfortable and privileged, that it should provide a range of different environments, that it should provide distinctive spaces for quiet study. In fact, the fourth floor student reading room was inspired programmatically, if not architecturally, by our own Bender Room in the Bing Wing, and it is available to students around the clock.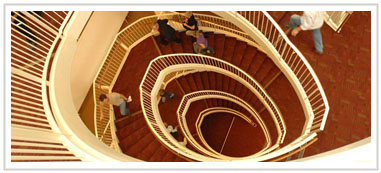 In short, while there is more to the Bass Center than the library proper, the ideal of library suffuses the facility. The result is a pleasing environment, with elements of drama, but not of excess. Students began using it immediately, even as interior fittings were being completed and books moved in from the old Jackson Library. Visitors are welcome, and for those in the area, the Knight Center – dedicated to be a forum and resource for the whole campus – is well worth a visit, beginning, of course, at the library.

To new beginnings,

Andrew Herkovic

---
Sharing Abraham Lincoln Papers
Handwritten correspondence and association copies – books owned, borrowed, gifted, signed, or annotated – of five of the first six U.S. presidents have contributed to the broad appeal of the American Enlightenment exhibit, which has been extended through June 15. These uniquely personal materials have also sparked questions about the Libraries' other presidential holdings.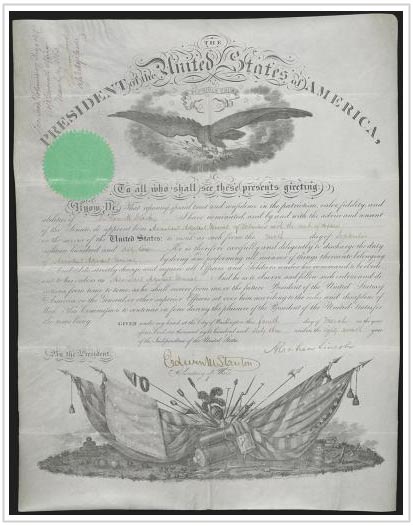 Concurrently, we are digitally contributing 26 letters and documents sent to or from Abraham Lincoln to The Papers of Abraham Lincoln, a collaborative project of the Illinois Historic Preservation Agency and the Abraham Lincoln Presidential Library and Museum. This website will offer both scanned original documents and typed transcriptions drawn from various institutions and collections as a public resource. The

Image

Gallery

of Digital Collections @ Stanford will also soon feature our Lincoln materials. In an interview published in Palo Alto Online, Mattie Taormina, head of public services for Special Collections, stated that "Stanford has something from nearly every U.S. president in its collections...A recent addition to our presidential holdings is an invitation sent to University President Hennessy to attend the inauguration ceremony of President Obama."

The Lincoln items range from large-scale legal documents with detailed embellishments – such the appointment (pictured above) of William Clarke as Assistant Adjutant General of Volunteers with the rank of Captain, signed by Abraham Lincoln and Edwin Stanton on 4 March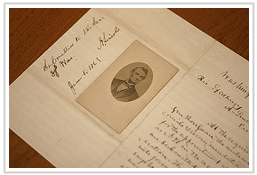 1863 – to small notes, apparently written in haste – such as Lincoln's comment and signature on an autograph letter (shown at right) sent to him on 10 January 1861 from Navy officer John A. Dahlgren. The portrait photograph of Lincoln was likely affixed to the letter at a later date by an acquaintance or collector. On the Digital Library Systems and Services blog, Astrid Smith describes the support materials underlying the texts: "Some were printed on curling vellum with a waxy feel to it, and some were on brittle and yellowing paper seemingly ripped from a notebook." Use of a color bar ensures consistent accuracy in online colors of papers and inks. In her essay, Smith finds historical intimacy in handling original sources: "In the intricate cursive handwriting in these various items, Lincoln's scrawled and slanting capital-A became almost commonplace, while the difficult-to-read script of his letters, in contrast to the lovely secretarial scripts of his assistants and copyists, made him all the more real – as though he stepped down from his famous larger-than-life marble seat and entered into the realm of personal experience. And that is what making these important historical documents readily available is, ultimately, all about."
David Rumsey to Open Digital Humanities 2011
Maps are dense, complex information systems arranged spatially. While they share similarities with other visual artifacts, their uniqueness as spatially arranged visual information both allows for and demands special digital approaches to understand and reuse their content. Georeferencing, vectorization, virtual reality, image databases, and GIS-related tools all work to unite our eyes, minds, and computers in new ways that can make historical maps more valuable and accessible to humanists concerned with place and space over time. From abstract for keynote address.





David Rumsey, who in 2009 announced his intention to donate his collection of more than 150,000 maps to the Stanford University Libraries for long-term preservation and scholarly access, has published more than 26,000 maps online in high resolution and with expert
cataloging. As one of the most visible and important modern distributors of historical treasures for the
common good, a pioneer Internet philanthropist, and a public Internet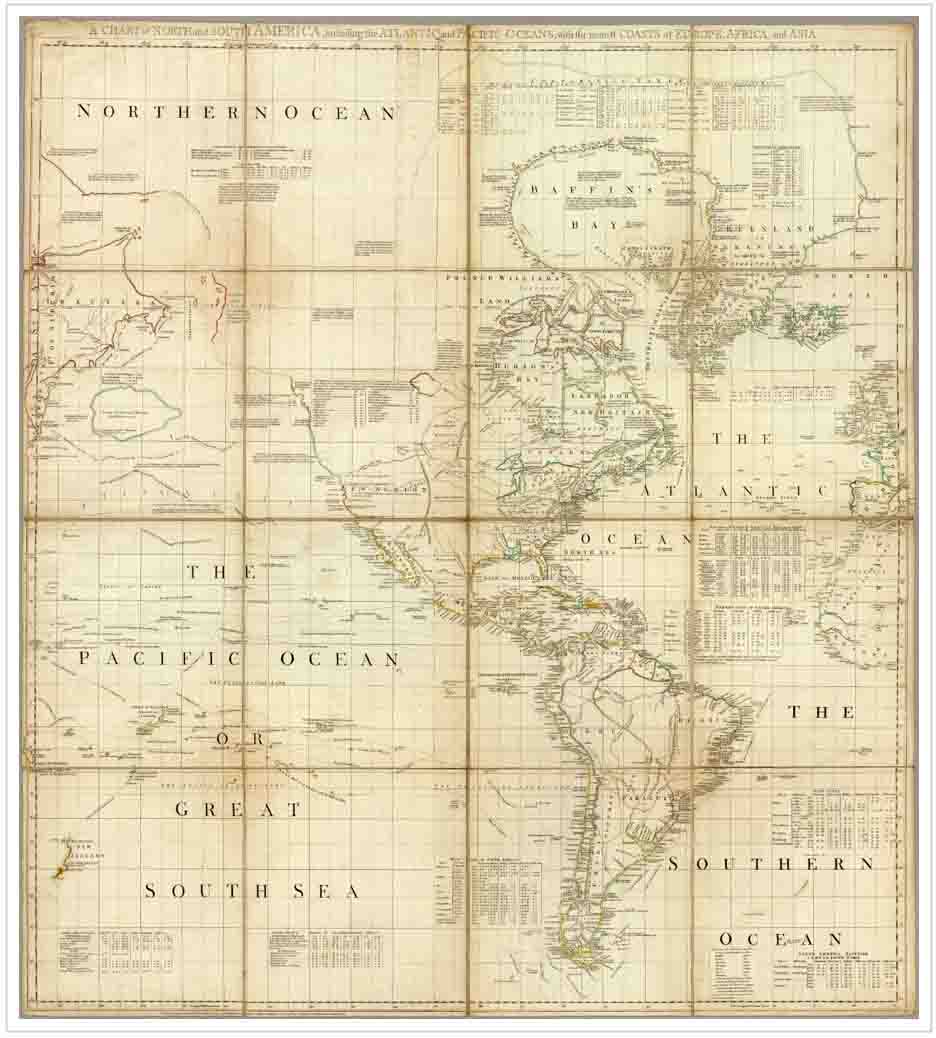 intellectual, Rumsey has been invited to open the Digital Humanities 2011 conference at Stanford. Library staffers Matthew Jockers and Glen Worthey are local hosts of the conference. Worthey explains the selection of Rumsey as keynote speaker: "With his experimental approaches to GIS and historic maps, his innovative use of virtual worlds for purveyance of serious scholarly materials, and his outspoken and concrete actions toward the building of a real public digital library, David Rumsey is a rare and exemplary figure of antiquarian in the digital world, and entrepreneur in the academy."

Digital Humanities 2011, taking place on June 19-22, is the annual international conference of the Alliance of Digital Humanities Organizations, an umbrella organization whose goals are to promote and support digitally-based research and teaching across the arts and humanities disciplines. Although the designation "digital humanities" is being applied for only the sixth time, the conference itself is the twenty-third and dates back to 1989. Those interested in participating in the full conference may register here. Rumsey's keynote talk, "Reading Historical Maps Digitally: How Spatial Technologies Can Enable Close, Distant and Dynamic Interpretations," is free and open to the public at 6:00 pm on Sunday, June 19 in Dinkelspiel Auditorium. Rarely does a talk have such high appeal for both collectors of antiquarian materials and developers of digital resources; we hope you will join us on June 19.
Stroll through History in Stanford's Main Quad
Visitors to Stanford's Main Quad may simultaneously juxtapose an assortment of historical images and information to the scene today by downloading a free Layar app for mobile devices. The program is dubbed "Quadmented" and was developed jointly by Adriano Farano, a current recipient of one of the John S. Knight Fellowships for Professional Journalists at Stanford, and Gene Becker, Ubimedia Studio founder and Layar business developer in the U.S. More details about its conception and implementation are discussed on Farano's blog; similar screenshots to the one pictured here are found on the Special Collections blog.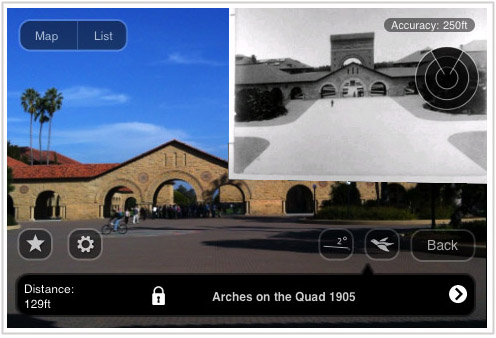 The Layar app provides what is known as an augmented reality layer, which in this case includes pictures, links and multimedia content from University Archives, Stanford News Service, Palo Alto Historical Association, and elsewhere. The content ranges chronologically from the moment when the first cornerstone of the University was laid in 1887 until the 2010 visit of Russian President Medvedev and may also be compared thematically, such as overlaying the ROTC marching in the Quad during the First World War with University President Pitzer addressing Vietnam protesters in 1968. It draws heavily upon the Stanford Historical Photo Collection. University Archivist Daniel Hartwig commented, "We are pleased to participate in this mobile application development project using the Archives. Quadmented and similar projects (a second is underway now) present excellent opportunities to make innovative uses of content free from the traditional physical and temporal barriers of archives. This type of technology allows us as archivists to immerse our collections in the everyday lives of individuals, enriching their experiences and interactions with the world around them."
ReMix: News from the Stanford Libraries is e-published monthly by the Library Development Office as a service to supporters, providing highlights, news links, and announcements about Stanford's Libraries, Academic Computing, Residential Computing, Stanford University Press, and HighWire Press.

Stanford University Libraries & Academic Information Resources
Michael A. Keller, University Librarian
Andrew Herkovic, Director of Communications & Development
David Jordan and Sonia Lee, ReMix editors

Please submit questions/comments/suggestions to
David Jordan at

dajordan@stanford.edu

or 650-723-3866.

Click

here

to learn more about supporting the Libraries.


The Bing Wing of Cecil H. Green Library