Google, Authors, Publishers Agree to Agree
Three years of behind-the-scenes wrangling ended on 28 October, when Google and the various parties suing it over the Google Book Search (GBS) project submitted a proposed Settlement to the court hearing the suits. Stanford, one of the original "Google Five" participants in the mass digitization scheme, was closely involved in the protracted negotiations and will directly benefit from the Settlement, should the court approve it. Actually, there are benefits to many interests, including public and academic libraries across the US, that could not have been foreseen when the project started in 2004.
The deal is complicated. Many important questions remain. No party got everything it hoped for. Nobody knows when the Settlement will be approved. But, Google can go forward scanning and indexing library books. Assuming eventual approval, the full text of millions of in-copyright, out-of-print books will be readable online through a library licensing scheme, and Stanford will obtain digital preservation copies of its millions of books. Additional terms, including the full text of the agreement, are detailed here with further commentary at our own site.
Google has long been reticent about numbers, but with the lawsuits more or less behind them, they have been more open about the scope of the project. GBS has scanned more than seven million books to date, including 1.2 million from Stanford. We are now checking out and sending about 2,500 books to GBS, and checking in a like number of returned books, daily. This prodigious rate is only a fraction of the total that GBS handles in toto. I extrapolate they must be scanning and indexing several million pages - call it half a billion words - daily. This beggars superlatives.
We are immensely relieved that the cloud of litigation is lifting from this project and proud to be active participants with this genuinely transformative effort.
In expectation of great change,
Andrew Herkovic
Persian Student Association Presents 500 Books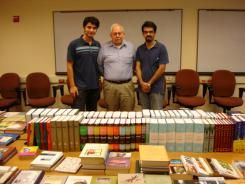 In October, Stanford's Persian Student Association donated more than 500 new books in contemporary Persian poetry, prose and literary criticism to the Stanford Libraries. President Mohammed Hekmat and Board Member Mahmoud Saadat presented the books to John Eilts, curator of the Islamic and Middle Eastern Collection, at a ceremony in Green Library.
Having recognized a gap in our holdings, Association members prepared a list of important works, approached alumni of their organization and other donors (most notably the Bita Daryabari Endowment in Persian Literature), orchestrated ordering and shipping the books from Iran, designed bookplates, and planned a presentation ceremony. Following this successful campaign, the group is contemplating a similar gift of music and video recordings.
In a letter to members, Hekmat stated "We hope this collection will provide enjoyable and thought-provoking reading for members of the Stanford community and instill in them an understanding of Iran and Iranian culture." The collection was dedicated to the memory of Dr. Simin Daneshvar, one of the best known contemporary Iranian authors, who spent a year at Stanford as a Fulbright scholar in 1952. (For her biography, click here.)
We are both grateful for this generous gift and highly impressed with the energetic student initiative that made it possible. The Association has about 180 current Stanford students among its 240 members. For more information, click here.
Memory's Library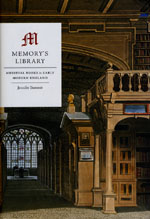 At the Libraries' annual donor dinner in April, Professor Jennifer Summit shared stories of Stanford students' first encounters with medieval manuscripts and helped to launch the Ancient, Medieval and Early Modern Manuscript Fund. Since then, Summit was named Chair of the English Department and published a groundbreaking work on English libraries between 1431 and 1631: "At the beginning of this time span, England's most important libraries belonged to its religious institutions; by its end, they had shifted into private hands, to be recollected by scholars who envisioned the beginnings of 'public' or 'national' collections."
Memory's Library (University of Chicago Press, 2008) begins with an ancient proposition of Cassiodorus and St. Jerome: "Memory is a library—or so it was conventionally figured by premodern writers." Adopting this metaphor and viewing libraries as outward expressions of intellectual constructs (and vice-versa), England's great collectors, as all collectors must, chose some materials to the exclusion of others and arranged books self-consciously: "As English collectors from Richard de Bury to Robert Cotton recognized, those who made libraries made history...[L]ibraries were dynamic institutions that actively processed, shaped, and imposed meanings on the very materials they contained."
Professor Summit defends the library's physical space as a vital place of human interaction, and revisits the metaphor of memory: "There is a striking convergence between these current assessments of libraries as dynamic spaces and recent advances in the study of memory...Libraries are central to who we are because they were central to who we were, organizing the individual and collective memories that make up the stories of our lives as individuals, peoples and nations."
Kudos to Professor Summit for this timely insight and its implications for the future of libraries at Stanford. A review is available at Stanford's the Human Experience website: click here. To order a copy of the book, click here.
New Exhibits in Engineering and Art Libraries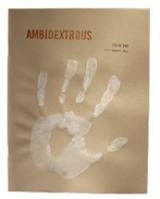 The third in a series of exhibits answering the question, "What is an Engineer?" is on display in the Engineering Library. The winter term exhibit features Ambidextrous, Stanford University's Journal of Design. Started in 2005, the print magazine is an all volunteer student-run effort to showcase the people and processes involved in the many aspects of design. It serves as a forum for the cross-disciplinary, cross-marker community of people with academic, professional and personal interests in design.
On display are artifacts and samples from recent "functional dissections" of the Simplex door lock, Poloroid SX-70 camera and Roomba vacuum. In every issue, Ambidextrous features a centerfold of a "functional dissection" of an everyday object to uncover the functional beauty and mechanical elegance hidden within the products of our lives. In past issues, subjects taken apart have ranged from land mines to a parking meter to cell phones.
Ambidextrous is published regularly with support from the Hasso Plattner Institute of Design at Stanford and Center for Design Research. Selected articles from past issues as well as subscription information can be found here.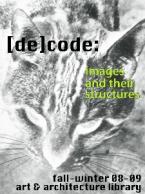 In the Art and Architecture Library, the exhibition [De]Code: Images and Their Structures brings together illustrated works that draw attention to the physically and culturally constructed nature of images: how space and depth are designated, how scale is created and discerned, how time is represented and understood. These works refer out to the world and into themselves, each functioning both representationally and self-referentially—and in so doing they push the viewer to look analytically.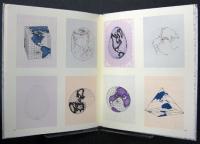 Highlights include a facsimile of the fourteenth-century Yüan Dynasty handscroll Fuchun shan jü tu [Dwelling in the Fuchun Mountains]; Gerhard Richter's 128 Details from a Picture; and Édouard Baldus's Palais du Louvre et des Tuileries: Motifs de Décoration Intérieure et Extérieure.
ReMix: News from the Stanford Libraries provides highlights, news clippings, and notices about Stanford University Libraries and Academic Information Resources, which comprises
Libraries, Academic Computing, Residential Computing,
Stanford University Press, HighWire Press and Stanford Publishing Courses. ReMix is published approximately monthly
by the Library Development Office, only in electronic form.

Stanford University Libraries & Academic Information Resources
Michael A. Keller, University Librarian
Andrew Herkovic, Director of Communications & Development David Jordan and Sonia Lee, editors

Subscriptions to this newsletter are available on request at no charge for SULAIR supporters. To request (or discontinue) a subscription, to submit questions or comments, to make a donation, or to suggest an article, please write or call
David Jordan at dajordan@stanford.edu, 650-723-3866.

Please visit us at: http://library.stanford.edu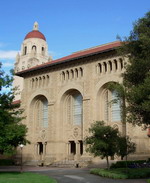 The Bing Wing of Cecil H. Green Library

Currently on Exhibit

American Primers & Readers: Featuring the Words and Collection of Richard L. Venezky, September 15 through December 31, 2008, in Green Library's Peterson Gallery and Munger Rotunda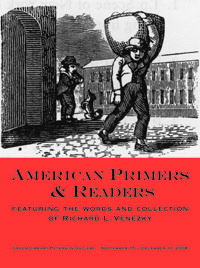 Photobooks: Inspiration and Process, Art & Architecture Library

What is an Engineer? (third exhibit in a series at the Engineering Library)

Now on display near the south portal of Green Library:
-The Judith L. Davis Memorial Book Fund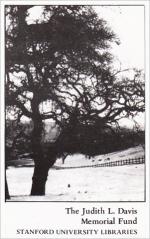 -New and recent publications from Stanford University Press



Upcoming Events & Exhibitions



"The Time of Your Life": A 100th Birthday Celebration for William Saroyan (co-sponsored by Stanford Continuing Studies, Stanford University Libraries, Stanford Drama Department and Stanford Storytelling Project) Thursday, November 20 at 7:30 pm in Cubberley Auditorium. Click here for details.



SULAIR in the News
(click on underlined text to see article)


Recently published by Stanford University Press:
Surrounded: Palestinian Soldiers in the Israeli Military, by Rhoda Ana Kanaaneh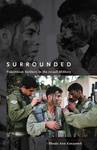 News Articles:
Faculty debate future of the libraries

Universities see promise in Google Book Search settlement

Newly published Asian American art book by Professor Gordon Chang:
Hoover Institution gets papers of late Chief Justice Rehnquist

54,000 visitors toured the John Adams Unbound collection exhibition at Boston Public Library curated by Stanford alumna Beth Prindle

Tom Wyman's slide-rule collection measures history (formerly exhibited in Green Library)