"The library is safe thanks to Egypt's youth"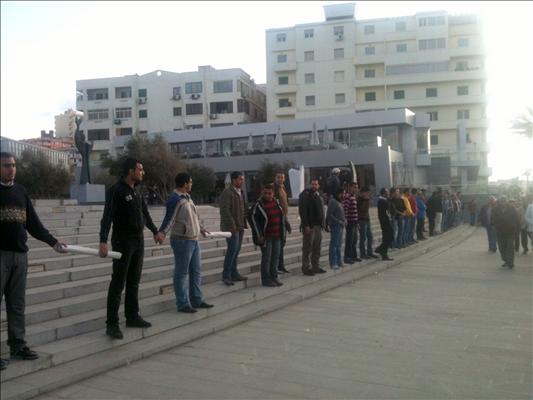 As many ReMix readers may recall, the Stanford Libraries have a close collegial relationship with the new Library of Alexandria, known as the Bibliotheca Alexandrina, or BA. We have been anxiously watching the news of turmoil in Egypt with a particular concern about that inspiring institution (to say nothing of other cultural repositories, some of which were damaged in recent weeks). I am truly delighted and relieved to report that the BA is intact as of this writing. Indeed, some 50 volunteers formed a human cordon to protect and support it during mass demonstrations in its vicinity on the Corniche of that historic city. Even when all of Egypt was reportedly cut off from the Internet, the BA retained connectivity through its own international network, and its director, Dr. Ismail Seregeldin, was able to post several assuring messages to the BA's friends around the world, complete with photographs and video showing how Alexandrians rallied to protect it. Concurrently, several of us at Stanford were exchanging messages with our friends there, which provided solace all around.

None of this predicts how the BA will fare hereafter. During the turmoil on the streets, one of the BA's senior staff closed a message to me as follows: "Pray for us." That may still be about all we can do. As momentous events unfold in a post-Mubarak Egypt, we will look for more tangible ways to express our support and solidarity.

As a parting thought: as implausible as mass insurrection seems here, if something somehow comparable were to happen, would we put ourselves on the line to protect our libraries as did the citizens of Alexandria?

Bravi!

Andrew Herkovic

---
The American Enlightenment

The Enlightenment, the age of intellectual inquiry and discovery that stretched from roughly 1680 to 1820, drew extensively from the European colonization of the Americas. The American Enlightenment: Treasures from the Stanford University Libraries, on display through May 15 in the Peterson Gallery and Munger Rotunda on the second floor of the Bing Wing of Green Library, tells the story of how New World discoveries and ideas contributed to the Enlightenment and illustrates the transatlantic debates over issues of government, science, religion, and individual rights that shaped it. For example, Mark Catesby's lavishly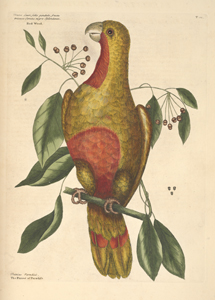 illustrated The Natural History of Carolina, Florida, and the Bahama Islands, the first color-plate book devoted to an American subject, contained many discoveries about New World animals (parrot pictured) and plants. Notes Bryan Wolf, the Jeanette and William Hayden Jones Professor in American Art and Culture at Stanford University: "We learn from this extraordinary exhibition the glory of Enlightenment thinking in America: its range, ambition, and its longevity. No one who views it can doubt the fundamental role played by American writers in what was truly a trans-Atlantic Enlightenment."

Curated by Stanford University Professor of History Caroline Winterer, the exhibition is timed to coincide with her winter quarter undergraduate course, "The American Enlightenment." A website dedicated to the exhibit, as well as a print catalogue available for purchase in the Special Collections reading room or via mail using an online printable order form, jointly funded by the Stanford Institute for Creativity and the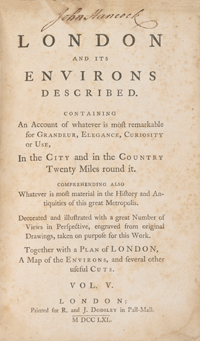 Arts (SiCa) and the Stanford University Libraries, will extend the reach of the physical exhibition. The SiCa grant also provided funding for two graduate students to be employed in exhibit-related projects, such as composing text to accompany a 1761 edition of London and Its Environs Described (pictured) signed by John Hancock. In doing so, they considered a portrait of Hancock at his writing desk by artist John Singleton Copley, and also noticed that his "John Hancock" is much more elaborate on the Declaration of Independence than in his books.

On display are books that were owned, written, dissected, or annotated by notable mid-eighteenth-century British Americans and one African American, and books about peculiarly North American topics. Highlights from both old and new collections are featured, including from the Charles J. Tanenbaum Collection of the Eighteenth Century featured in our December 2008 issue. Other association copies include an anthology of British play extracts that belonged to the Boston slave and poet Phillis Wheatley (c. 1753–1784), the first African-American poet to be published; a vermin-chewed copy of a republican tract read by the major American revolutionary Henry Laurens while he was imprisoned in the Tower of London on suspicion of high treason; and the only book known to have been signed by both Thomas Jefferson and James Madison. Did the copy of John Milton's Paradise Lost belong to Jefferson or Madison, and why did one loan it to the other? Why, asks the exhibit, did the borrower presume to write his name on the book?

Other rare volumes on exhibit include Nicholas Biddle's account of Meriwether Lewis and William Clark's History of the Expedition . . . to the Sources of the Missouri (1814) which contains the celebrated map that provided the first accurate depiction of the sources of the Columbia and Missouri rivers; a letter penned by Benjamin Franklin to Scottish immigrant physician John Lining on their mutual interest in how the human body makes heat; a well-worn copy of Webster's American Spelling Book, which helped to standardize spellings of distinctly New World, native place names, such as Kentucky and Catawba; and two copies of Thomas Paine's Common Sense (1776), from the original year of publication. One was published in Philadelphia, the other in London, where it was partially censored by the Crown and so is missing critical chunks that defame the king, "the royal brute of Britain." The Exhibits Program website contains additional information about admission and hours of viewing.


---


Stanford Institute for Creativity and the Arts Archive

When Regina Roberts, bibliographer for anthropology, Lusophone (Portuguese-speaking) Africa, and sociology recently requested videos of lectures and performances at Stanford by Victor Gama, an Angolan musician and instrument maker, from the Stanford Institute for Creativity and the Arts (SiCa), she received an unexpected reply: "Would the Libraries accept our entire archive?" Enter newly appointed University Archivist Daniel Hartwig, who is now directing the transfer, preservation and eventual online delivery of these invaluable records of artists at Stanford. Without discounting the impact of live performances, the archive's recorded programs, lectures and demonstrations will continue to provide distinctive content for cultivating creative endeavors throughout the Stanford community.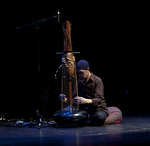 Since inception in 2006, SiCa has aimed at "infusing the arts into the fabric of the university" and "working to place creativity at the center of a twenty-first-century education" (from mission statement). The Institute's accomplishments to date include developing new undergraduate arts programs, hosting artists in residence, awarding grants for multidisciplinary arts research and teaching, incubating collaborative performances and exhibitions, and providing centralized communication for Stanford arts events and programs. SiCa is deeply involved with Stanford Lively Arts, the University's Arts Initiative, and occasionally the Libraries, currently in sponsorship of the exhibit on the American Enlightenment described above. During these years, SiCa has captured and archived a wealth of artistic content that demonstrates the engagement of renowned visiting artists and scholars working with students and faculty. For example, the previously mentioned Victor Gama is shown at an October, 2010 concert entitled "SOL(t)O" playing the "Toha," a bird's nest-shaped instrument he created.

The SiCa archive is the first (others are certain to follow) large-scale born-digital audiovisual collection acquired by University Archives. Hartwig estimates the scope as more than 630GB of born-digital content, including photographs (15,700+), videos (200+), annual reports, press materials, and a copy of the SiCa website (6,000+ files). The materials document every performance developed or sponsored by SiCa since 2007; a detailed finding aid to the collection is available here. The Archives' next step is to iron out the means for providing access, on a site with sufficient depth and background, to these memorable and instructive performances.



---

Head of Preservation Appointed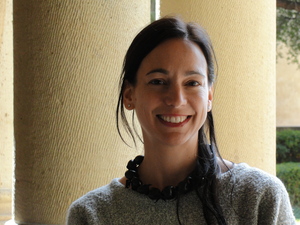 This month we welcome Kate E. Contakos as the newly appointed head of the preservation department. Contakos was the first preservation librarian at Beinecke Rare Book and Manuscript Library, Yale University, where she served until 2008, having formerly worked at Bobst Library, New York University. In 2009, she received an M.A. in Early Modern English Literature: Text and Transmission, with an emphasis on the history of the book, from King's College London. While in London, she was co-curator of The Art Noveau Dacha, exhibited at The Gallery of the Prince's Foundation, and assessed and re-housed incunabula for the Special Collections Library, University College London.

Among Contakos's special interests are raising preservation awareness and life-cycle management challenges of collections, including long-term access to less traditional and digital media. She has conducted numerous workshops for students and staff on care and handling of rare materials at the venues mentioned above. About her new position here, she said, "I embrace the opportunity to be preservation's conscience, activist, and leader within the Stanford University Libraries, and beyond, as it strives to assure long-term access to its collection materials in all formats."
---
ReMix: News from the Stanford Libraries is e-published monthly by the Library Development Office as a service to supporters, providing highlights, news links, and announcements about Stanford's Libraries, Academic Computing, Residential Computing, Stanford University Press, and HighWire Press.

Stanford University Libraries & Academic Information Resources
Michael A. Keller, University Librarian
Andrew Herkovic, Director of Communications & Development
David Jordan and Renee Mueller, ReMix editors

Please submit questions/comments/suggestions to
David Jordan at dajordan@stanford.edu or 650-723-3866.

Click here to learn more about supporting the Libraries.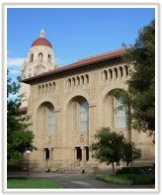 The Bing Wing of Cecil H. Green Library