A Banner Year for Endowments
Stanford's fiscal year just ended, and a variety of statistics are emerging as a result – some more meaningful than others. Gifts to the Libraries showed a healthy improvement over the previous year, in no small part due to one particular form of gift: in the year just past, seven new library endowments were established. By comparison, the long-term average is about two or three per year. We are enormously grateful for these important contributions to the future.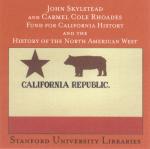 Endowments, of course, emphasize growth and longevity: they allow ongoing, indefinite spending for their specified purpose and thus truly transcend our time on earth. Three of these endowments, in fact – the Professor Kurt Servos Endowment Fund for earth science materials, the John Skylstead and Carmel Cole Rhoades Fund for California History and the History of the North American West, and the Marie Klein Memorial Fund for history and drama from the estate of Professor Emeritus Wendell and Charlotte Cole – were the result of bequests, and we pause with grateful respect to note the passing of these benefactors.

Bruce and Mary Crawford reflected their deep interest in the peoples of South and Southeast Asia by starting a fund to build our collections in that area, while David and Maureen Jordan started a fund in financial mathematics and applied statistics. The four children and a grandson of Dr. Sam Chung Hsieh created an endowment for a library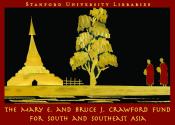 lecture series in honor of that distinguished scholar and statesman. Several benefactors, interested alumni and Rondel Society members launched our new fund for Ancient, Medieval and Early Modern Manuscripts with gifts and pledges, some of which were in honor of their former palaeography professor – still a denizen of Green Library – Professor Emeritus George H. Brown.
Each of these funds is meaningful and deeply appreciated in itself, but together they represent a major step in our ability to support research and learning across a wide spectrum of interests. Other types of gifts, too, through the year bolstered our spirits and our means, and I cannot often enough or adequately thank all our donors for supporting the Stanford Libraries and its affines.
To the future!
Andrew Herkovic
ReMix Readers Invited
An exhibit reception, to which ReMix readers are cordially invited, for American Primers & Readers; Featuring the Words and Collection of Richard L. Venezky, will be held on Saturday, October 11, from 3-5 PM in the Munger Rotunda of Green Library. University of Delaware Professor Richard L. Venezky (1938-2004) was a leading expert in the history of literacy and reading. His extensive collection of American textbooks was a gift of his family to the Stanford Libraries in 2005. On display are primers and readers published between the end of the eighteenth century and the middle of the twentieth century, paired with text excerpted from Venezky's published work. To assist us with planning for refreshments, please let us know if you plan to attend by sending an email to kkerns@stanford.edu.
Saroyan Prizes, Anthology and Music

As readers of last month's ReMix already know, 2008 marks the 100th anniversary of William Saroyan's birth, and the Libraries marked his Centennial on 5 September with: the award of the 2008 William Saroyan International Prize for Writing; celebration of the latest, and perhaps largest-ever, Saroyan anthology, He Flies Through The Air With the Greatest of Ease, from Bay Area publisher Heyday Books; and a concert of pieces with Saroyan lyrics.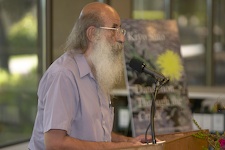 Over a hundred people in Green's Library's East Wing listened to reminiscences of Saroyan by veteran novelist Herbert Gold and an appreciation of the Saroyan legacy by Heyday Books' publisher Malcolm Margolin, after which Mike Keller announced the prize awards. Nicole Krauss, a Stanford alumna, was awarded the fiction prize for The History of Love. Kiyo Sato received the non-fiction prize for Dandelion Through the Crack, her first book. Ms. Sato, who proved to be a real crowd-pleaser, made brief, gracious, humorous and touching remarks accepting the award. Ms. Krauss, who could not attend, forwarded an eloquent note of thanks, which Mimi Calter, who organized the whole event, read to the audience. We were pleased to welcome both of the other non-fiction finalists, John Moir for his Return of the Condor and Adam David Miller for his Ticket to Exile. Meanwhile, our friends from the Stanford Bookstore were kept busy selling copies of both the anthology and the various prize finalists.

Following the reception, guests found their way to Kresge Auditorium to enjoy a performance showcasing Saroyan's musical collaborations. Gregory Wait, Senior Lecturer and Director of Vocal Studies at Stanford University and Music Director of Schola Cantorum, directed a highly varied program of ten pieces, concluding with a world premier of Girakgi Picnic, a piece by Alan Hovhaness with Saroyan lyrics that was recently discovered in our William Saroyan archive. Featured soloists were Mary Linduska, Janet Steen Campbell, Stan Neff and Jeffrey Barnett, beautifully accompanied on piano by Sumi Park.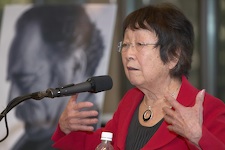 We are deeply grateful to the Stanford Volunteer Clearinghouse and the 185 members of the Stanford Book Salon who volunteered to evaluate the 238 entries (a record number), and we wish to acknowledge our distinguished panel of judges: publisher Geoffrey Burn, novelist (and alumna) Bo Caldwell, Professor Hans Ulrich Gumbrecht, Professor Keith Devlin, Dr. Ginger Rhodes, Pulitzer Prize winner Richard Rhodes, and producer (and nephew) Hank Saroyan. Space does not permit us to extol them here, but for those interested, biographical sketches are posted (click here).

One imagines that William Saroyan would be pleased indeed with these awards, presentations, and performances in his memory.

Speaking of Prizes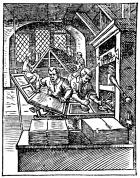 We are pleased to announce that the Byra J. and William P. Wreden Prize for Collecting Books and Related Materials will be awarded in Spring, 2009. An endowment for the prize was established by friends and family as a memorial for Mr. and Mrs.Wreden, longtime Bay Area booksellers and themselves among the Libraries' most stalwart supporters. The prize is open to all Stanford students in a degree program, and is awarded based upon an annotated bibliography, an essay on the collection and a brief interview. A committee is forming now to publicize, administer and award the prize. In the mean time, inquiries may be directed to David Jordan at 650-723-3866 or dajordan@stanford.edu.
ReMix: News from the Stanford Libraries provides highlights, news clippings, and notices about Stanford University Libraries and Academic Information Resources, which comprises
Libraries, Academic Computing, Residential Computing,
Stanford University Press, HighWire Press and Stanford Publishing Courses. ReMix is published approximately monthly
by the Library Development Office, only in electronic form.

Stanford University Libraries & Academic Information Resources
Michael A. Keller, University Librarian
Andrew Herkovic, Director of Communications & Development David Jordan, editor

Subscriptions to this newsletter are available on request at no charge for SULAIR supporters. To request (or discontinue) a subscription, to submit questions or comments, to make a donation, or to suggest an article, please write or call David Jordan at dajordan@stanford.edu, 650-723-3866.

Please visit us at: http://library.stanford.edu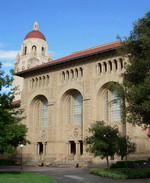 The Bing Wing of Cecil H. Green Library
Currently on Exhibit

.

American Primers & Readers: Featuring the Words and Collection
of Richard L. Venezky, September 15 through December 31, 2008, in Green Library's Peterson Gallery and Munger Rotunda

Photobooks: Inspiration and Process, Art & Architecture Library


Endowed book funds now on display near the south entrance of Green Library:

-The Judith L. Davis Memorial Book Fund


-The Ancient, Medieval and Early Modern Manuscript Fund

Upcoming Events & Exhibitions



French journalist Edith Gombos Sorel, who has interviewed many of the major cultural figures of the twentieth century, will discuss her life and work. Bender Room, Wednesday, October 1, 4-6 PM




Exhibit Reception for American Primers and Readers: Featuring the Words and Collection of Richard L. Venezky. Munger Rotunda, Saturday, October 11, 3-5 PM





Professor Gordon Chang and Mark Johnson will discuss the new Stanford University Press publication of Asian American Art: A History 1850-1970, in conjunction with an exhibition at the de Young Museum. Bender Room, Thursday, November 6, 7 PM




SULAIR in the News
(click on underlined text to see article)



Forthcoming from the Stanford University Press:

Off Mike: A Memoir of Talk Radio and Literary Life, by Michael Krasny



Asian American Art: A History 1850-1970, edited by Gordon H. Chang, Mark Johnson and Paul Karlstrom




News Articles:

Authors Nicole Krauss, Kiyo Sato win 2008 Saroyan Prize