What's in a Name?
Had we but known that the brilliant intellectual property attorney and Stanford professor Larry Lessig was busy writing a book entitled Remix: Making Art and Commerce Thrive in the Hybrid Economy (click here to order), we might have named this newsletter differently. But there's no going backwards; the world will just have to "disambiguate" our ReMix from his. According to the Chronicle of Higher Education (click here for review), the book, which was released yesterday, "argues that the legal system is making criminals out of young people who produce entertaining or informative videos, music, and other art works through piecing together parts of others' works." Lessig's book reinforces his founding of the Creative Commons in drawing needed attention to an intellectual property regime that many of us believe to have grown unwieldy and antithetical both to the public interest and to the Constitutional basis for copyright, which is "To promote the Progress of Science and useful Arts, by securing for limited Times to Authors and Inventors the exclusive Right to their respective Writings and Discoveries." If you haven't contemplated this little paragraph from the Constitution lately, I recommend you do so now. To say this is important for the future of libraries and information services is a major understatement, and we applaud Lessig for his efforts in this area.
At least Lessig's title puts to rest any lingering suspicion that "remix" is not a proper word (per the Oxford English Dictionary, its first occurrence in print is 301 years older than that for "disambiguate," though it then had a slightly different meaning than Lessig and we intend). The OED itself has a strong connection to Stanford: its current, online, continually-updated edition is supported technically by our HighWire Press division. If you haven't had the pleasure of using it, it would be worth a visit to one of the Stanford libraries to try it at any of our public terminals (it's a subscription-based service). Warning: it can be hard to tear oneself away from the online OED; it is definitely habit-forming.

Lexically yours,

Andrew Herkovic
Open House, 2008
At the Libraries' annual Open House on October 2, hundreds of students (and a considerable number of new faculty and staff) viewed exhibits and met representatives of Green Library and its branches. Four independently-run coordinate libraries also participated: Jackson Business, Lane Medical, Crown Law, and Hoover Library and Archives. Demonstrations of The Stanford Libraries in Second Life (a virtual world), How They Got Game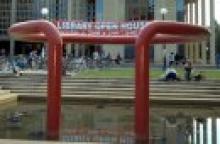 (history and culture of interactive simulations and video games), The Future of the Stanford Science Libraries, Google Book Search and Google Scholar, and the Robotic Book Scanner were especially well attended, as was the tour led by University Librarian Michael Keller.

Musicians entertained guests at the south portal entrance, where there was also a free book, courtesy of the Saroyan Prize contestants, for each visitor.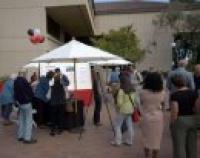 The Open House, organized again this year by Chris Bourg, Head of the Information Center, is essential to introducing new campus scholars to the bewildering complexity of the more than twenty libraries on campus. New graduate students were also invited to a reception in the Munger Rotunda on October 7.
A Notable Acquisition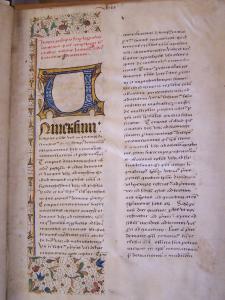 The Libraries recently acquired a manuscript, signed and dated by its scribe in Lyon on 1 September 1468, of the Legenda Aurea. It represents the important period of transition after the printing of the Gutenberg Bible, but before the first printed edition of the Golden Legend in 1470, and shares many features with early printed books. This is also the period of transition, for both books and manuscripts, from vellum to paper. Our manuscript is written on fine watermarked paper in a workmanlike Gothic cursive bookhand, but pays homage to the earlier tradition by using a decorated vellum bifolium for the opening and twelfth pages. The reader is struck by the manuscript's accessibility: the simple Latin of its author is arranged in two columns with generous word, line and margin spacing (for readers' notes, which were added later). The script is neither highly compressed nor overly abbreviated, as it is in many fifteenth-century manuscripts on paper. The scribe was self-conscious of working in the manuscript tradition; nonetheless, he intended to make a practical and economical book.
When Dominican friar and hagiographer Jacobus de Voragine completed his Legenda Sanctorum around 1266, he intended it as an encyclopedic preaching aid of saintly biographies for clerics. It became one of the most widely read and copied books of the Middle Ages, when it became known to laymen as Legenda Aurea, being worth its weight in gold. Few books have had such a meteoric rise and fall. At least 200 editions of the Golden Legend were published between 1470 and 1530 alone, including nine of Caxton's famous English translation. The work's popularity diminished later in the sixteenth century, to the point that, after 1613, only one edition was published in the next 230 years.
Today, the Golden Legend is once again the object of scholarly attention, as a work of devotion, and especially for its lively and vivid storytelling techniques. Most of its lives begin with a speculative etymology of the saint's name, and then enliven the canonical biographical details with miraculous and supernatural events, many of them bloody and violent. Commonplace episodes, such as women forced to marry against their wills, can be studied as part of the continuum of Latin prose narrative from ancient Roman histories to the high points of medieval literature and even to the birth of the modern novel. The manuscript will be an integral and frequently used resource of both our teaching and research collections. Donors past and present, to whom we are indeed grateful, made possible the Libraries' first acquistion of a complete and substantial medieval manuscript in many years.

Special Exhibition of Hangul Calligraphy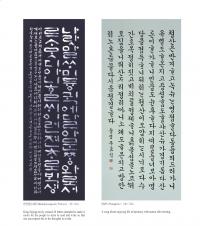 Works of eleven contemporary, prize-winning Korean calligraphers are on display through October 31 in the East Asia Library on the 4th floor of Meyer Library. The exhibit highlights Hangul, the native alphabet of the Korean language, an alphabet praised by the prestigious Department of Linguistics at the University of Oxford for its originality, rationality, and scientific features. Each of the calligraphers interprets gungche, or "courtly style," known as the flower of Hangul calligraphy and originally used primarily by women of the royal court. Gungche itself can be written in a printed style, or in semi-cursive, cursive, or radically cursive variations. The exhibited works have been donated by the artists for inclusion in Stanford's permanent collections. For additional information and for the East Asia Library's hours, click here.
ReMix: News from the Stanford Libraries provides highlights, news clippings, and notices about Stanford University Libraries and Academic Information Resources, which comprises
Libraries, Academic Computing, Residential Computing,
Stanford University Press, HighWire Press and Stanford Publishing Courses. ReMix is published approximately monthly
by the Library Development Office, only in electronic form.

Stanford University Libraries & Academic Information Resources
Michael A. Keller, University Librarian
Andrew Herkovic, Director of Communications & Development David Jordan, editor

Subscriptions to this newsletter are available on request at no charge for SULAIR supporters. To request (or discontinue) a subscription, to submit questions or comments, to make a donation, or to suggest an article, please write or call David Jordan at dajordan@stanford.edu, 650-723-3866.

Please visit us at: http://library.stanford.edu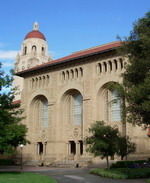 The Bing Wing of Cecil H. Green Library
Currently on Exhibit
American Primers & Readers: Featuring the Words and Collection
of Richard L. Venezky, September 15 through December 31, 2008, in Green Library's Peterson Gallery and Munger Rotunda
Photobooks: Inspiration and Process, Art & Architecture Library
Special Exhibition of Hangul (Korean Alphabet) Calligraphy, October 9-31 in the East Asia Library (Meyer Library, 4th Floor).

Endowed book funds now on display near the south entrance of Green Library:
-The Judith L. Davis Memorial Book Fund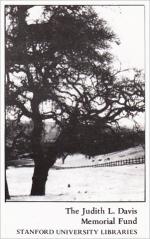 -The Lucie King Harris Books for Music Fund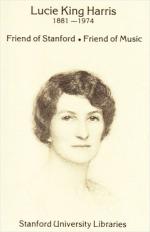 Upcoming Events & Exhibitions



Professor Gordon Chang and Mark Johnson will discuss the new Stanford University Press publication of Asian American Art: A History 1850-1970, in conjunction with an exhibition at the de Young Museum. Bender Room, Thursday, November 6, 7 PM




SULAIR in the News
(click on underlined text to see article)



Forthcoming from the Stanford University Press:



Passionate Uprisings: Iran's Sexual Revolution, by Pardis Mahdavi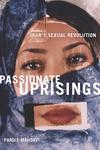 The Nature of Creative Development, by Jonathan S. Feinstein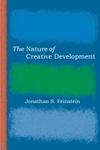 News Articles:
Etched language data will last for 2,000 years. (The Rosetta Project)
Our Town: Notes from an ancient world. (annual Papyrological Institute held for the first time at Stanford)