SUMMERTIME

Student traffic through the Libraries ebbs and flows with the academic calendar as predictably as the seasons. Researchers, however, have their own seasons, and the perennial refrain is that precisely when school is out, research activity peaks. (The usual context for such comments is announcement of closures or curtailed hours during holiday breaks.) And the inner workings of the Libraries continue apace, often in anticipation of the academic year, rather than in step with it. Thus it is that the summer is also a time of reshelving, repair, refurbishing, replacement, and year-end reflection and reporting.

Summer is also a fine time to visit the Libraries. Though there is more hubbub on campus - what with the summer session, sports camps, computer camps and the jazz festival - the atmosphere in the reading rooms is, if anything, more studious than usual. While many staff take their own vacations in this season, the public service units are staffed and in full operation. Hours of service vary with the summer session schedule, so it is worth checking online (or calling the person or area one wishes to visit) before planning a trip to campus. Parking may be slightly less of a challenge, though the usual restrictions apply. The stacks are coolly awaiting summer readers.

Hoping to run into friends in the halls this summer,

Andrew Herkovic

GREEN TEAS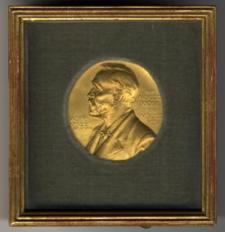 We never cease to be struck by the industry and creativity of Stanford students, a remarkable number of whom organize student-run extracurricular activities, e.g., in drama, poetry and music, in addition to their coursework. The Libraries is proud to have one such group in Green Teas, which for the third consecutive year organized and hosted presentations about antiquarian and archival materials. This year, student coordinators of Green Teas, which has about 25 members, held the following sessions: Professor Joe Manning spoke on the Erichsen Library of Egyptology; Curator of British and American Literature Annette Keough showed highlights of our John Steinbeck collections, including his Nobel medal (pictured); and Professor Ken Fields, Helen Trimpi and Michael Stillman presented rare audio recordings of "Poets at Stanford" in the Archive of Recorded Sound. Plans are already underway for next year, and we are greatly encouraged by this sort of focused student interest in our special collections.


DORIS LINDER REMEMBERED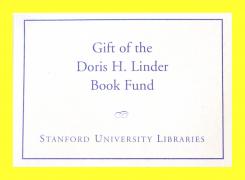 On May 28, friends gathered in the Hopkins Room to remember one of our staunchest supporters, Dr. Doris H. Linder. Doing what she loved best, traveling, Doris passed away unexpectedly of natural causes in Tunisia.

In 1995, building on her prior support of history collections at the Libraries, Doris created an endowed book fund in the fields of Northern European, Southern and East Asian, and sub-Saharan African history; world history; women's history and historiography, reflecting her own foci as a historian and world traveler. Deeply engaged with the acquisitions purchased with her book fund, and lacking living relatives in the U.S., Doris eventually named her book fund the sole beneficiary of her estate.

While memorial services in Green Library are unusual, in this case it was exceptionally appropriate.




PAPYRUS CONSERVATION UNDERWAY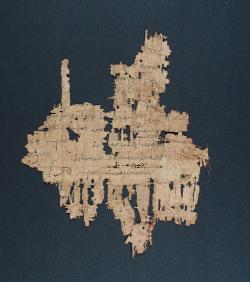 Recently, Leyla Lau-Lamb, conservator from the University of Michigan Libraries, spent a week at SULAIR Conservation Department, training staff in the specialized techniques of papyrus conservation. Ms. Lamb is one of only a few experts in the conservation of ancient papyri.

Stanford University Libraries has a collection of 310 examples built upon a gift in 1953 by Stewart M. Marshall and enhanced by the subsequent transfer of related materials from the Stanford Museum. The collection includes literary texts, legal and business documents, letters, censuses, and other materials.

Many of the fragments in our collection had been used to form cartonnage -- layers of papyri pasted together to make mummy cases. In fact, two of the pieces treated have the distinct shape of the sole of a shoe.
Once these texts are cleaned and glazed, they will be accessible to students and visiting scholars in a stable format. We hope that many of them will be available for use this summer for the International Papyrology Institute to be held at Stanford. In the future the collection will be used in the teaching of Papyrology, as well as Greek, demotic, and Arabic paleography and document history.

A generous donation from the Flora Family Foundation is supporting the conservation project.




ReMix: News from the Stanford Libraries provides highlights, news clippings, and notices about Stanford University Libraries and Academic Information Resources, which comprises
Libraries, Academic Computing, Residential Computing,
Stanford University Press, HighWire Press and Stanford Publishing Courses. ReMix is published approximately monthly
by the Library Development Office, only in electronic form.

Stanford University Libraries & Academic Information Resources
Michael A. Keller, University Librarian
Andrew Herkovic, Director of Communications & Development
Sonia Lee and David Jordan, editors

Subscriptions to this newsletter are available on request at no charge for SULAIR supporters. To request (or discontinue) a subscription, to submit questions or comments, or to make
gifts or story suggestions, please write or call David Jordan at dajordan@stanford.edu, 650-723-3866.

Please visit us at: http://library.stanford.edu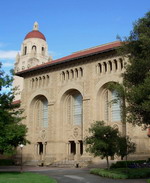 The Bing Wing of Cecil H. Green Library
Currently on Exhibit

Experiments in Navigation: The Art of Charles Hobson April 30-August 17 in Green Library's Munger Rotunda and Peterson Gallery (concurrent exhibition at Cantor Arts Center until July 6) Click here for details.




Endowed book funds now on display near the south entrance of Green Library:
-Grace and Wallace E. Connolly Book Fund for Celtic Studies
-New and Recent Publications from Stanford University Press




Branner's Yosemite, an exhibit of books and maps in the Branner Earth Sciences Library

Upcoming Events & Exhibitions

Saroyan Celebration September 5, details to follow

SULAIR in the News
(click on underlined text to see article)