The Winter of Their Discontent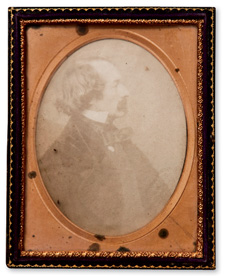 It was a pleasure to see a short piece about 19th-century Arctic explorer Elisha Kent Kane in the January/February issue of Stanford Magazine, in no small part because it featured "Kane's original handwritten journal from the perilous second expedition," which happens to reside in the Libraries' Special Collections. In addition, The Elisha Kent Kane Papers, which we purchased in 1934, also include a photographic portrait (shown here), a silhouette, printed booklet and annotated sketch. The article refers to a 2008 biography of Kane whose author consulted Kane's journal here as primary source material.

The history of exploration, of course, goes hand in hand with mapping, and our engagement with historical cartography is growing continuously stronger; look for news about related developments later this year. In the mean time, we hope to whet appetites for cartographic adventure with a book talk about dissecting – metaphorically, of course – an early printed globe, as described below. The age of heroic exploration, at least the terrestrial kind, is behind us, but there is much yet to be discovered in our many and varied collections.

With best wishes for your expeditions in 2011,

Andrew Herkovic
---

Sea Monsters in Renaissance Geography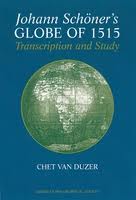 Independent scholar and author Chet Van Duzer will discuss his latest work on medieval and Renaissance cartography on Tuesday, February 1, from 5:30-6:30pm in the Information Center Instruction Room, First Floor, East Wing, Cecil H. Green Library. Johann Schöner's Globe of 1515: Transcription and Study (American Philosophical Society, 2010) is the first transcription, translation and study of the toponyms and legends on one of the earliest surviving globes (printed rather than manuscript) produced following the discovery of America. Van Duzer examines influences of earlier maps and globes, particularly on the hypothetical southern continent, and iconographical sources for the sea monsters on the globe. The book has been well received by reviewers, including John W. Hessler, Senior Cartographic Librarian, Library of Congress, who called it "required reading for anyone interested in Schöner, Waldseemüller, Renaissance mapmaking, or the production of geographic knowledge after the time of Ptolemy."

Van Duzer, who is also the author of Floating Islands: A Global Bibliography (Cantor Press, 2004), has lectured on cartography throughout Europe and the U.S. and has published numerous articles in Orbis Terrarum, Imago Mundi, Island Studies Journal, Folklore, Geographical, Terrae Incognitae, and Word and Image, among others. He has two works forthcoming in 2011 on sea monsters: "Hic sunt dracones: The Geography and Cartography of Monsters,"
in Ashgate Research Companion to Monsters and the Monstrous (Asa Mittman and Peter Dendle, editors) and a monograph entitled Sea Monsters on Medieval and Renaissance Maps to be published by the British Library.

As an independent scholar, Van Duzer is a regular visitor to Green Library, as he acknowledges in his preface. We know, of course, that many other independent scholars conduct research at the Stanford Libraries, though not all are as prolific as Van Duzer. We would be interested in hearing from any of our readers who conduct independent research here.

ReMix readers are cordially invited to attend this program, at which copies of the book will be available for sale.

---

Book Fairs, 2011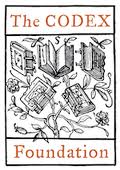 The "World's Fair of the Book Arts," aka the third biennial Codex Bookfair, will take place next month on the campus of the University of California, Berkeley. During the afternoons of February 6-9 a public fair at which fine printings and books arts may be viewed and purchased will be open in the Martin Luther King Student Union, at the top of Telegraph Avenue. In the mornings of February 7-9, a symposium (advance registration required) entitled "Borders and Collaborations" and featuring internationally acclaimed keynote speakers will be offered at the Berkeley Art Museum. The Stanford University Libraries is pleased to once again co-sponsor these programs, produced by the Codex Foundation, whose mission is to preserve and promote the art and craft of the book. The fair's webpage includes venues and hours, driving directions, admission information, and a list of this year's exhibitors, with links to sites featuring their recent publications for those wishing to preview the fair or survey current trends in book arts.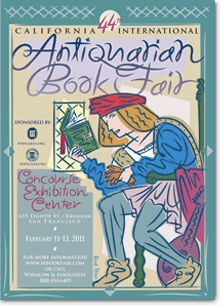 Music is the theme – reflected in booksellers' offerings as well as in special exhibits, lectures and seminars – of the 44th California International Antiquarian Book Fair, taking place February 11-13 in its usual location at the Concourse Exhibition Center, 8th Street at Brannan Street, San Francisco. Jointly sponsored by the Antiquarian Booksellers' Association of America (ABAA) and the International League of Antiquarian Booksellers (ILAB), the California fair is held in alternating years in San Francisco and Los Angeles. Its website has additional information about fair activities and more than 200 exhibitors, which make it the world's largest rare book fair, one which offers something for everyone.

What more can be said about this eventful week? The back-to-back Codex and ABAA fairs will be highly anticipated, exhilarating and ultimately exhausting for the Bay Area book collecting community. Their wares, of course, could be purchased more conveniently, if less serendipitously, online. It's precisely the gathering of community – collectors, scholars, librarians, bookmakers and booksellers (there are many hybrids among these vocations) – around books new and old that creates the wonderful conversations and exchanges at these fairs. Many of us at the Libraries will be delighted to participate and hope you will join us.
---

Digital Tapestries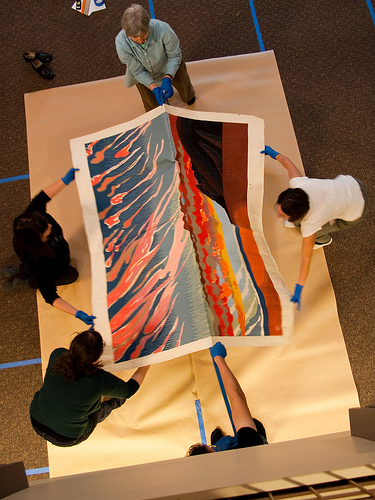 The Stanford Libraries recently acquired several full-scale cartoons (i.e., drawings or paintings on heavy-stock paper made as designs for artworks of the same size in various media) of tapestries by the late Mark Adams, "a versatile San Francisco artist admired for his masterly tapestries, watercolors, drawings and stained-glass designs" (from obituary in San Francisco Chronicle, 2006). The cartoons were included in a 2010 gift from the E. Mark Adams and Beth Van Hoesen Adams Trust of the artist's design and architectural archives, including a selection of his tapestries and associated design cartoons. Adams's bold and colorful works were placed in many Bay Area buildings, including Temple Emanu-El, Grace Cathedral, de Young Museum, San Francisco International Airport, and the Marina branch of the San Francisco Public Library. More information about his life and works may be found in an illustrated tribute to him on the website of the American Tapestry Alliance.

These cartoons, the largest measuring 7x13 feet, offer glimpses into Adams's creative process, especially in areas which have been cut and pasted in the designs, and in codes indicating the artist's choices of thread colors for the tapestries. Prior to arriving at Stanford, because of their unwieldiness, they had been both rolled and folded, resulting in some loss of gouache paint at creases or places where the rolls had collapsed. Large and irregularly shaped objects made of non-conventional materials pose several challenges for the Libraries. In Special Collections, many such large items are unique or were produced in very small quantities. Difficult and costly to store, they can incur more damage than conventional materials in transport and use. In the best of conditions, even when existing facilities and equipment accommodate their study, subtle damage occurs with each handling. Digitization of such objects reduces the number of handlings necessary by researchers and makes them accessible to a wider audience.

A team comprising conservation staff and the digital production group (DGP), which manages projects ranging from digitizing complete medieval manuscripts to producing historic panoramas of graduating classes, assembled in an empty room with a second-floor walkway at our Page Mill Road facility to evaluate the condition of the cartoons and preserve them in images. DGP staff Astrid Smith and Doris Cheung recorded the digitization process – in narrative and time-lapse photography – on the group's blog. In all, a team of four digital specialists and three conservationists collaborated in the endeavor. More information may be found here.
---

A Note about Year-End Gifts

On behalf of our colleagues and the faculty, researchers and students whom we serve, we are very pleased to express our thanks and appreciation to the many of our readers who made year-end gifts to the Libraries. (Note: Receipts for year-end gifts may take a little longer to be issued, but rest assured Stanford's office of gift processing is catching up on their seasonal backlog.) We are truly grateful for your ongoing commitment to sustaining library services, resources and patron care. Your support is a source of great encouragement to all of us as we go forward. We wish each of our readers a happy and prosperous new year.

---
ReMix: News from the Stanford Libraries is e-published monthly by the Library Development Office as a service to supporters, providing highlights, news links, and announcements about Stanford's Libraries, Academic Computing, Residential Computing, Stanford University Press, and HighWire Press.

Stanford University Libraries & Academic Information Resources
Michael A. Keller, University Librarian
Andrew Herkovic, Director of Communications & Development
David Jordan and Renee Mueller, ReMix editors

Please submit questions/comments/suggestions to
David Jordan at dajordan@stanford.edu or 650-723-3866.

Click here to learn more about supporting the Libraries.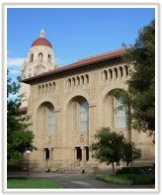 The Bing Wing of Cecil H. Green Library