Survival of the Fittest Scientific Literature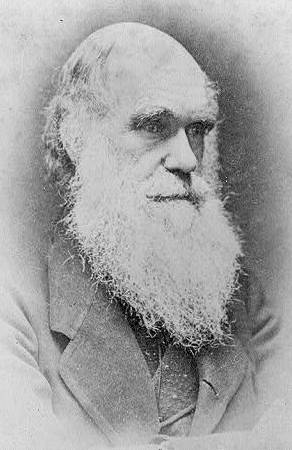 Over the last few months, there has been a great media barrage
about Charles Darwin (born 200 years ago, reinvented the life sciences 150 years ago). Probably not by coincidence, I recently received a fancy new, illustrated and embellished edition of
The Origin of Species
(Sterling Pub., 2008, ed. by David Quammen). As I read it, I am reminded that this is unequivocally near the top of the list of books that every civilized person must read. If you have not read Darwin's masterpiece of clear thinking in the last 20 or 30 years, I invite you to do so this year. Those with time pressures have a special dispensation to read one of the several available abridged editions, whether on the Internet, in hardcover, in paperback, as an e-book, or even as a talking book edited and read by Richard Dawkins. Libraries at Stanford, of course, have several copies: of roughly 50 editions we hold, 16 are19th-century, most of them published during Darwin's lifetime – to say nothing of the 140 or so books about

The
Origin of Species
. There are even Russian and Hebrew translations in our stacks.
Whatever edition or medium you choose, I recommend you also make sure to read "An Historical Sketch of The Recent Progress of Opinion on The Origin of Species," which first appeared in the 3rd edition (1861), ahead of the Introduction. It is a remarkable case study of the history of ideas – specifically, evolution prior to the theory of natural selection – in its own right.
While

The
Origin of Species
itself is as vital as ever, the theory of natural selection has not stood still these last 150 years, and it is worth noting that the personal library and papers of the late, great evolutionary biologist and public intellectual Stephen J. Gould are held in our Special Collections department. There is tremendous potential for discovery within this archive, which awaits systematic processing, digitization, and preservation pending project funding. Happily, Darwin's own masterpiece is fully accessible – in every sense of the word – in its sesquicentennial year.
With best wishes and hope for our evolution,
Andrew Herkovic
Inaugural Dr. Sam-Chung Hsieh Memorial Lecture Scheduled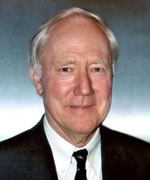 On Thursday, May 7 at 4:30 pm in the Bender Room of Green Library, the first Dr. Sam-Chung Hsieh Memorial Lecture, hosted by the Libraries and made possible by a recent endowment from his children and family, will highlight an issue of special timeliness and urgency: Navigating Turbulent Waters: Central Banks and the Global Financial Crisis. Our distinguished guest speaker, Sir Andrew Crockett (pictured), is President of JPMorgan Chase International, with prior leadership positions at the Bank for International Settlements, the Bank of England and the International Monetary Fund. Author of several books, Crockett's vast experience in finance will provide much needed perspective on our current economic situation. Remix readers have already received an e-invitation to the program; reservations for the remaining seats may be made by contacting Sonia Lee at sonialee@stanford.edu or 650-736-9538.




AAA Maps Find New Home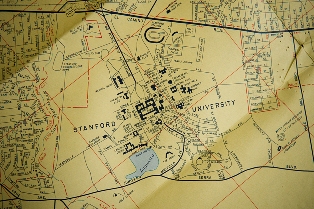 Planning for a move from San Francisco to smaller headquarters in Walnut Creek, the American Automobile Association of Northern California, Nevada and Utah donated 7,000 historic road maps, produced over five or six decades, to Branner Library. The maps document the development of California cities, as recorded not just in streets and highways, but parks, landfills, housing lots, storm drains, and other geographical landmarks. Included with the donation were archival materials and tools illuminating the planning and publishing of AAA maps. A
Stanford Report
article on the collection highlights
the maps' iconic status with California travelers.
Green Library Hosts Course on Medieval Manuscripts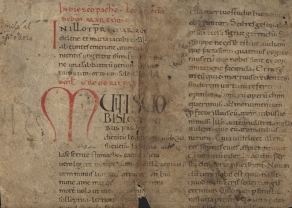 Besides hosting nearly 200 visits annually by Stanford classes requiring use of original materials, manuscripts, and early printed books for research projects,

Special Collections periodically hosts several seminar courses on the history of the book.

In previous publications, we have featured Professor Stephen Orgel's

History of the Book

course, in which students edit and prepare editions of an antiquarian work, and the team-taught

Materials and Methods: Medieval and Early Modern Books and Manuscripts

course.

Underway now, with both undergraduate and graduate students as well as faculty auditors, is Paleography and Codicology, Introduction to Medieval and Renaissance Manuscripts and Books

, taught by Professor George H. Brown with library staff John Mustain and David Jordan.

ReMix readers may be interested that we are in discussion with Stanford Continuing Studies about jointly offering a similar course on medieval manuscripts next year.


The Big Fix



With a push of a single button, implementation dubbed "Big Fix" by our technology support staff, over 500 library computers were recently reset to a "super green" power setting, which puts them to sleep when idle.

Stanford's Office of Sustainability estimates annual energy cost savings to be $17 per computer per year, based on 24,000 computers on campus, and university-wide annual savings from low power settings to exceed $400,000. SULAIR is the first department to deploy the "super green" level. Cheers to our Sustainable Information Technology team for this cost- and environment-saving innovation.
From Super-Green to Super-Enlightened
We are pleased to announce that the Super-Enlightenment website has been launched in beta version
. The site features a collection of about three dozen rare works in French written between 1716 and 1835, covering mythology, alchemy, religion, free-masonry, science, and other topics, with accompanying bio-bibliographical essays by specialists in the field.
Rather than rejecting what we commonly think of as

Enlightenment ideas and paradigms, these esoteric texts explore many of the same themes, representing what Dan Edelstein, assistant professor of Stanford's French and Italian department and faculty coordinator of this site, calls "the dark side of the Enlightenment" or "Super-Enlightenment." We hope that making these works available as a searchable corpus (after they have long been pushed to the margins) will open up new paths of research for scholars at Stanford and around the world. Historians, literary scholars, and art historians are some of the target audiences for this resource.
Exhibition, Symposium Document "The First Hebrew City"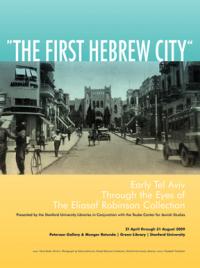 The First Hebrew City: Early Tel Aviv Through the Eyes of the Eliasaf Robinson Collection,
documenting Tel Aviv's first forty years (1909-1948) to mark the centenary of the city's founding, will be on display from April 21 through August 31 in the Peterson Gallery and Munger Rotunda, Green Library. The exhibition tells the story of the city's early years, from its founding on a sand dune in 1909, through 1948, the year that the State of Israel proclaimed its independence with Tel Aviv as its first capital. Materials on display are drawn from the collection of Eliasaf Robinson, a prominent antiquarian bookseller in Tel Aviv, who gathered original documents and vintage ephemera, photographs, posters, maps, and books about his native city to prevent its historical legacy from being consigned to oblivion. Extensive portions of the Eliasaf Robinson Collection on Tel Aviv, which Stanford acquired in 2005, have been digitized and will soon be accessible to researchers here.
In conjunction with the exhibition, the Taube Center for Jewish Studies at Stanford will host a
symposium, open to the public, of the same title on Thursday, April 23 at 6:00 pm in the Peter Wallenberg Learning Theater, Wallenberg Hall (Building 160). For information about the Shoshana and Martin Gerstel Conference Fund Symposium, co-sponsored with the Shenson Fund, click here.
Primers, Readers and Textbooks Revisited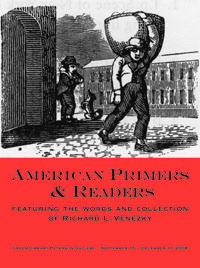 ReMix readers who missed the opportunity to view or wish to revisit Richard L. Venezky's collection of American primers and readers, exhibited in Green Library in 2008, may now do so online.

The wide-ranging collection, which the Venezky family donated to Stanford in 2005, is one of the best and deepest anywhere on the subject of the history of American schoolbooks. The website also includes examples of early textbooks from Cubberley Library's collection.

Further evidence of the collection's unique research value is that several other university libraries have already provided direct links to our website, such as here.




ReMix: News from the Stanford Libraries

provides highlights, news

c

lippings, and notices about Stanford University Libraries and Academic Information Resources, which comprises Libraries, Academic Computing, Residential Computing, Stanford University Press, HighWire Press and Stanford Publishing Courses.

ReMix

is published approximately monthly by the Library Development Office, only in electronic form.


Stanford University Libraries & Academic Information Resources
Michael A. Keller, University Librarian
Andrew Herkovic, Director of Communications & Development
David Jordan and Sonia Lee, editors

Subscriptions to this newsletter are available on request at no charge for SULAIR supporters. To request (or discontinue) a subscription, to submit questions or comments, to make a donation, or to suggest an article, please write or call
David Jordan at dajordan@stanford.edu, 650-723-3866.

Please visit us at: http://library.stanford.edu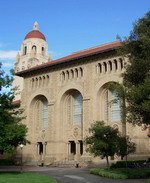 The Bing Wing of Cecil H. Green Library




Upcoming Exhibition

The First Hebrew City: Early Tel Aviv Through the Eyes of the Eliasaf Robinson Collection, April 21 through August 31 in Green Library's Peterson Gallery and Munger Rotunda.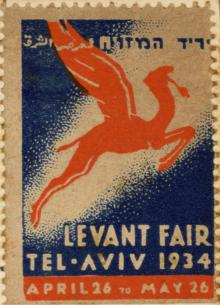 Currently on Exhibit
Elements of Interpretation: Intersections Between Archaeological Fragments, Art, & Audience, Art & Architecture Library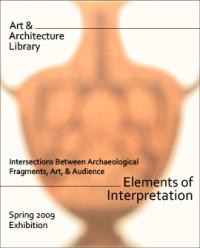 Now on display near the south portal of Green Library:



-Erichsen Egyptian Collection in memory of Edna Kumpe Upton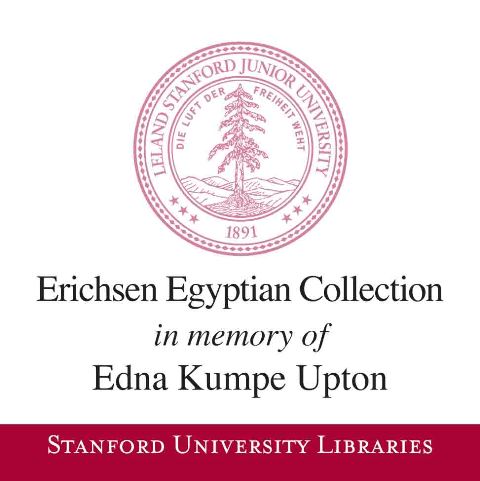 -The Raubitschek Collection of Epigraphy and Papyrology



Upcoming Events


The Dr. Sam-Chung Hsieh Memorial Lecture: Sir Andrew Crockett, Navigating Turbulent Waters: Central Banks and the Global Financial Crisis, Thursday, May 7, 4:30-6:30, Bender Room, Green Library. Free and open to the public. Click here for more information.


Upcoming Stanford Historical Society Events

Annual Historic House & Garden Tour: Reimagining the Clark Legacy, Sunday, April 26. The annual tour will offer a rare glimpse into four pre-1930 campus houses designed or influenced by architects A. B. Clark and his son Birge Clark. Click here for more information.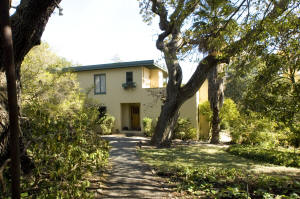 Arizona Garden: Lecture and Tour

, Julie Cain and Christy Smith, Friday, May 8, 5:00-6:30, Arizona Garden. Click here for more information.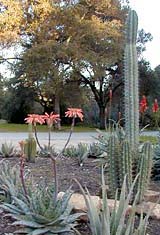 Annual Meeting and Reception: 100 Years of Medicine at Stanford, Philip A. Pizzo, The Carl and Elizabeth Naumann Professor for the Dean of the School of Medicine, Tuesday, May 19, 4:15-6:45, location to be announced. Click here for more information.

Stanford Pioneers in Science, Paul Berg, Robert W. and Vivian K. Cahill Professor of Cancer Research, Emeritus, Department of Biochemistry, Wednesday, May 20, 7:30 pm, Cubberley Auditorium, School of Education. Free and open to the public. Click here for more information.




Recently Published by Stanford University Press





The Co-Presidency of Bush and Cheney

by Shirley Anne Warshaw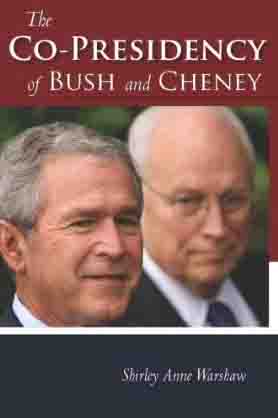 SULAIR in the News

Stanford's 50-year-old Music Archive Celebrates Sound

Major Work by Contemporary Artist Focuses on Stanford Family

New SAE Journals Recognize Excellence

Play-Machinima-Law Conference

'The Woman in the Sunbonnet' Honors Heroines Who Settled the West