... Let me count the ways


Within the space of just a few days in April, the Libraries were blessed with an abundance of benefices, as if to remind us how many kinds of support we enjoy: a couple paid our annual subscription to an online resource called AskART; an industry association sent a check in support of our Silicon Genesis program; an individual underwrote the catalog of an upcoming (and exciting) exhibit on Alpine photography; a Catalan cultural official presented us with a set of some 300 Catalan publications dating back to the 1920s, a gift made possible by a foundation in Barcelona; a faculty member delivered an eloquent talk for us about her use of manuscript materials; another faculty member agreed to intercede in obtaining a colleague's scholarly archive; a private collector agreed to let us digitize his important map collection; members of a family together endowed a library lecture program in honor of their father; 186 alumni evaluated entries to a literary prize we award; we received memorial gifts, an estate distribution, contributions toward an acquisition fund in honor of a cherished professor, payroll deduction gifts, and plain, old-fashioned, general contributions.
In the aggregate, this variety is startling. Each of these acts of favor makes the library more distinctive, builds the richness of the scholarly experience at Stanford, and helps us fulfill a complex mission. If only there were as many ways to express our gratitude!

With plain, old-fashioned thanks to each and to all,
Andrew Herkovic

Manuscript Acquisition Program Launched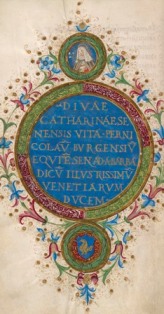 University Librarian Mike Keller announced a new program for the acquisition of Ancient, Medieval and Early Modern Manuscripts at the Libraries' annual donor dinner on April 2. Special Collections had suspended acquisition of medieval manuscripts and fragments in the early 1990s, but it holds a modest, but useful, teaching collection. Funding for the renewed program will come from a new endowment, and Keller informed guests of lead gifts and pledges of $60,000 from two anonymous former students of Professor Emeritus George Brown, to honor his dedication to teaching paleography and his role in building our current manuscript holdings. At the same event, Digital Projects Manager Stu Snydman treated guests to a demonstration of Matthew Parker on the Web http://parkerweb.stanford.edu which, when completed, will provide exquisite online access to the medieval manuscripts of the fabled Matthew Parker Library at Corpus Christi College, Cambridge. Professor Jennifer Summit and her former student Christine McBride, Ph.D. also spoke eloquently on Stanford students' enthusiastic first encounters with antiquarian collections and the role of such materials in teaching.
Gifts of any size will be welcome additions to the new endowment. Those wishing to contribute to this effort may direct gifts to the Library Development Office, Stanford University Libraries, Stanford, CA 94305-6004, along with a note or memo indicating the manuscript fund, and whether the gift is to be designated in honor of Professor Brown (or another beloved professor). For more information, please contact David Jordan at dajordan@stanford.edu or 650-723-3866.
Family entrusts SUL with legacy of Dr. Sam Chung Hsieh


Dr. Sam Chung Hsieh (1919-2004) led a long and distinguished career in finance in Taiwan and the Philippines, including holding chairman positions at Taiwan's national development bank, ChinaTrust Bank, and the Industrial Bank of Taiwan, as well as being a Governor of the Central Bank of China from 1989 to 1994. Dr. Hsieh also made important and lasting contributions in the fields of agriculture and economics.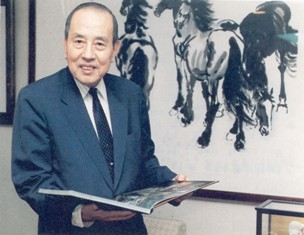 Photo taken in the Office of the Governor, Central Bank
Taipei, Taiwan, October 1990
In an act of generosity which will benefit scholars and the Stanford community for many years, the family of Dr. Sam Chung Hsieh has both donated his personal archive and endowed a lecture series in his honor. The lecture topics will reflect aspects of Dr. Hsieh's career: agricultural development, economic development, international finance, central banking, development banking (including venture capital), and technology industries.

Gerhard Casper agrees to chair Rondel Society


In early April, Mike Keller invited Stanford President Emeritus Gerhard Casper to accept the role of honorary chair of the Rondel Society, our recognition program for repeat donors. Despite already being committed to such efforts as chairing the executive committee of The Stanford Challenge's Arts Initiative, Casper enthusiastically accepted, saying he was pleased to endorse and support the Stanford Libraries in this manner. As he is the first honorary chairman of our new group, its precise duties and responsibilities will no doubt emerge on the job.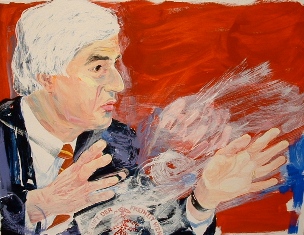 Portrait by Anneliese Hermes

A distinguished constitutional scholar, Casper has been a stalwart supporter of the Stanford Libraries both during his presidency (1992-2000) and since. At the 1999 opening of the Bing Wing, he commented, "Universities and their libraries are the custodian not only of the many cultures of man, but of the rational process itself...Guarding the rational process is the Western university's major contribution to civilization…The holdings of the university library, paper, object, and digital, are one of the means by which the university performs its role as the custodian of that rational process."



Walter Henry receives conservation award

The Libraries and its Preservation Department are proud to announce that Walter Henry, Lead Analyst for the Preservation Department, is the recipient of the Rutherford John Gettens Merit Award, which recognizes his outstanding service to the American Institute for Conservation of Historic & Artistic Works. The award will be presented to Mr. Henry at the 2008 AIC Annual Meeting on April 23. Over the past twenty years, Walter Henry has devoted his time and talents to advancing the interests of AIC. His contributions are as varied as they are lasting and his accomplishments are renowned and have provided an unparalleled service to the AIC and the field of conservation.





ReMix: News from the Stanford Libraries provides highlights, news clippings, and notices about Stanford University Libraries and Academic Information Resources, which comprises
Libraries, Academic Computing, Residential Computing,
Stanford University Press, HighWire Press and Stanford Publishing Courses. ReMix is published approximately monthly
by the Library Development Office, only in electronic form.

Stanford University Libraries & Academic Information Resources
Michael A. Keller, University Librarian
Andrew Herkovic, Director of Communications & Development
Sonia Lee and David Jordan, editors

Subscriptions to this newsletter are available on request at no charge for SULAIR supporters. To request (or discontinue) a subscription, to submit questions or comments, or to make
gifts or story suggestions, please write or call David Jordan at dajordan@stanford.edu, 650-723-3866.

Please visit us at: http://library.stanford.edu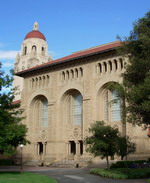 The Bing Wing of Cecil H. Green Library
Currently on Exhibit
Endowed book funds now on display near the south entrance of Green Library:
-The Lucie King Harris
Books for Music Fund
-The Doris H. Linder
Book Fund

On view now in the Engineering Library: Engineering and Technical Consulting, the second in a series of exhibits answering the question, "What is an Engineer?"
Upcoming Events & Exhibitions
April 19 - A Company of Authors, 1-5 pm, Stanford Humanities Center. Click here for details.

April 27 - Stanford Historical Society Annual Historic House and Garden Tour, 1 pm, 607 Cabrillo Avenue. Click here for details.

April 30 - Experiments in Navigation: The Art of Charles Hobson exhibition opens in Green Library's Munger Rotunda and Peterson galleries. This joint exhibition with the Cantor Arts Center will be on view through August 17. Click here for details.

May 15 - Malcolm Margolin, Bay Area Book Legend, 7:30 pm, Cubberley Auditorium, School of Education. Click here for details.
SULAIR in the News
(click on underlined text to see article)