Specialities of the House

One of the forecast outcomes of large-scale book digitization is that ordinary publications will become near ubiquitous and thus that ordinary library collections will cease to be meaningful discriminators between educational institutions. This forecast, of course, requires several leaps of faith, which we can ignore for the time being. It implies, however, that what will be special about libraries (and indirectly their host institutions) is their special collections. For some of us, this was always the case, and in this respect the future will be much like the past, only more so. This newsletter highlights Stanford's special collections frequently because we think them fascinating as well as conducive to original research – making this campus ever more distinctive. Too, their vast variety recommends them to us, as the following stories attest.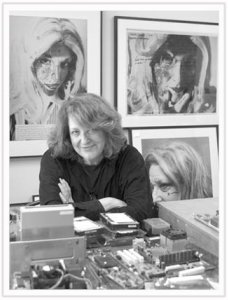 One new collection, donated by filmmaker and artist Lynn Hershman Leeson (pictured) and now available at our Web site, is !Women Art Revolution: Voices of a Movement. Many staff, notably Hannah Frost of our Media Preservation Lab, contributed to building the site. It features video interviews with major figures in the feminist art movement, conducted over the past 40 years by Hershman Leeson, who has condensed them into a feature-length documentary, to be released and distributed later this year. This collection complements and enriches Hershman Leeson's archives, already at Stanford, that document her life and work though drawings, performance recordings, films and papers. Together,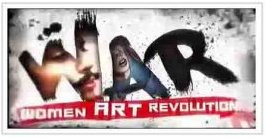 they constitute a trove of many media, applicable to several academic disciplines as well as San Francisco local history – accessible from our Special Collections department. The following stories all reveal aspects of our special collections: how they are used, how they are presented here or elsewhere, and the arrival of a new treasure. Read on!

Especially,

Andrew Herkovic

---

A Medieval Portable Bible

With good fortune, the Libraries has acquired its first complete medieval Bible, a superb illustrated example of the portable Bibles made by stationers in commercial bookshops in mid-13th-century Paris. Half a dozen scribes, evidently overseen by a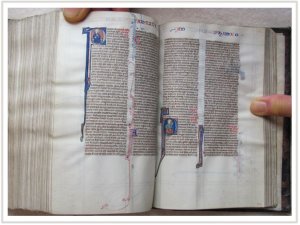 corrector who also left his mark, labored to produce an accurate copy in microscopic Gothic bookhand on 590 nearly weightless "uterine vellum" leaves (reputed, probably incorrectly, to have come from stillborn or aborted lambs). Each page is arranged in two dense columns ruled in plummet with surprisingly ample margins. The text is complete, including the supplemental Interpretations of Hebrew Names, the 64 prologues attributed to Jerome, and the Genesis page – illustrated with the seven days of Creation and the Crucifixion – which is missing from so many extant manuscripts. Our codex contains a full, standard cycle of 84 historiated initials of Biblical scenes, attributed to the Bari workshop, and many more illuminated initials with leafy and floral designs and sometimes dragons' heads.

Portable or pocket Bibles – produced and widely disseminated in single-volume to be affordable to friars, students and others – greatly advanced literacy and the bookmaking arts. Perhaps their minute script also expanded the market for eyeglasses, which are known to have existed as early as 1285. Other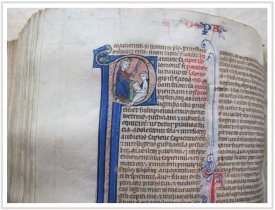 innovations, most still found in printed Bibles today, included red and blue chapter initials, running titles, and numbered chapters in all books except Psalms, where medieval memorization would have sufficed. Around this time, there emerged a new order of Biblical books grouping together, for example, historical narratives, and closely resembling the familiar order of modern editions. These various reading guides, including the illustration cycle, served a higher purpose than mere decoration: they made the book searchable. The first purchasers of 13th-century Parisian pocket Bibles must have viewed their searchability and portability with no less amazement and pride than modern-day Kindle owners. After, say, another seven centuries have elapsed, which of these advances in the technology of the book will be understood as the more significant?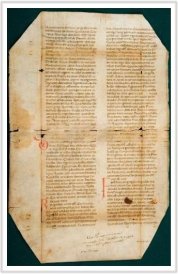 To complement this exquisitely diminutive manuscript for classroom teaching and research, we acquired a single-page fragment of an enormous 12th-century Bible produced in Italy, of the type known as "Atlantic" because only Atlas himself could lift one. The fragment measures an extraordinary 552 x 362 mm (as large as a full page of The Stanford Daily, a typical broadsheet); its huge size was symbolic of the Bible's premier status among medieval books. Its text is from II Kings (IV Kings in the Vulgate), ruling out the possibility that it originates from a Psalter, Gospels, Epistles, or other commonly separate Biblical text. Our fragment survived in the binding of an early printed book; the archaeology of its surface bears the usual stains, cuts, scrapes, glue and sewing holes from that usage, as well as four added lines in Italian, dated 1848, exhorting Pius IX to live long. Comparing an identical passage in the portable Bible and the fragment, with mathematical approximation it's reasonable to assume that the fragment's source manuscript contained 450-500 leaves, requiring half as many complete animal skins, which contained in a sturdy binding would have weighed nearly 50 pounds.

These two acquisitions, together illuminating the medieval transition from monastic to commercial bookmaking, were made possible by the Allan Morgan Standish Library Fund, a gift from an anonymous donor, and ongoing support to the Ancient, Medieval and Early Modern Manuscript Fund. David Jordan at 650-723-3866 will be pleased to discuss how gifts of all types and sizes enable collection building in this and other subjects.
Hsieh Memorial Lecturer to Propose Financial Market Reforms
Our readers are cordially invited to the second Dr. Sam-Chung Hsieh Memorial Lecture on Wednesday, April 28 at 4:30pm in the Bing Wing of Green Library. The lecture is free and open to the public, but seats are limited; please respond to Sonia Lee at sonialee@stanford.edu or 650-736-9538 to reserve seats. Refreshments will be served.

This year's speaker, Dr. H. Robert Heller, has an impressive record in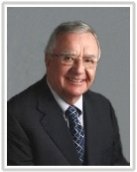 business, government and education. He began his career as a professor of economics at UCLA, and then held key positions at the International Monetary Fund; Bank of America; the Board of Governors of the Federal Reserve System (appointed by President Reagan, he served with Chairmen Volcker and Greenspan); VISA International; VISA U.S.A. (of which he was elected President and CEO); and various boards. A Bay Area resident, Dr. Heller currently serves as Chairman of Marin General Hospital and is Vice Commodore of The San Francisco Yacht Club.

Ever since the Great Financial Meltdown of 2008, proposals to make the financial system safer have been discussed widely, but meaningful financial reform remains elusive. Dr. Heller will set forth several original proposals to make the financial system safer, including stock market reforms to restore confidence in financial markets, pension reform to make the retirement system more efficient, and proposals to make systemically important financial institutions safer. He will also comment on the efficacy of other financial reform proposals, such as the "
Volcker Rule.
"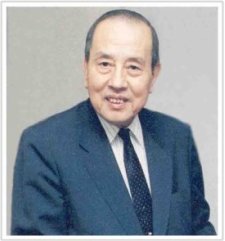 Dr. Sam-Chung Hsieh (1919-2004) was former Governor of the Central Bank of China. During his tenure, he was responsible for the world
'
s largest foreign exchange reserves and was widely recognized for achieving stability and economic growth. In his long and distinguished career as economist and development specialist, he held key positions in multilateral institutions including the Asian Development Bank, where, as founding Director,
he pioneered and was instrumental in advancing the green revolution and in the transformation of rural Asia. He earned an international reputation for his diplomacy and leadership in building infrastructure and improving living standards for people throughout Asia. As Secretary-General of the Joint Commission on Rural Reconstruction and later as Chairman of Taiwan'
s National Development Bank, he played a leading role in the
"
Taiwan Miracle.
"
He also served as Chairman of: Chung-Hua Institution for Economic Research, Taiwan
'
s premier research institution; ChinaTrust Bank; and the Industrial Bank of Taiwan. He was professor at National Taiwan University and visiting professor at the Cornell University-University of the Philippines joint programs. The family of Dr. Hsieh donated his personal archive to the Stanford Libraries
'
Special Collections and endowed the Dr. Sam-Chung Hsieh Memorial Lecture series to honor his legacy and to inspire future generations.
Screenplay Collection Studied
A recent class in film production, offered by the Department of Art & Art History, made extensive use of screenplays housed in Special Collections. Instructor and screenwriter-in-residence Adam Tobin explained how he discovered them and why he assigned their inclusion by students in their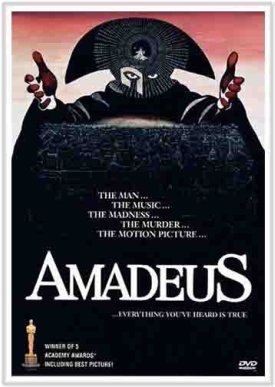 final papers: "The Scrip
t Analysis class (FP105) takes as its subject the analysis of the narrative devices in film, as charted out in the screenplay form. On developing the class, I found that Stanford has over 1,000 screenplays on file in the Special Collections library, including early drafts of well known films. As an undergraduate at Stanford in the 1990s, I didn't know this treasure trove existed. It seemed obvious to use these early drafts (or in some cases treatments) for an advanced analysis of a few selected films, giving students access to original documents to explore how films develop from early stages to final product. It added fascinating intellectual resources to the class while giving the students hands-on experience in the Libraries' Special Collections."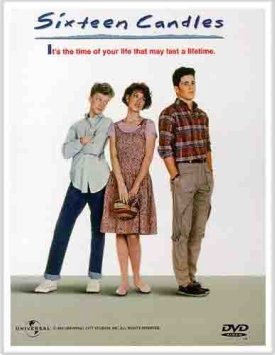 For comparison, students chose from scripts available for Witness, The Godfather Part II, The Terminator (treatment), Tootsie, Ghostbusters, Star Wars, Sixteen Candles, and Amadeus. Freshman Megan McGraw began her essay by defining genre expectations: "Although Sixteen Candles takes place in the frequently visited arena of high school hierarchy, it is revealed to be more than a typical geeks versus in-crowd, boy-meets-girl story. The film toys with genre, giving certain characters and scenes theme music ranging from Dragnet to sci-fi." She then contrasted the finished production with the screenplay: "Key changes from the early draft, including the elimination of superfluous scenes and the alteration of dialogue within scenes, ultimately contribute to how well the movie functions. What fundamentally makes the movie work are its minor characters and their stories as well as a constant dramatic irony, both of which make Sam's nightmare of a birthday even worse." Studying these changes from screen
play to film explained, for her, an element of the movie's success: "Sixteen Candles contains uncommon characteristics that may come as a surprise. The film would not be the same without its subplot characters, who are less minor than they seem. In the end, each of these characters fulfills their desires by simply being their truest, most unaffected selves."

"Megan's paper was especially interesting in light of director John Hughes'
s passing away; she provided insight into the original flavor of the comedy and how he honed it for the final film," Tobin added. At the Libraries, we are fortunate to have multiple versions in various media, enabling such insight into the creative processes of writers, directors and actors, and we are delighted to share this story of inventive teaching and incisive student scholarship with our readers.
Muybridge in Motion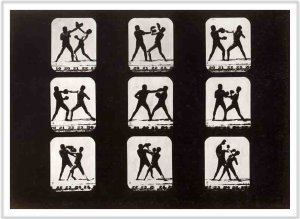 On loan from Stanford Libraries' Special Collections, sixteen original photographs by artistic pioneer Eadweard Muybridge (1830-1904) have embarked on a fifteen-month journey to be publicly displayed at three prestigious venues. Helios: Eadweard Muybridge in a Time of Change, organized by the Corcoran Gallery of Art in Washington, D.C., features over 300 objects dating from 1858 to 1893, including photographs, albums, lantern slides, glass plate negatives, and even camera equipment used by Muybridge. Lesser know aspects of his career – as an innovative landscape and documentary artist – will also be highlighted. The exhibition will open at the Corcoran Gallery (April 10 - July 18, 2010). It will then travel to the Tate Britain (September 8, 2010 - January 16, 2011) and conclude at the San Francisco Museum of Modern Art (February 16 - June 7, 2011).

Stanford's contribution to the traveling exhibition includes numerous plates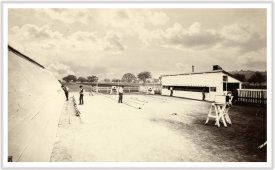 from The Attitudes of Animals in Motion, photographed in 1878 and 1879 at Leland Stanford's Palo Alto Stock Farm (pictured). The Cantor Arts Center most recently displayed Muybridge's groundbreaking motion-study photography in 2003; the Stanford Report's accompanying review and interview, in which curator Phillip Prodger described Muybridge as "one of Stanford's first academic heroes," may be found here. Muybridge's research on the incremental movement of animals' legs resulted in his famous horse-in-motion photographs. An innovative digital adaption of that series, developed recently by three Stanford alumni as an approach to engage more people in art, may be viewed on the Haas Center for Public Service Web site.
ReMix: News from the Stanford Libraries is e-published monthly by the Library Development Office as a service to supporters, providing highlights, news links, and announcements about Stanford's Libraries, Academic Computing, Residential Computing, Stanford University Press, and HighWire Press.

Stanford University Libraries & Academic Information Resources
Michael A. Keller, University Librarian
Andrew Herkovic, Director of Communications & Development
David Jordan and Sonia Lee, ReMix editors

Please submit questions/comments, or suggest articles, to
David Jordan at dajordan@stanford.edu or 650-723-3866.

Click here to learn more about supporting the Libraries.


The Bing Wing of Cecil H. Green Library

In this issue
• !WAR

• Medieval Bibles

•

Hsieh Lecture



• Scripts Analyzed

• Eadweard Muybridge


Events
Sat., April 24, 1 to 5 pm
A Company of Authors
Click here for more information.


---
Wed., April 28, 4:30 to 6 pm

2010 Dr. Sam-Chung Hsieh Memorial Lecture

:
Robert Heller on
Financial Market Reform Click here for more information.
Exhibitions
Dream Factory on the Nile: Posters and Memorabilia from the Golden Age of Egyptian Film,
through May 2
in Green Library's Peterson Gallery and Munger Rotunda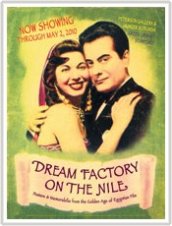 On display near the south portal of Green Library
The Juana Briones Archive


On view in the East Wing of Green Library, 2nd floor


Literacy and Culture in Nineteenth-Century Japan
woodblock print books exhibited by the students of Japanese 395


On view at the
Art & Architecture Library
Carved in Stone: A Selection of Chinese Ink Rubbings from the Art Locked Stacks Collection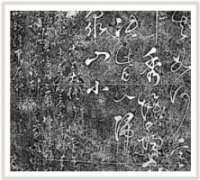 Stanford Historical Society

Upcoming Events
Stanford Pioneers in Science, Patrick Suppes, Lucie Stern Professor of Philosophy, Emeritus. Wed., April 21, 7:30 pm, Cubberley Auditorium. Free and open to the public. Click here for more information.

---
6th Annual House and Garden Tour: A Study in Contrasts. Sunday, April 25, 1 to 4 pm

.

Click here for more information.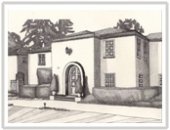 SU Press
Recent Publication
Dividing the Domestic:
Men, Women, and Household Work in
Cross-National Prospective.
Edited by Judith Treas and Sonja Drobnic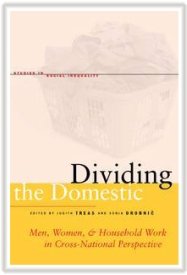 Stanford Book Salon

This month's book is
The Brief Wondrous
Life of Oscar Wao
by Junot D

í
az,
hosted by Ram
ó
n Sald
í
var,
Hoagland Family Professor of Humanities and Sciences, and professor of comparative literature.
In the News

Coupa Café
Opens Library Kiosk


SULAIR Launches
xSearch a Multidisciplinary Search Tool


Update on the New Engineering Library and the Jen-Hsun Huang
Engineering Center


Computer Science
Collection Moving


HighWire Press 2009 Librarian eBook Survey: Survey Results Analysis by Michael Newman


From Counterculture to Cyberculture: The Life and Times of Stewart Brand


Speaking of Computers - Spring Issue


Collector in Chief Hoards Nation's Irreplaceable Stuff


'Arcade' Traces the Life Cycle of an Idea -
From Blog to Book


Small Library Branches Targeted, but Loved (quotes from a Stanford freshman)


Our Computers, Ourselves: Imagining the Digital Lives of Authors and Characters



Featured Acquisition

Stephen Jay Gould papers