March 2017
---
News
Bioreserve Project Helps Partners Protect Land.
A report out on the 2016 field season. 24 volunteers helped complete 36 assessments, providing partners with information that helps direct limited funds to strategically protect the most ecologically important lands.
MORE.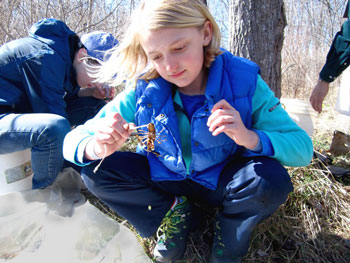 Make a Difference . . . Be a Scientist on Earth Day.
Consider volunteering for River Roundup on April 22, where you will learn from
and teach
our youngest participants about river systems, insects and the environment in the process of collecting the scientific data that tells us about the health of the Huron River. No experience needed.
MORE.
Engage, Engage, Engage.
Executive Director Laura Rubin shares her remarks on sustainability and climate change from the Citizens Climate March in February.
MORE.
News to Us, February 15.
This month we cover some of the ongoing discussions about the impact of the new federal administration on water protection, a study that reveals we could be doing better on funding research on chemicals, a couple of stories on Michigan fish and a Michigan dam removal success story.
MORE.
2016 Results Are In! (at least some of them)
. Water Quality Monitoring staff, Ric Lawson and Stevi Kosloskey, share findings on phosphorus levels in the Middle Huron section of the watershed from last year's water chemistry and flow monitoring program.
MORE.
---
Volunteer Opportunities
Classroom Training for Water Quality Monitoring (reminder).
Sat,
March 25,
1-2:30pm, NEW Center, 1100 North Main, Ann Arbor.
Thank you to those who have registered, the classroom training is NOW FULL.
Consider signing up for the June 24 mid-season training if you would still like to h
elp measure the quality of local rivers and streams this spring and summer by collecting water samples,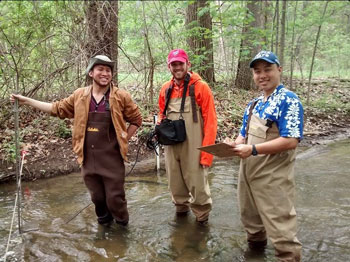 measuring stream flow and sampling runoff from rain storms.
Spring River Roundup.
Sat,
April 22.
Join us for Earth Day at our biggest volunteer event of the season. Get to know a special place in the Huron's tributaries, while helping us learn about the river's health. At this all-age friendly event, trained volunteers guide your field work while you search through river samples for pollution-sensitive 'bugs' that live in our waterways. Meet in Ann Arbor. Carpool to streams in Livingston, Oakland, Wayne and/or Washtenaw Counties. Two times: 9am-1pm or 10:30am-2:30pm.
Register
by April 20.
---
More Events
Huron River Water Trail Partners Meeting.
Wed,
March 15,
4-5:30pm, River's Edge Brewing Company, 125 South Main Street, Milford. Planning, information sharing and training related to the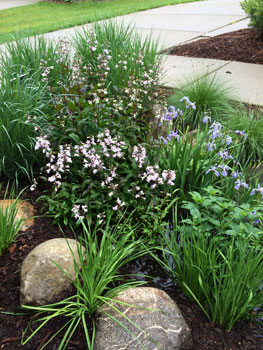 Huron River National Water Trail. Contact:
Elizabeth Riggs.
Ask the Rain Garden and Native Plant Experts at the Home, Garden & Lifestyle Show.
This Weekend! Sat-Sun,
March 18-19,
Washtenaw Farm Council Grounds, Saline. Stop by the HRWC-Washtenaw County Water Resources Commissioner's booth to get answers to all your rain garden questions including site and plant selection, garden layout, installation and maintenance. Two terrific local experts will be on hand to share their "deep-rooted" know-how. Bring your photos. Let this be the summer you protect the Huron with a rain garden in your yard! Contact:
Pam Labadie.
HRWC Finance and Executive Committee Meetings.
Th,
March 23,
4:30 and 5:30pm, NEW Center, 1100 North Main Street, Ann Arbor. Contact:
Laura Rubin.
HRWC Annual Meeting. Save the Date!
Th,
April 27,
5:30-7:30pm, Ann Arbor District Library Traverwood Branch, 3333 Traverwood Drive (at Huron Parkway), Ann Arbor. Join us for a lively update on HRWC accomplishments and light refreshments. Contact:
Rebecca Foster.
---
March Clean Water Inspiration. Pick up after your pets.

Left on sidewalks or lawns, pet waste washes directly into storm drains and enters our local waterways in the form of raw, unfiltered sewage. As a pet owner, do your part by scooping, bagging and trashing. It makes for better water quality as well as cleaner sidewalks and happier neighbors.
---
Stay in touch with us!
Our
CALENDAR
lists upcoming events, volunteer opportunities and meetings.
Donate to HRWC today. You can help. Every donation makes a difference.

---