Hello Mystery Readers,

As Minnesota and most of the nation continues baking under the intense summer heat, the third John Santana novel, Bad Weeds Never Die, has been printed and will soon be available in bookstores, online through Amazon and Barnes & Noble, and for download on Kindle and Nook e-readers.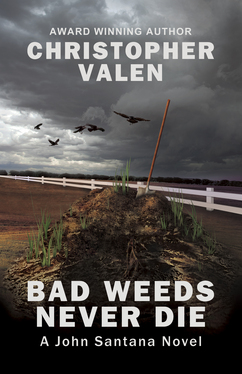 I will be drawing one name from my newsletter list in each of the next four weeks to win a free, signed copy of Bad Weeds Never Die. Once the name is drawn, I will send an email notifying the person that they've won a free copy. Winners will have forty-eight hours to respond. The names of the winners will be listed on the HOME page of my website at: www.christophervalen.com.
Speaking of my website, if you would like to see a video trailer of the new Santana novel, go to my HOME page using the link above. Under the book cover for Bad Weeds Never Die, you will find a link that will take you to the trailer. Or just click on the EXTRAS button along the left hand border. On the EXTRAS page you will find trailers for all three books, as well as an interview I did for KARE 11 television when The Black Minute was released.
The publication party for Bad Weeds Never Die will be held at Once Upon A Crime in Minneapolis on Saturday, September 10, from 11:00-2:00. I will be at Sister Wolf Books in Dorset, Minnesota, just outside Park Rapids, on Sunday, September 4, from 12:00-2:00, and at the Lake Country Bookstore in White Bear Lake on Friday, September 23, from 9:30-12:30.
See my EVENTS page to find out if I will be coming to a bookstore near you. More signings will be added soon, so be sure to check back. It is definitely going to be a busy autumn for this writer.
I am happy to report that my short story, Lights Out, has been chosen for the Once Upon A Crime Anthology that will be released on April 7, 2012 in conjunction with the annual "Write of Spring" event at the bookstore. More about the story and event in an upcoming newsletter.
I am nearing the end of the draft for the fourth John Santana novel entitled Bone Shadows. Happy to say that things are coming together nicely, and I hope to have it finished before hitting the road in September.
Remember, if you would like me to come to your book club, please contact me at cjvalen@comcast.net so I can get the date on my calendar.
I am looking forward to seeing many of you again, and meeting many others for the first time.