Hello Mystery Readers,

It has been a very busy three months since the launch of the fifth John Santana novel, Death's Way. I have enjoyed seeing many familiar faces at events across the Midwest and Southwest and have met some wonderful and interesting new fans of the novels. Thanks to all of you for your support!
If you haven't visited my website recently, please check out the terrific new banner featuring a beautiful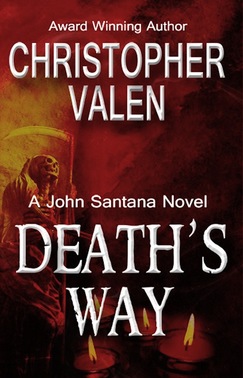 night photo of
the St. Paul skyline taken from the High Bridge by
photographer Greg Lundgren. To see his galleries and
portfolio visit his
website
. Also, I have added a Facebook share button on the Home page so please share my website with family and friends.
Many of you may remember that I ran a contest last year in which I offered to name a character in Death's Way after one of my readers. I am running a similar contest for the sixth novel currently entitled The Darkness Hunter. The mystery is scheduled for release in 2015. However, instead of asking readers to answer five questions from Death's Way, I am requesting that you post a review for the novel on Amazon. The process is simple and takes very little time. Once your review is posted, send me an email at cjvalen@comcast.net, and I will enter your name in the drawing.

Want to double your chances to win? Write a review for Bone Shadows as well. If you have already written an Amazon review for Bone Shadows and/or Death's Way let me know. The contest will run for the summer months, so you have time to read and post a review.

I will be signing copies of my books at the Barnes & Noble in Duluth, MN on Saturday, June 7 beginning at noon. Signed copies make great Father's Day gifts. On June 28 I will be in Dorset, MN for the Festival of Authors event at Sister Wolf Books from 12:00-2:00. On July 11 I will be at the Lake Country Bookstore in White Bear Lake starting at 10 a.m.

Have a great summer!

Sincerely,
Christopher