Hello Mystery Readers,
Thanks to all of you who entered the Bone Shadows contest to have your name appear as one of the characters in the next John Santana novel. The winner is Rosanne George. Congratulations! Due to the large number of entries, I plan to run a contest for all future books. Now I just have to decide what character will inhabit Rosanne's name in the yet untitled mystery.
The correct answers are as follows: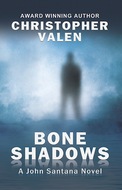 Brando was the name of Jeff Tate's dog.
Monica Vail drove a red Porsche Boxster.
Montrell Grisson and Devante Carter were
half-brothers.
Greg Ward was a military policeman and
then a drone pilot in the Air Force.
Hank Rafferty's Walther PPK misfired.
Thanks also to all of you who have written
Amazon reviews for Bone Shadows and/or the
other books in the series. I really appreciate it!
If you enjoyed the stories and have considered writing a review, I encourage you to do so. It takes just a few minutes and really helps promote the books.
I have added an author page on
Facebook
with photos of book events and places in the novels. Please check it out at and feel free to like the page. You might even find your picture there.
Tonight I will be discussing Bad Weeds Never Die with the book club that meets at Neumann's Bar in North St. Paul. As you may remember, the bar was featured in the book. On Thursday evening, March 21, I will be at the Lake Elmo library in Lake Elmo, MN.
In April, for those of you in the St. Peter, Minnesota area, I will be attending the St. Peter Book Festival on Saturday, April 6. On Wednesday morning, April 10, I will be speaking and signing copies of my books at the Law Enforcement Partnership in Cannon Falls, MN. That evening I will be at the Wildwood Branch Library in Mahtomedi, MN. Please visit my website for more information on these events.