Hello Mystery Readers,
I had a wonderful time at the Foothills Mall Barnes & Noble in Tucson, Arizona the weekend of November 21-23. It was a great break from the cold Minnesota winter. I met so many nice people. I wish that I had had more time to talk with you. I hope you enjoy the novels and look forward to seeing you on my next visit to Tucson.
Much appreciation also goes out to my friends Jim and Barb Copeland for inviting me to stay at their home while I was in town. Though I have been to Tucson before, thanks to Jim and Barb, I actually saw some of the city, had dinner at the Hotel Congress, and visited two historical missions.
The contest to have a character named after you in my next Santana novel is over and a name has been drawn. Commence the drumroll, please. And the winner of the contest is Jane Linden. Congratulations, Jane, and thanks to all of you who entered. The questions for the contest are listed on my website at www.christophervalen.com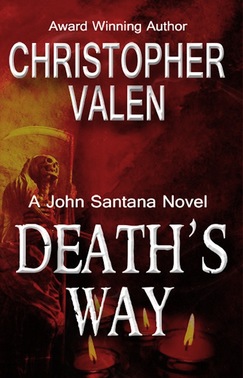 The draft of the sixth Santana novel, The Darkness Hunter, is complete. The book is now in the editing process and will be released next fall. It is a story filled with action, and, as the title suggests, a bit of darkness as well. But, as with all of the novels in the series, The Darkness Hunter is not just about how Santana works on a case, but how the case works on him.
I am always looking for current subjects to write about and for topics that interest me. In The Darkness Hunter, Santana learns much about the Prairie Island Native American community and the valuable silica sand that is found along the Mississippi River near Red Wing, Minnesota.
For a change of pace, I plan to also release a literary novel in e-book format next year entitled All The Fields. Stayed tuned for more details.
For those of you in the Twin Cities area, I will be signing copies of my books at the Maplewood Barnes & Noble on Saturday, December 20, beginning at 10:00 a.m. Signed copies make great holiday gifts for the mystery readers in your family.
As 2014 draws to a close, I would like to express my appreciation for your support throughout the year(s). Readership continues to grow thanks to all of you.
Have a wonderful holiday and New Year!
Sincerely,
Christopher Valen