Hello Mystery Readers,
I hope you all had a wonderful holiday and New Year. It was a busy winter and, for the most part, Mother Nature cooperated. Unfortunately, I had to cancel my return trips to Des Moines and Cedar Rapids in December due to the horrific snowstorm that hit the area. I hope to reschedule those signings at a later date.
Now that the holidays have ended and my event schedule is lighter, I am back at work on the yet untitled fifth Santana novel. I am nearing completion and will have more information in the next newsletter.
I have extended the deadline to enter the Bone Shadows contest in which one of the characters in my next Santana novel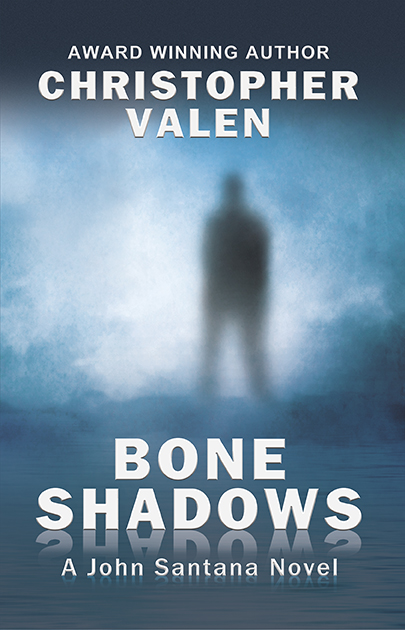 will be named after one of my readers. In order to have a chance to win you'll need to correctly answer the following five questions, which are also listed on my website:
What was the name of Jeff Tate's dog?
What type of car did Monica Vail drive?
What was the relationship between Montrell Grissom and Devante Carter?
What was Greg Ward's job in the Air Force?
What was the problem with Hank Rafferty's Walther PPK?
Send your responses to my email address at cjvalen@comcast.net by March 1, 2013. I'll draw the winner from those who have submitted the correct answers.
Lastly, I want to thank everyone who has offered help and encouragement over these last five years. I have had a chance to thank some of you in person, but I am deeply grateful to all the booksellers, reviewers, bloggers, and the growing fan base of readers who have supported, and continue to support, the John Santana novels. Also, thanks to all of you who have emailed me. It is wonderful to hear how much you liked the books.
In that regard, if you have read and enjoyed Bone Shadows and/or any of the other Santana novels and have a spare moment, it would be great if you could post a short review on Amazon and let other potential readers know why you liked the book. It takes only minutes and would be much appreciated. Here's a link to Bone Shadows on Amazon. Just scroll down to the customer review button. It will take you to the form.
Thanks, as always, for your interest and support. I hope to see many of you in the coming year.
All the best,
Christopher