Hello Mystery Readers,

As fall approaches, the first draft of the sixth John Santana novel, The Darkness Hunter, is nearing completion. Here is a sample of the opening scene.

Hot white lights illuminated the wings of unfolding darkness and the shallow gravesite where the half-naked body of the teen had been dumped; her body partially covered with dead leaves and black dirt. Red and blue flashers slapped the night sky, and the voices of radio dispatchers disturbed the warm, humid stillness.

St. Paul Homicide Detective John Santana sat on his haunches, his forearms resting on his thighs, looking at the body. He could see the black tape that bound her wrists, and the blue bandana stuffed in her mouth. Her face had been painted red, and her bare, thin legs were the color of bone.

The killer had been someone for whom cruelty and sexual pleasure were indistinguishable, he thought. Someone, he suspected, who not only killed for enjoyment, but who experienced an unnatural feeling of power and control over another human being, as if he thought he were God.

I'll add more information about The Darkness Hunter in upcoming newsletters.

The June newsletter offered a chance for readers to have their name used as a character in The Darkness Hunter by posting an Amazon review of Death's Way or any of the previous Santana novels. Another way to win is to email me the correct answers to the following five questions.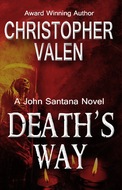 What kind of bird did Sammy Malik fear?
How were escorts smuggling heroin?
What was the name of the deadly poison?
What is the name of Santana's boat?
What was the one remaining question about the investigation that Santana was unable to answer?
The first five people who email me the correct answers will win a signed copy of Death's Way or any of the previous Santana novels of your choosing. If you have read all the books, a signed copy makes a great gift for friends or family members. Good luck!
I will be signing copies of my books at the Edina Fall into the Arts Festival on Saturday, September 6, from 12:00-2:00 p.m. at Centennial Lakes Park. Stop by if your in the area.

Sincerely,

Christopher