Hello Mystery Readers,

It has been a long, cold winter in snowy Minnesota. Too cold to spend much time outside, but perfect weather for reading a good mystery in front of a warm fire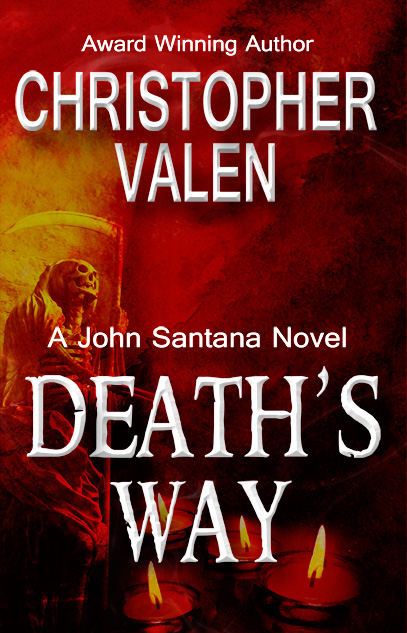 Speaking of good mysteries, the launch party for the new John Santana novel, Death's Way, is scheduled from 12:00-2:00 p.m. on March 1 at the wonderful Once Upon A Crime bookstore in Minneapolis. Stop by, get a signed copy, and help celebrate the fifth Santana novel.
On March 8, I will be at the Barnes & Noble in Roseville, MN and on March 22, I will be signing copies at the Barnes & Noble in the Galleria Shopping Center in Edina, MN. Both events are from 11:00-2:00 p.m.
I am traveling to Arizona in March and looking forward to a much-needed break from the cold. I will be at the Barnes & Noble in the Fiesta Shopping Center in Scottsdale on March 13, at the Barnes & Noble in the Foothills Mall in Tucson on March 14, and at the Ahwatukee Barnes & Noble in Phoenix on March 15. All events are from 11:00-2:00 p.m.
Events will be added soon for April, May and June. Check my website at
www.christophervalen.com
for updates and to view the video trailer for Death's Way.
I have written 10,000 words for the sixth John Santana novel entitled The Darkness Hunter. I have a long way to go, but a good idea as to where I am headed.

Though I did not release a new book in 2013, readership continues to grow both here and abroad, particularly in the United Kingdom through eBook sales. I am a firm believer in both digital and print books, so there will be a Death's Way eBook released March 1 on the Amazon and Barnes & Noble websites.

Just a reminder that if your book club would like to set up a visit, I would love to talk with you either in person or via speaker phone or Skype, if you live outside of the Twin Cities. You can contact me through my email at cjvalen@comcast.net

I am looking forward to seeing you and to meeting new readers soon.

Sincerely,

Christopher