Hello Mystery Readers,
As I write this newsletter, a major winter storm has blown through Minnesota. However, most of the snow has fallen north of the Twin Cities. Still, the state continues to enjoy one of the mildest winters on record, with 50-degree temperatures predicted for next week. I may get through the whole winter without purchasing a combination ice scraper and brush for the windshield. Amazing!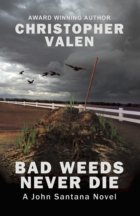 I am very happy to report that Rebecca's Reads has selected Bad Weeds Never Die as Best Mystery/Thriller of 2011. I really appreciate the recognition from national organizations and positive feedback from so many readers.
It is extremely gratifying to know that readers
and reviewers like the character and the series.
Martha and I are off to St. Maarten for a week of rest and relaxation on March 10. We stay in a villa right on the white sand beach of Simpson Bay. The villa is mentioned in the upcoming Santana novel, Bone Shadows. The book is in the editing stage with a release date tentatively scheduled for this September. The outline for the fifth book in the series is nearly complete, though I have no title yet. I plan to start writing between sunning, swimming, and sleeping.
I will be signing copies of my books at the Writer's Festival in Bloomington, MN on Saturday, March 24, from 9:30 a.m.-5:00 p.m. On April 3, I will be at the Barnes & Noble in Wausau, Wisconsin from 4:00-7:00 p.m. After the signing I am meeting with their mystery book club, which will be discussing the first Santana novel, White Tombs. On April 7, I will be at the Once Upon A Crime bookstore in Minneapolis from Noon-1:00 p.m. for the 10th annual Write of Spring and the 25th anniversary of the store. It is also the Launch Party for the store's latest Mystery Anthology, which includes a short story I wrote entitled Lights Out. Over 30 writers will be attending the event that runs from Noon till 4:00 p.m. It should be a great time, so don't miss it!
The new print edition of The Black Minute should be available for purchase any day now. In the meantime, if you have a Kindle, the e-book version is currently available on Amazon. Also, you'll be able to download it for free from March 6-8. Let your friends that own Kindles know about the free offer.
Check my website at http://www.christophervalen.com
for more details on upcoming events and for updates on the new book. Also, if you would like to have one of the characters in an upcoming Santana novel named after you, stay tuned. More information to follow.
All the Best,
Christopher