Hello Mystery Readers,
It is hard to believe that 2013 is coming to a rapid close. As the holiday season approaches, I would like to give thanks to all of you for your terrific support. I enjoy hearing from you and look forward to seeing you in the near future.
It has been just over a year since the last John Santana novel, Bone Shadows, was released. For those of you wondering when the next book is coming out, I have good news.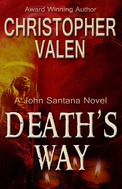 The fifth and latest John Santana novel entitled
Death's Way
will be released on March 1, 2014. The launch party will be held at the wonderful Once Upon A Crime bookstore in Minneapolis from 12:00-2:00 p.m. on Saturday, March 1. Here is a brief synopsis from the back cover.
The death of a beautiful escort in a downtown hotel room appears to be a case of auto-erotic asphyxiation gone wrong. But when a woman brings her young daughter to the police department with a strange story about a similar death six years before, Homicide Detective John Santana is drawn into a dangerous world of drugs, sex, and deceit, and toward a secret that lies buried in the past; a secret that could not only destroy the lives of some well-connected and powerful men, but one that raises questions about the very meaning of life and death, and the boundary between the living and the dead.
More information will be forthcoming as will a schedule of 2014 events. Everything will be posted on my newly designed website at
www.christophervalen.com.
If you have not visited the website recently, stop by and take a look.
For those of you in the Miami area, I will be signing copies of my books at the Conquill Press booth at the Miami Book Festival Street Fair, which is open from 10:00 a.m. to 6:00 p.m. November 23-25.

I will also be signing copies of my books at the Barnes & Noble bookstore at the Ridgehaven Mall in Minnetonka, MN from 11:00 a.m.-2:00 p.m. on Saturday, December 7, and at the Barnes & Noble bookstore in the Maplewood Mall in Maplewood, MN on Saturday, December 21 from 11:00 a.m.-3:00 p.m. A signed copy is a great gift for the mystery fans in your family.

Wishing you all a safe and happy holiday season.

Sincerely,

Christopher