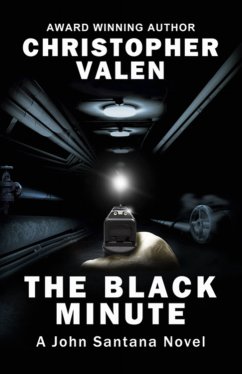 Some of you have noted that copies of
The Black Minute
, the second novel in the John Santana series, have been difficult to find. I wanted to let you know that copies will be available through Barnes & Noble, Amazon, and at independent bookstores by mid-February. The cover has been redesigned using the same image, and the book has been resized to 5.5 x 8.5.
In the meantime, if you would like a signed copy of the original for $10, including postage, I have some available. Contact me at cjvalen@comcast.net and I'll mail you a copy.
For those of you living in and around the Twin Cities, I'll be a guest at the Author's Studio this Saturday, January 14 from 10:00 a.m. to 11:30 in the Margaret Foss Gallery at the Edina Art Center, located at 4701 W. 64th Street, 952-903-5780. It's a free event sponsored by the Edina Arts Council, and will be video-taped for cable television.
The format is similar to the famous Inside the Actor's Studio hosted by James Lipton. I'll discuss my books and writing process and take questions from the audience. Minnesota author Colin Nelson will host the event.
For more information on upcoming events and the release of Bone Shadows, the next book in the John Santana series, make sure to check my website periodically as I will post updates.