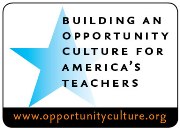 Opportunity at the Top: How America's Best Teachers Could Close the Gaps, Raise the Bar, and Keep Our Nation Great [full report or executive summary]
Publications in the Opportunity Culture series were made possible in part by support from The Joyce Foundation, Carnegie Corporation of New York, the Bill & Melinda Gates Foundation, and the Charles and Helen Schwab Foundation. The statements made and views expressed are solely the responsibility of Public Impact.
Make the most of your top teachers with two new primers from Public Impact.
State and district leaders: With increasingly meaningful teacher evaluations, you know far more than ever about how to identify your excellent teachers. What will you do to magnify their impact on students and other teachers, keep them in classrooms, and attract and develop more teachers like them?
For district and state leaders: This primer explains how to give excellent teachers the opportunity to take on new roles and advance in their careers with sustainably funded higher pay, while reaching more students with their excellent instruction and developing other teachers.
For state policymakers: This primer details the policy changes your state will need to make to reach every student with excellent teachers, consistently.
Why focus on excellent teachers? Without them, most children who start behind simply won't catch up: Even with good teachers who produce a year of progress annually, these students stay behind forever. In contrast, teachers in the top 25 percent make well over a year's worth of learning progress, on average, each year—allowing students to catch up, then leap ahead, closing stubborn achievement gaps.
And retaining and rewarding those excellent teachers matters hugely to today's students: Schools are losing great teachers at an alarming rate.
Public Impact's Opportunity Culture initiative offers many resources, available free of charge on OpportunityCulture.org, that districts and states can use to:
Redesign jobs using Public Impact's school models for extending the reach of excellent teachers to more students, for more pay, within available budgets, and with many new roles that enable all teachers and staff to develop and contribute to excellence.
Redesign career paths to match the school models.
Pay top teachers more using those redesigned jobs and career paths—up to approximately 40 percent more for teaching and 130 percent more for teacher-leadership, even without increasing class sizes and within available budgets. In some variations, schools may pay all teachers more, sustainably.
See this infographic, slide show, or video for a quick overview of an Opportunity Culture, in which all teachers have career opportunities dependent upon their excellence, leadership, and student impact. Advancement allows more pay and greater reach, and extending the reach of excellent teachers starts a virtuous cycle of fundable excellence and opportunity. This slide deck provides more detail.
For more on how policymakers can lead the way to an Opportunity Culture, see the Seizing Opportunity at the Top publications for three avenues of action.
Visit OpportunityCulture.org often for updated materials and emerging examples. Share your own plans, ideas, and questions with us, so we can help you and others like you succeed in reaching every child with excellent teaching and building an Opportunity Culture for teachers and students.