At last... Spring has come along!
Finally, we have weather matching spring & "life is like a lovely song", in Etta James' words. The trees are starting to push. We will know soon just how many are fruit buds & how many are leaf buds. AND it will soon be time to plant. We've got 1200 trees on order - mostly Honey Crisp & Ambrosia. It will be a challenge but Fred & our 2 daughters on the job, they'll "getter done". Stay tuned!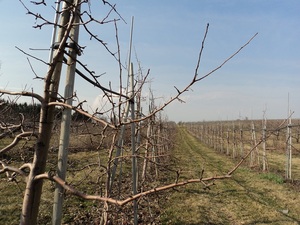 At last... here's the recipe I promised!

Shoo Fly Apple Pie
Pastry for 1 crust, 9 inch pie - unbaked

Bottom part:
1/2 cup peeled, cored & diced apple pieces
1/2 cup maple syrup
Pinch of baking soda
Put apple pieces in bottom of crust. Dissolve soda in maple syrup & pour over apple mixture.

Top crumb part:
3/4 cup flour
3/4 cup brown sugar
1/4 cup butter
Blend flour & sugar. Cut in butter. You may need to add a tad more butter to get the right crumble consistency. Sprinkle over top of bottom part. Bake at 350 F for approximately 1/2 hour or until somewhat "set". Note: Use parchment paper, as this tends to bubble over. Yummy!
At last... Apple Cranberry Wine is back!
It's perfect timing for your Easter meal, whether you are serving turkey, ham or lamb. Come taste it, as well as our own Cranberry Apple Sauce. And Hard Cherry is finally on the shelf. Fred is really proud of this new cider. Clean & crisp with a great little cherry tartness in the finish. Come see... come taste & tell us what you think!

Easter Weekend - We're open Friday to Monday from 10 - 5.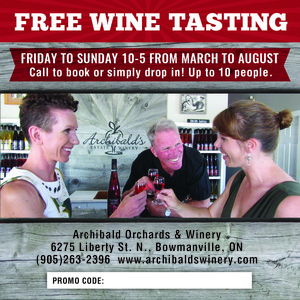 Upcoming Events:
Boston Marathon - Monday, April 17th
Our daughter Rebecca is doing it. We wish her well!
Honey Bee Orchard Blossom Walk - May 20th from 10 - 4. Take a walk through the orchard with Farmer Fred. Talk with some beekeepers about honey production. Take pictures among the blossoms! More details to come.

20th Anniversary for the Winery - June 25th from 1 - 3. "Taste of 20" with Archibald's & other local foods, wine tasting & music by Cale Crowe. Come help us celebrate!
Let us know how we are doing! Please review us on TripAdvisor. Any feedback is greatly appreciated!

Happy Easter everyone!