Spring arrives in just 3 weeks!
A lovely thought, for sure. It's been an easy winter for trees & humans alike. And it's officially been announced that we had the warmest February day since 2000.

NICE BUT... don't hate me for saying this ... we need to get back to seasonal temperatures again. Warm temps could push the trees to blossom too early & be vulnerable to frost. We all want apples, right. Especially those Honey Crisp & Ambrosia. Stay tuned!

My apologies for the picture quality. For a better idea of what's going on, check out Fred's video!
A new cider will be here soon!
We posted a clue in our last newsletter for a new product that Fred has created. In case you are wondering, it's a new cider called Hard Cherry. This is a refreshing blend of Montmorency Sour Cherries (one of Fred's favourite soft fruits) & apples. We look forward to sampling this with you soon.
Why is Friday, March 3rd important? Well, it's "National Tartar Sauce Day"; "National Cold Cuts Day"; "National Mulled Wine Day"... Who makes these up?!? My favourite is "National I Want You To Be Happy Day" because it's our first day re-opening the winery & we hope that makes you happy! Come visit us Friday to Sunday from 10 - 5.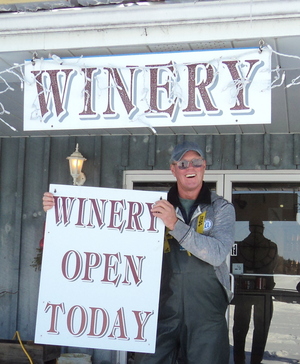 I just noticed that the wine maker could see his shadow. Does this mean an early spring?

Upcoming Events:
Honey Bee Orchard Blossom Walk - May 20th from 10 - 4. Take a walk through the orchard with Farmer Fred. Talk with some beekeepers about honey production. Take pictures among the blossoms! More details to come.

Hope to see you soon! The Archibald Team