Sorry but apple picking is over! :(
Friday, October 6th is the last day for picking apples. The variety available is Empire.

Fred & I did our usual orchard inspection on Monday morning, after yet another very busy weekend. We were shocked! Never have we seen the trees picked so clean at this point in the harvest.

We knew then that we had to make a very difficult call. In all the 35 years of Pick Your Own apples, we have never been closed for Thanksgiving Weekend. This is a first for us.

It's such a tradition for so many people. Getting out & picking apples... admiring the beauty of Mother Nature changing colour... leaves falling on ground... crisp, sunny days... All we can say is sorry & we ask for your understanding for circumstances out of our control.
What happened this year?
Well, let's start with all the rain this summer. Add a heat wave. This advanced maturity in many of the varieties. So, we opened the orchard a week earlier than usual.

Mother Nature gave us beautiful picking weather every single day. We welcomed more customers than we have ever seen during the fall. So... there's the answer to "where have all the apples gone". They went out bag after bag to homes!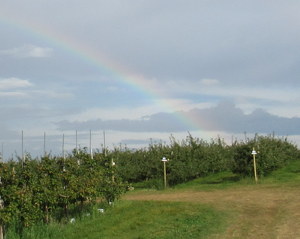 I asked Beck to go out & take a picture of our empty orchard to include in this email. Here's what she came back with.

As glum as I was feeling, this lifted my spirits. Instead of apple-ogizing & wine-ing (sorry - Becky humour), it's time to focus on the positives. Like our wonderful customers... a great crop... beautiful weather...

We wish you a Happy Thanksgiving!
We're sorry that we won't see you for apple picking until next year. However, we encourage you to visit our friends at Watson Farms so that you can continue your tradition of picking apples on Thanksgiving Weekend.

And don't forget...
We are open until New Year's Eve with gift baskets, wine, cheese, gourmet foods... Fresh pressed cider will be available until Christmas.
Next Event: Christmas in Clarington - last weekend in November. Cheers!