TOP NEWS AT ARCHIBALD'S IS...

The trees are pushing bloom & the bees are coming! This is the perfect scenario for our Honey Bee Orchard Blossom Walk this Saturday, May 20th.

Join Farmer Fred & Betty Bee for a walk in the orchard to find out why bees are so important to farmers. Tours are on the hour starting at 10, with the last tour at 3. Bring your cameras!

Local beekeepers from 3beezbuzz will be here for the day with their demonstration bee hive, honey & candles. Also, Pepper North will be sampling their hot honey mustard & sauces from 12 - 3.

Refreshments include our own fresh cut fries & Honey Buns from Krumbs Breadery! For the adults, we will be sampling "Stinger" - our Night Cap with a dash of honey.

This is a FREE event & it's "rain or shine" Let's hope that Mother Nature co-operates.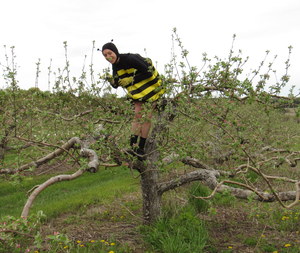 We captured a picture of one of the scout bees out in the orchard this afternoon. It appears strong & healthy. And it will be a HUGE help, turning those blossoms into apples.
ORCHARD NEWS...
the trees are faring well despite a few nights when we had to run the frost fan. The beehives arrive on Wednesday. It should be perfect timing for pollination. Weather conditions dictate how long the bloom will last. However, I think that there will be lots to see on Saturday. Then we hold our breath for a month, hoping for no frost!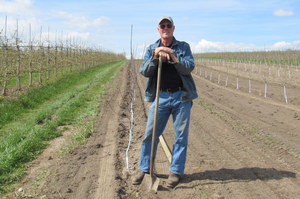 Why does Fred look so happy? Because he's finished planting 1200 new apple trees - all with that tool he's leaning on! Next job is getting posts into the ground to support those new trees. For the whole story, check out his video. You'll need some volume to hear, thanks to the wind noise. :(

WINERY NEWS...
Have you tried our newest cider - Hard Cherry? It's getting rave reviews but come taste for yourself. Fyi, we'll be open on the holiday Monday, May 22nd!

UPCOMING EVENTS...
A Country Path OPEN HOUSE - Saturday & Sunday, June 10th & 11th from 10 - 4. Eight unique locations to visit including Archibald's!
Archibald Winery's 20th Anniversary Party - Sunday, June 25th from 1 - 3. We invite you to drop in to enjoy refreshments & entertainment. Come celebrate!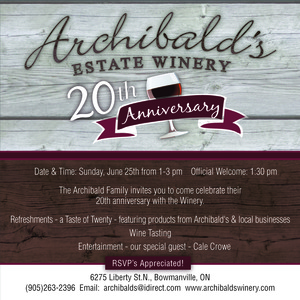 Last but not least... THANK YOU! It's because of your continued support that we are celebrating 20 years!