How are you celebrating Canada Day this year?
There are so many
cool activities
to enjoy this weekend. If you're in the Clarington area, be sure to check out the festivities at the Garnet Rickard Complex on Sunday starting at 7 p.m. Music, food & of course a Fireworks Display at dusk. Whatever you do, be
Canada Proud!
We have just what you need!
The key for enjoying this weekend is
keeping cool
& we have the perfect beverage - cider! Did you know that we now have 6 ciders: Hard Core (very dry), Hard Cider (been making this one for 20 years), Hard Cherry, Hard Currant, PINK (cranberry cider) & our newest creation - Hard Ginger. We're calling this one Gingerale for adults. Serve well chilled. So refreshing!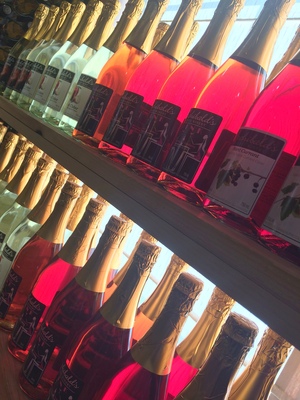 We'll be open the Holiday Monday!
Got visiting family & friends for the weekend? Come visit us & enjoy Complimentary Wine Tasting. I'll be at the bar & happy to share how things are doing in the orchard.
A final note for this e-newsletter...
I'm trying out a new format that's supposed to be more mobile friendly. Let me know what you think. Thanks for reading &
Happy Canada Day!
Archibald Orchards & Estate Winery Ltd.
6275 Liberty Street North, Bowmanville, ON L1C 3K6
(905)263-2396 Email: archibalds@idirect.com
Hours: Friday to Sunday - 10 - 5
AND ALSO JULY 2ND - THE HOLIDAY MONDAY