It's November!

And with it comes many things: Changeable weather... shorter days... Remembrance Day... numerous Santa Claus Parades & Open Houses. What I'm thinking about most right now is Christmas in Clarington Country. This annual event with 9 stops runs from November 23rd to 25th from 10 - 4. I'm really excited about this year's Holiday Shopping Road Trip! Three businesses from Orono are on the tour. Also, two churches (Eldad - Friday & Enniskillen/Tyrone - Saturday) as well as the Orono Town Hall (Sunday) will be opening their doors for this special weekend.

Here at Archibald's, several local artists will be displaying & selling their creations. Sharon Gallina will be here on Saturday with her work. Her specialty is highlighting wildlife & nature. I love how she captured this Loon. It would be the perfect gift for someone's cottage or home!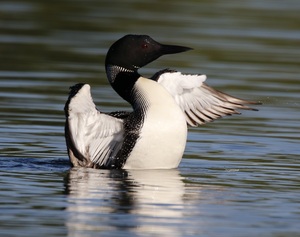 I'll be sending more information on other artists shortly. And of course, we'll be offering Complimentary Wine Tasting, along with suggestions for wine/food matching. Looking for gift ideas? Our elves have been busy creating Holiday Baskets. We can also custom make something just for you.

Remember that we are just one of the stops along the Country Path. So much to experience & get you into the Holiday Spirit. Here's a downloadable brochure to help you plan ahead. Look forward to seeing you here!
Orchard/Apples/Fresh Cider News -

The 2018 harvest is in. HURRAY! We still have some Honey Crisp & Empire for sale in our market while quantities last. Looking for fresh cider? We plan to press every Thursday right up to Christmas. That means that December 20th will be the final pressing day. Remember! Cider freezes very well. So, you may want to think about stocking up for the winter.
Winery News -

Great news on the wine/cider front. Hard Cider is back! I can attest to that after spending 8 hours helping Fred bottle. I think that my responsibilities as the "Official taster" are being stretched!

Some other good news - Honey Crisp is also back. It may just be the best batch yet. But you be the judge. Come taste! Kudos to Fred, the wine maker.
A final note...

Every day we are reminded about just how great you - our customers - are! Thank you for your continued support. Let us know if there's anything we can do to make your visit more enjoyable. Happy Novembering everyone!
Fred & Sandy