And get your Ho Ho Ho On!

Need a little help? Get a jump start with Christmas in Clarington Country this coming weekend - November 24th to 26th from 10 - 4. We're one of six great locations to visit. Other stops include Tyrone Mills, Timeless Essentials, Rosemary Jenkins Pottery, 3Beez.buzz and Gallery on the Farm.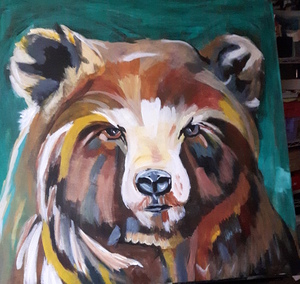 Knowing Bear by Susan Boles
We'll have 4 local artists coming out to display & sell their work. Susan Boles is a mixed media artist. Joanne & Sharon, from Bear Hugs, make adorable collectible stuffed friends. Janice Phillips is a seamstress extraordinaire, designing everything from bags to table runners. Last... Ann from Visual Yum uses recycled materials to craft rustic signs & decor. There's bound to be something you'll discover here for that special someone - or maybe even yourself. Here's a sneak preview!
We've got a wine for that!
Entertaining is fun but it can also be stressful, figuring out which wines to serve with what. Ask us & we are happy to make suggestions! Here are a few great matches: Hard Cider with appetizers; Apple Cranberry & Apple Black Currant with turkey & ham. Prefer a dry wine? Ida Red Oak Aged & Black match very well. And the perfect wine to serve with your Christmas Cake & Pudding - our Spiced Winter Apple. Some of our customers call it "Christmas in a bottle".
We may have a gift for that... Special Someone!
This time of year, our Winery becomes "Basket Central" & we love it! It's so much fun creating "one of a kind" as well as our signature collection for the Holiday Season. Something for every palate & budget. Here's one of my favourites.
Home for the Holidays (House t-lite)
And don't forget...
We're open until December 30th with gift baskets, wine, cheese, gourmet foods... Fresh pressed cider will be available until Christmas most weekends.
Ho Ho Ho!