Make a Difference - Become a Mentor
Do you have one hour per week and want to make a difference in the life of a student with a disability? If so,consider becoming a mentor in VSA Vermont's Mentoring Program. Matches in our program meet regularly to take part in arts-based experience both in schools and the community. No experience in the arts is necessary, just interest and curiosity in trying new things.

We currently have 4 students waiting for mentors, so if you've been considering this opportunity, the time to sign up is now!

Click here to learn more.

---
Transition in Leadership at VSA Vermont

On October 31st, VSA Vermont will say goodbye to its long-time Executive Director, Judy Chalmer. "Deepening the work of VSA Vermont has depended on so many wonderful partnerships and talented, committed people. I couldn't be more proud of our organization, the wonderful community in which our work thrives, and our wonderful staff." Highlights of Chalmer's career at VSA Vermont include the expansion of VSA Vermont's Start With The Arts preschool arts and literacy program to more than 40 isolated, rural childcare sites each year; the development of VSA Vermont's new mentoring program matching students with disabilities and adults with disabilities to explore the arts together; the development of VSA Vermont's new program to engage students with severe behavioral and emotional challenges through the arts and the Engage exhibition, which showcased the artwork of 35 Vermont artists with disabilities, and helped participating venues welcome people with disabilities. VSA Vermont will partner with the Flynn Center and the Vermont Association for the Blind and Visually Impaired in a new exhibition, Flourish, which will open at the Amy E. Tarrant Gallery of the Flynn Center on April 7, 2018.

We look forward to introducing the new Executive Director, Susan Evans McClure, later this month!

For more information on this transition, read this Seven Days article or contact VSA Vermont.

---
Please join us for a goodbye celebration for Judy on October 27th.
Find more details and RSVP on EventBrite.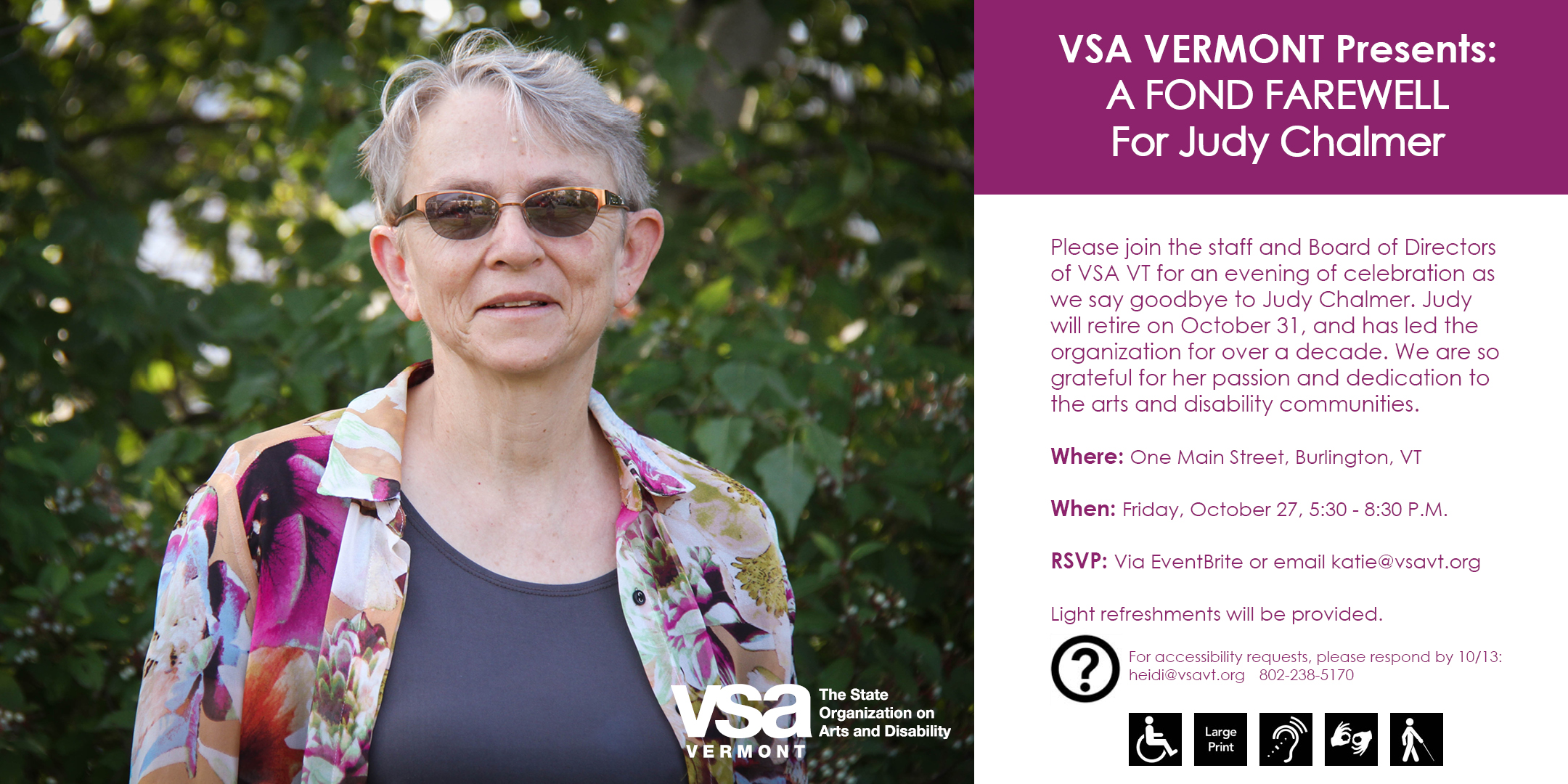 ---
Sensory-Friendly Drumming Workshops

This fall, VSA Vermont and the Flynn Center for the Performing Arts will again host two free sensory-friendly drumming workshops for individuals on the autism spectrum and their families. To learn more and sign up, visit the Flynn's website, link below. Classes use sensory-friendly drums and percussion instruments and relaxed expectations. No experience necessary.

https://www.flynncenter.org/education/take-a-class/classes/details.html?perf_no=15035&fe=0

---
Photography Exhibit - On Display Throughout November

Throughout November "Frame, Focus, Click," an exhibit of work from VSA Vermont's Digital Photography Class, will be on display at Penny Cluse Café in Burlington. We invite you to grab a bite and check out during their normal business hours!

"Frame, Focus, Click" is a collection of images captured by participants in VSA Vermont's Digital Photography Course taught by Alexandra Turner in the Spring of 2017. The class was part of VSA Vermont's ongoing partnership with Champlain Community Services. The images represent a snapshot of the world, as each artist sees it. During the course, students have worked on framing, angles, zoom and composition as they have focused on portraits, architectural and personal photographic projects.

Presented in partnership by VSA Vermont and Champlain Community Services.

For more information, contact:
Heidi Swevens, Program Manager
heidi@vsavt.org
802-238-5170
​
---



Help

VSA VT

keep great opportunities coming. Donate online at

PayPal

!
VSA Vermont is a member of the VSA Affiliate Network,
a program of the John F. Kennedy Center for the Performing Arts.

The mission of VSA Vermont is to use the magic of the arts to engage the
capabilities and enhance the confidence of children and adults with disabilities.