Check Out Our New Galapagos & Peru Videos!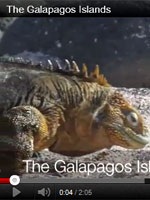 The video production department has been hard at work... get an up close look at Galapagos wildlife above and below the water in our
video on the Galapagos Islands
, and get off the beaten path watching our
Peru video on Trekking to the Remote Incan Ruins of Choquequirao
. They are only 2 minutes each and give you a good idea of some of the magnificent places you can see on our trips!
Please reply to this email or give us a call at (800) 342-1796 if you have any questions or would like any additional information about our
Peru
or
Galapagos trips
!
Spotlight: The Brazilian Pantanal, A Top Wildlife Viewing Region in South America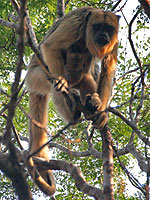 The Pantanal is a vast tropical floodplain that covers about 70,000 square miles in southwestern Brazil, south of the Amazon basin. Because the region is much less sparsely forested than the Amazon, the abundant bird and animal life is much easier to observe. Commonly seen are several species of primates (such as the female red howler monkey and baby in the photo at right), giant anteaters, sloths, tapir, hyacinth macaws, toucans, jabiru storks, several species of hawks, eagles and owls, and vast populations of caiman. From approximately December to June, the Pantanal is flooded and excursions often take place by boat and canoe. In the dry season, excursions are a mixture of walking, canoeing and horseback riding. Most of the land is privately owned and used for seasonal cattle grazing by ranchers. Visiting the Pantanal generally involves staying on one of the "fazendas" (large cattle ranches) that have guest lodges. The lodge we most highly recommend is the Pousada Mutum, about a 3 hour drive from the city of Cuiaba. The lodge has an outstanding lakeside location, very comfortable accommodations, top quality guides, and great excursions into the surrounding area to spot wildlife. The Pantanal can be combined with any other locations in Brazil. Our
Rio & Highlights of Brazilian Wildlife itinerary
combines Rio, the southern Amazon and the Pantanal in an 11 day trip, with stays at Pousada Mutum, the award-winning Cristalino Lodge, and 3 nights in a first class small hotel in Leblon (Rio's best neighborhood for walking around). If you have any questions about the Pantanal or any of our other trips, please give us a call at (800) 342-1796 or just reply to this email!