In This Update
The French Connection - 2011 Vintage Overview

How wine is really made...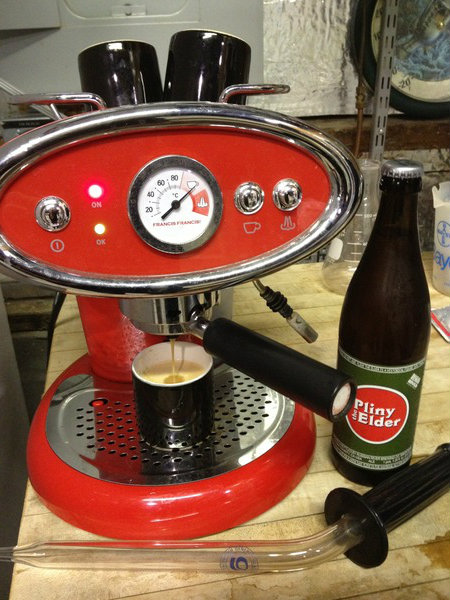 2011 was like every other year-which is to say it was different than every other year. In tasting through the vineyards I decided to try to extract more from the skins and get a fatter mid-palate. So, we did a few things different- first, we "bled off" (siphoned) 5%-15% of juice from each lot of grapes as we de-stemmed them. This is called "Saignee" in France, and achieves a greater ratio of skins (which is where all the good stuff is) to juice. Then, we spent a fair amount of time performing a very old manual technique called "Pigeage" that has been employed in Burgundy for hundreds of years- which extracts more color and flavor.

We also extended our pre-fermentation cold soaks a bit longer, and we generally kept fermentation temperatures lower for gentler extraction during fermentation. The net result is across the board are wines that show rich color, full bodies, great mid-palate weight, and excellent back-palate structure. They are pretty accessible, and frankly, pretty delicious!

During harvest, I worked to improve my conversational French (I could have started a trade war by trying to give a compliment). I learned a lot- including such valuable phrases as "you drive a forklift like a little girl". Important stuff to know in case I ever make wine in France- or want to start a bar fight.

I think it is a 'balanced" vintage- I say it is because we listened to the grapes, but my French friend insists that is, in and of itself, a very French thing to do. But since I only understand a fraction of what she says, I may have misunderstood, and what she really said was- "it's great to be able to make wine in the Russian River Valley, the greatest place for Pinot Noir on earth." Or something like that, I'm quite sure. Either way, we hope you enjoy these wines as much as we do!



New Releases

SONOMA COAST PINOT NOIR- "THE TRUE" - 2011
The vineyard for this wine is in the far northwestern portion of Sonoma County, nestled at the base of the second ridge in from the Pacific. Yeah, this is "True" Sonoma Coast, cold days and colder nights, where grapes hang for flavor but just don't produce a lot of sugar. The Harvest Brix was in the low 23s, and the final alcohol is 13.6%. If lower alcohol levels appeal to you, this is in that realm, although I don't think alcohol levels alone tell the story of a wine. It has really dark color and incredibly vibrant acidity. The flavors run from red fruit to black fruit, but I think its charm really comes from the floral aromas- perhaps suggesting that it could be used as perfume. All year I thought it was just the "prettiest" of the bunch- not the most gushing or catchy- just pretty. Still do.
114 Cases made $45/bottle
Harvest Brix: 23.6
Alcohol 13.6%
pH: 3.51


single bottle 10% case disc price (mixed cases ok)



RUSSIAN RIVER VALLEY PINOT NOIR - 2011
In 2008 we made a wine that I called "Strawberry Fields". That wine involved a rather time consuming effort to capture wine that was mixed in with the dead yeast cells (the "lees") near the bottom of the barrels. I always like lees wine a lot - it can have exotic perfume and fabulous texture. So I decided to try to pay homage to that wine in our 2011. So, in addition to the 6 vineyards, I captured and lightly filtered lees wine from every lot of wine we made in 2011- about 15 in all.

The net result is a Russian River Valley "Blend" that is easily the most distinctive I have ever made. Absolutely knockout aromatics- and very creamy textures. We chose to gently filter it because the lees wines had some suspended yeast cells that can cause astringency, but even after coming out of filtering it filled the winery (and quite a few glasses) with a fantastic bouquet.

I really can't compare it to any other Russian River I've made as in referencing a particular vintage, and while "best" is overused and subjective, I think it is perhaps the most beguiling version to date. It does have lots of strawberry and "rose petal" notes in the nose and all the vibrant acidity that the Russian River is known for. And it is going to be terrific with food. As Carri and I tasted this before bottling, she thought it didn't need any more (or less) of anything. She's got a great palate, and when I get her stamp of approval without any need for change, it's a rare day indeed. I'll take that as a good sign.
640 cases produced $35/bottle
Harvest Brix: 24.2 (average)
Alcohol 14.5%
pH: 3.58


single bottle 10% case disc price (mixed cases ok)



SELECTION MASSALE PINOT NOIR - 2011
This comes from a mass selection of 9 different clones. They look different, ripen different and have different flavor profiles. The wide divergence on ripening between them makes it difficult to call the pick based on numbers. After 6 years of working with this place, I came to realize that besides taste (which is huge, since flavor can't be bought), the biggest consideration is "feel" - how I feel about the place, and how it makes me feel. Spend enough time walking in vineyards, and you'll know exactly what I mean. It took 6 years of working with this fruit before I felt that I understood the place well enough to bottle it separately, and each subsequent year it has taught me a little more.
This is not a light wine- it is a wine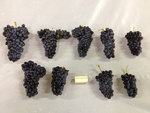 packed with fruit, "fruit forward" is almost an understatement, and with big structure across the board. Dark cherries, ripe berries, a hint of sandalwood, and maybe some black raspberries. As it goes across the palate, it just coats everything. My own palate tends towards lighter wines in many instances. But as the wines rested in tank before bottling, I found myself repeatedly going back to this one "just to have another taste". I love the width of it, the intensity of the fruit, and how the back end just lingers- and its unabashed intensity. I'm John Holdredge, and I approve this wine. 102 cases made $45/bottle
Harvest Brix: 24.9
Alcohol 14.9%
pH: 3.66


single bottle 10% case disc price (mixed cases ok)



BUCHER VINEYARD PINOT NOIR - 2011
The fundamental rule of making Pinot Noir is "Patience is everything". This one took awhile to show itself- which really messed with my head! But one June morning as I tasted through barrels I stopped in my tracks- this wine had absolutely turned the corner and put on a ton of weight in the palate. The aromas I associate with Bucher were there, and it was a completely different wine from before. That's one of the great things about Pinot- it can change personality in barrel from week to week- you just hope when you bottle it, that it's a "good" day!

The final blend was fun to create. We used two different types of fermenters which makes a huge difference in the resulting wines. For grapes that came from the same place, and picked the same day, it was pretty revealing about how little things like size or shape of a fermenter can make such big differences.

The finished wine is 67% from one lot, and 33% from another. Together, they make a wine that I think shows what Bucher is about- cranberries, bright cherries, and great acidity. It is the richest of the Buchers we have made, although it retains a sense of restraint that I associate with that place. Bucher usually rewards patience- we've been drinking the 2007 of late, and it has really been a joy to drink. I think this one will show that well for at least that long, but it's going to be a lot of fun to drink in the meantime. 105 cases made $45/bottle
Harvest Brix: 24.4
Alcohol 14.4%
pH: 3.71


single bottle 10% case disc price (mixed cases ok)



RUSSIAN RIVER VALLEY PINOT NOIR "SHAKEN NOT STIRRED" - 2011
This is the only "single clone" wine we make- from a clone was once a dominant fixture in California. It does tend to have bigger berries, which can cause a lighter wine. So we bled more juice off these grapes than any other lot of wine in 2011 to extract more flavor and aromas (about 20%, which is but one indicator why there is no money in the wine business!). We chose to let this fermentation run a bit hotter than our other wines for a little more aggressive extraction. It was on the skins for almost three weeks. In March, when I tasted it from barrel I predicted it would gain weight. By May, c'est voila! It was the wine I thought (or hoped) it was destined to be. Manifest destiny- it's not just a political ideology anymore.

This wine is all about the word "red". Red fruit jumps out of the glass- cherries, cranberries, strawberries, all wrapped in a touch of baking spices. But that red fruit doesn't mean "light"- it still has plenty of depth and weight, and most importantly, it has absolutely "classic" flavors and aromas of Pinot Noir. It is very reminiscent of the 2009 version which Wine and Spirits Magazine called one of the "Year's Best Pinots". And the name of the "heritage" clone that made this little beauty? "Martini"- which leads to the name of the wine.
80 cases produced $45/bottle
Harvest Brix: 24.9
Alcohol 14.8%
pH: 3.64


single bottle 10% case disc price (mixed cases ok)



ROLLING THUNDER PINOT NOIR- 2011
There is a small lane near Occidental California, at about 1100 foot elevation, that has quietly become home to some really great Pinot Noir vineyards. It has stayed "quiet" because most of us don't want other wineries sniffing around and trying to get our fruit! Like a good fishing spot, there are some things better kept to oneself.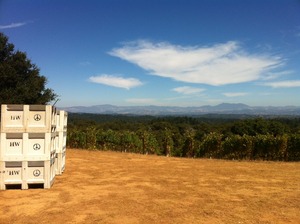 But while I'm not ready to give up the name of the road, I can tell you that the grower, Jim Riddle, is one very committed guy. His commitment to quality and his level of attention to detail is evident whenever I walk that vineyard- he'll go to extremes to ensure the best possible, best balanced fruit he can grow. I was out there in early September and he showed me where they had hand dug a few shallow holes so they could hand water some vines which were showing stress. A ton of work just to water those very few vines that needed some attention.

The place has a very strong voice that is very consistent. Mountain wines are truly a different category of wine. I only bled about 5% of the juice- it didn't need to be any more "intense". We also did less Pigeage on these grapes- more aggressive fruit demanded gentler extraction.

The flavor profile of this wine is exactly what we've come to love from the place- with a stronger emphasis on black fruit, notably black cherry and blackberries. The mouthfeel is quite rich and weighty- the word "bold" comes to mind- as does a summer electrical storm that just rolls across the horizon, engulfing everything in its path. The 2011 has a bigger structure than the 2009 (which Wine and Spirits Magazine also called "one of the best Pinots of the year"). Maybe I'm learning something, way up on that road that ain't got no name.
148 cases made $50/bottle
Harvest Brix: 24.9
Alcohol 14.7%
pH: 3.61


single bottle 10% case disc price (mixed cases ok)



MAZIE ROSE PINOT NOIR - 2011
Each year, as Carri and I taste through all the various wines as they rest in tank before bottling, we always finish with this one- it's from the vineyard where we lived when we first were married, and it's been a part of our wine life together. Whenever we're nearby, we always drive by to check it because it's such a special place to us. The current owner/growers, Steve and Linda Perkins, are doing a great job, and the place has never looked better, and the wines keep getting better.

The soils are a clay loam with a lot of gravel left over from the great floods. These are not the deep rich "valley floor" soils, and the vines work pretty hard to produce a tiny crop. There are five different clones (a sixth was planted this year); four Dijon clones (it was the third planting of clone 828 in California), and a Classic French clone called "Pommard". The Pommard ripens later than the Dijon clones, and the vineyard is too tiny to pick on multiple passes, so we tend to get pretty ripe flavors from the Dijon clones.

From the day we brought the grapes in, I thought it one of the stars of our vintage. It is, to be sure, a very dark and extracted wine. Definitely more black fruit than red fruit here. It is a wine that has depth, weight and grace, and quite a bit of power. But it remains supple and round, and doesn't give up an inch of that richness despite the very solid acidity.

When we got to tasting this wine, Carri just said "Wow. That's beautiful". From one of the toughest critics of my wines that I know, that's high praise indeed. I couldn't agree more.
72 cases made $50/bottle
Harvest Brix: 24.8
Alcohol 14.6%
pH: 3.56


single bottle 10% case disc price (mixed cases ok)



Ordering the 2011 Pinots
Use the "Add to Cart" buttons to purchase via PayPal (no account needed) PayPal accepts Visa, Mastercard & American Express. Very easy & secure.


Click here for the 2011 Pinot Order Form.
Use this order form to fax or mail us your order.



Upcoming Winery Events
- Wine & Food Affair: Nov. 3-4, 2012
- Winter Wineland: Jan. 19-20, 2013
- Barrel Weekend/s: Mar. 1-3 & Mar. 8-10, 2013


With Best Regards,

John and Carri