In This Issue:
- What Happened at the Southern Highlands Craft Fair
- New Artwork - Santa Renewed!
- Website Update - New Press Page
- Just Around the Corner - Opening Reception Aug 20 & More
- Mark Your Calendar - Future Happenings


What Happened at the Southern Highlands Craft Fair
The response to our artwork at last month's Craft Fair of the Southern Highlands was very gratifying. The booth was full of our newest work and looked better than we have ever seen it. Everyone loved the concept of modular pieces that can be rearranged in multiple configurations. Over and over I heard from artists and patrons alike, "This is amazing."

We already knew that our artwork is unique in style. Now, having added our new multi-panel presentation, people say we've expanded into a completely new frontier.

If you missed the Craft Fair last month, then make sure to mark your calendar for the shows we have scheduled for this fall (see Mark Your Calendar below). We may even surprise you with a new bigger booth!

New Artwork - Santa Renewed!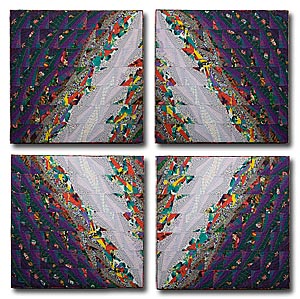 Well, it's back and more dynamic. Continuing in the direction of our new work, we have transformed Santa's Tropical Adventure into four 26" square panels.

Since each panel can be hung in any orientation, you can display all four panels together in a square as a diamond, an X, or a horizontal diamond, or you can separate it into two diptyches, or place them all horizontally to form an M or a W. You get to decide.

I've always said that you've got to love purple to love this piece of artwork, and now we've given you more ways to love it.
Website Updates - New Press Page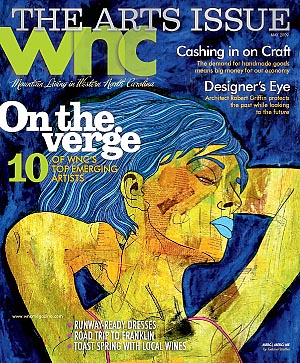 With all the terrific press coverage that we've gotten this year, we decided it was time to post it all in one place on our website. Along with images of various exhibition openings and news events you'll find links to published articles about our artwork.

If you missed the article from WNC Magazine about the On The Verge competition (front cover shown here), make sure to check it out. Angie Newsome wrote a great piece and Patrick Cavan Brown took amazing photos, including a picture of Jim and myself that makes me smile every time I see it.
Just Around the Corner - Opening Reception Aug 20 & More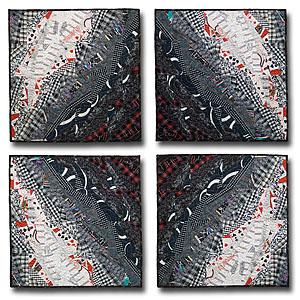 Mija's work continues to get accepted into juried exhibitions across the country being included with the finest in art and craft nationwide. So far this year we have been invited to participate in 10 exhibitions, significantly more than we had hoped for.

And if that isn't exciting enough, Double Down was chosen by both Salvage and Wichita National from the multiple pieces of artwork that we submitted! Since it couldn't be in two places at once, Wichita accepted All In as a substitute piece. Jurors certainly appear to be paying attention to our new work.

With three events in three different states, there may just be one near you. Check below for more information.

2009 Spotlight: American Craft Council Southeast Exhibition
This juried exhibition of craftspeople from 11 Southeastern states features original works in several different media, including our piece Rocky Road I & II. Andrew Wagner, former founding managing editor of Dwell and current editor-in-chief of American Craft was the juror.

Aug 20 - Sept 24
opening reception Aug 20, 5 - 8:30 pm, free to public
Don Russell Clayton Gallery, Bailey Performance Center
Kennesaw State University
Kennesaw, GA
770.499.3223
more about 2009 Spotlight: American Craft Council Southeast Exhibition

Wichita National All Media Craft Exhibition 2009
Celebrate the trends and traditions of American craft. This is Wichita Art Center's longest running and most diverse show. An exhibition of 80 pieces, ranging from avant-garde to traditional, will fill the Rounds Gallery and feature artists from around the country.
Juror Kathleen Royster Lamb, Assistant Professor at the Metropolitan State College of Denver, has chosen works in ceramics, enamel, fiber, furniture, glass, jewelry and a variety of other craft medias.

Sept 4 - Oct 18
opening reception Sept 4, 5 - 7 pm, free to public
Wichita Center for the Arts
Wichita, KS
316.634.2787
more about Wichita National All Media Craft Exhibition 2009

Salvage: Reclaiming Recycling
This is an entirely "green" national juried exhibition looking to challenge the museum to take on environmental responsibility, viewers to rethink their relationships with used objects, and artists to reduce their carbon footprint.
Linda Cunningham, Bronx-based artist and former F&M professor, juried almost 300 entries down to the 100 pieces accepted into the show. A screening of the film "The Story of Stuff", showing Linda speaking of her selections for the exhibition, will be featured during the reception.

Sept 10 - Oct 30
reception and awards presentation Sat. Sept 19, 1 pm, Rothman Gallery
Phillips Museum of Art
Steinman College Center
Franklin & Marshall College
Lancaster, PA
717.291.3879
more about Salvage: Reclaiming Recycling

Mark Your Calendar - Future Happenings
For those of you who like to plan ahead, this is the section to check for events a bit further in the future.

The Art of Fine Craft 2009
A National Juried Exhibition
Oct 1 - Nov 8
Elder Gallery, Nebraska Wesleyan University
corner of 50th and Huntington
Lincoln, NE
more information

Craft Fair of the Southern Highlands
Oct 15 - 18
Civic Center, Asheville, NC
more information

Piedmont Craftsmen 46th Craft Fair
Nov 21 - 22
Benton Convention Center, Winston-Salem, NC
more information

About Libby & Jim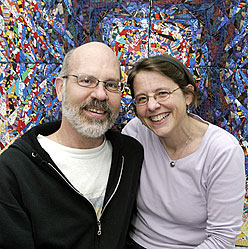 Neither Libby nor Jim have formal art training. Both have years of education, experience and multiple degrees in the sciences, including health care, bioengineering, and computer engineering to name a few.

Through a fortunate series of events they found their way out of the fast-paced world of graduate degrees and professional practice and took a 180 degree turn. Following their hearts, they have since discovered their true passion creating radiant and dynamic contemporary fiber wall art from vintage clothing.

The journey continues.

Thanks to Rebecca D'Angelo for the great pic!
---
If you no longer wish to receive these emails, please reply to this message with "Unsubscribe" in the subject line or simply click on the following link: Unsubscribe